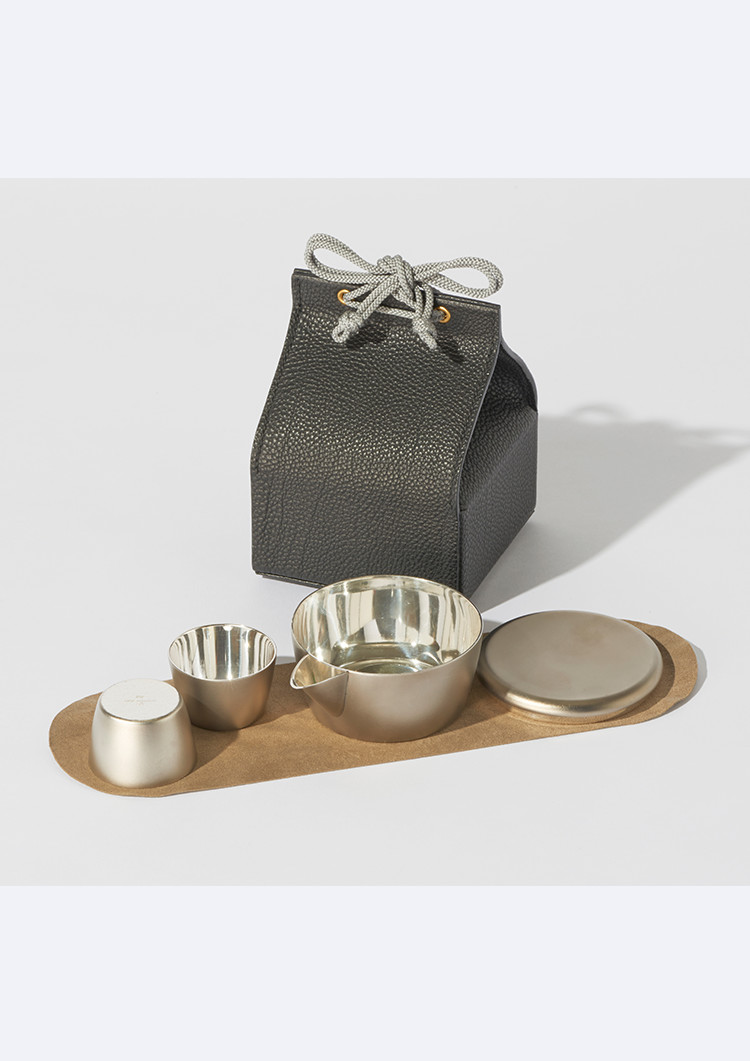 Silverware on the go. "Full Moon", an easy-to-carry saké server, which telescopically stores saké cups for two, is a new concept for leveraging silverware – often used for special occasions – outside the home. For example, locally produced saké purchased during a holiday can become a memorable event if it is enjoyed on the spot with this silver server. Its form, created using a technique called "hera-shibori", is reminiscent of the full moon. This single-spouted server can hold up to 180 millilitres of saké. At its bottom is a convex surface which perfectly stores the saké cups by facing them down. Cover it with its lid, and it is now ready to be taken to your destination. The depressed centre of the lid can also be used as plate for side dishes. A piece of cloth is also included to prevent each of the silverware from scratching one another when being put away, and to be used as a luncheon mat during use. The designer's sense of humour is hinted in its compact design. It is produced with three kinds of finish – antiquated matte for the outer surfaces of the server and spout, a mirrored surface for the inside, and a hammered pattern for its convex surface at the bottom and back of the spout. Its expression is simple, yet never dull. A special handy leather case is also optionally available.
Saké server

Size: W114mm × H50mm × D91mm
Material: Silver
Saké cups

Size: φ50mm × H32mm
Material: Silver
*The information on this site is as of December 2017.
*Sizes, colours and shapes of the actual products may differ slightly as they are handmade.
*Product specifications and suggested retail prices may change without prior notice. Prices shown are all tax exclusive suggested retail prices.