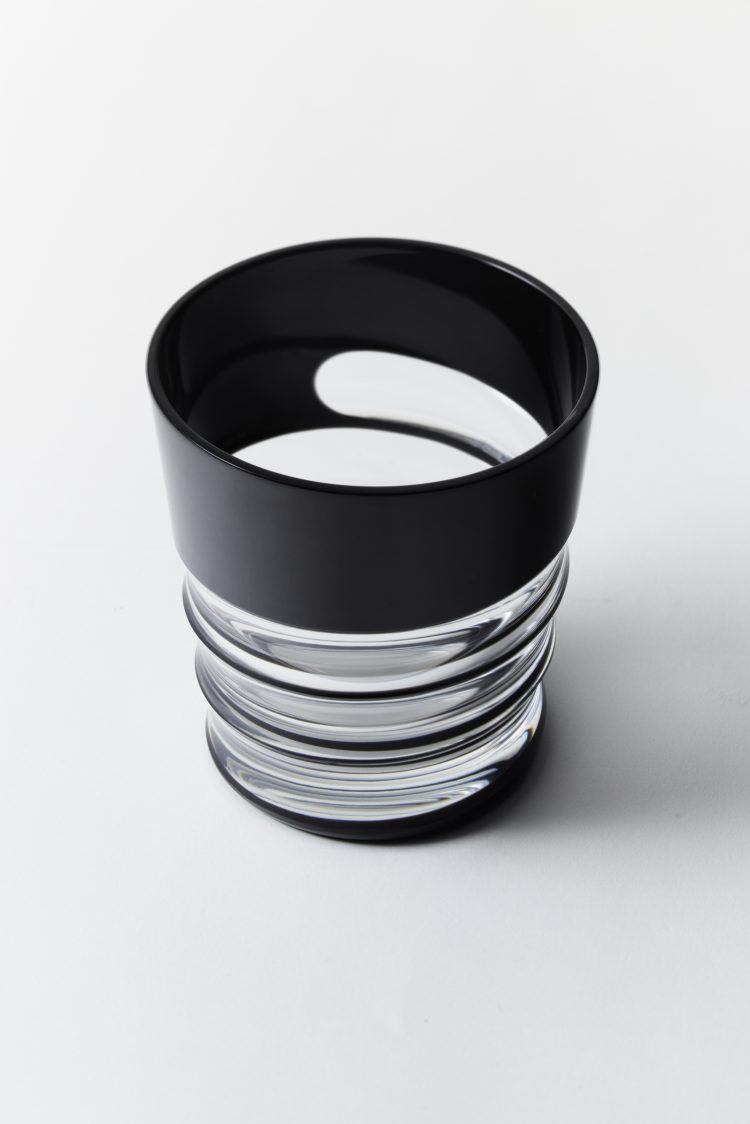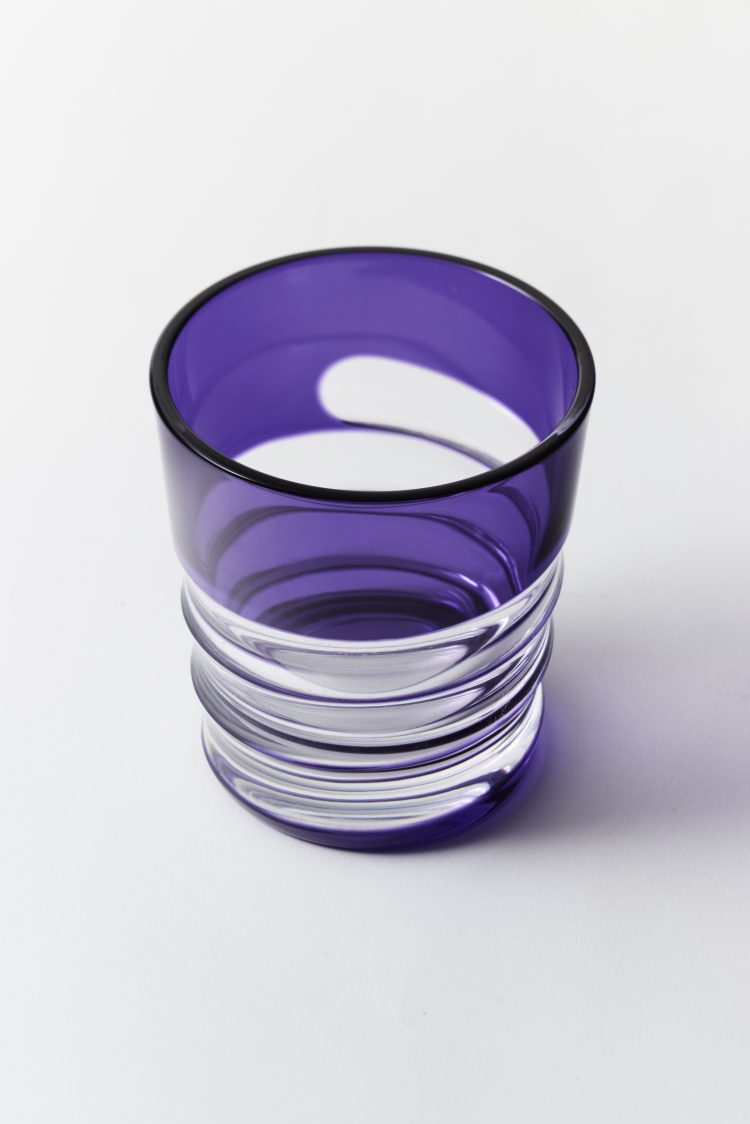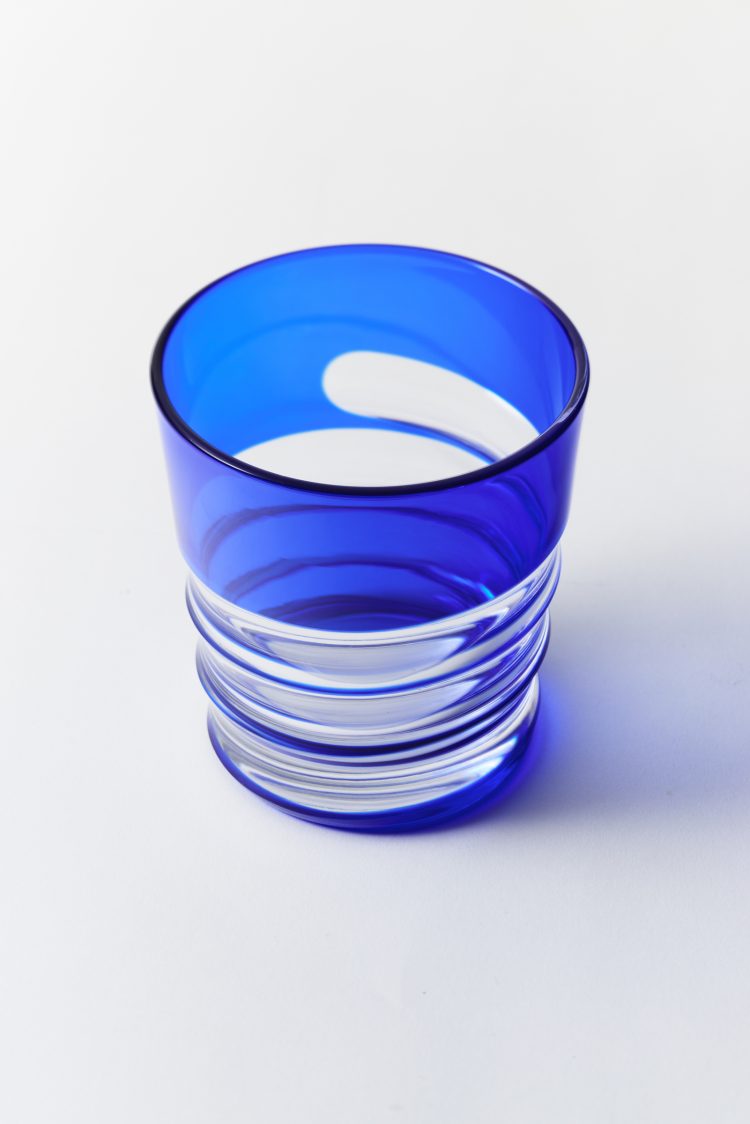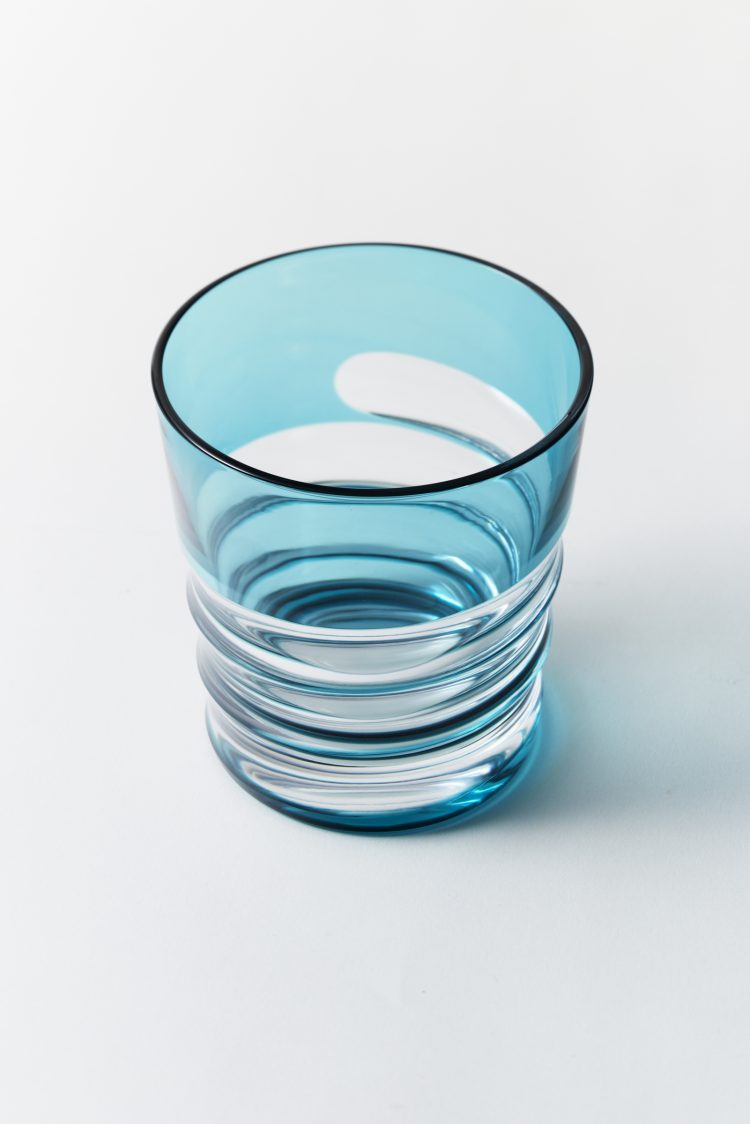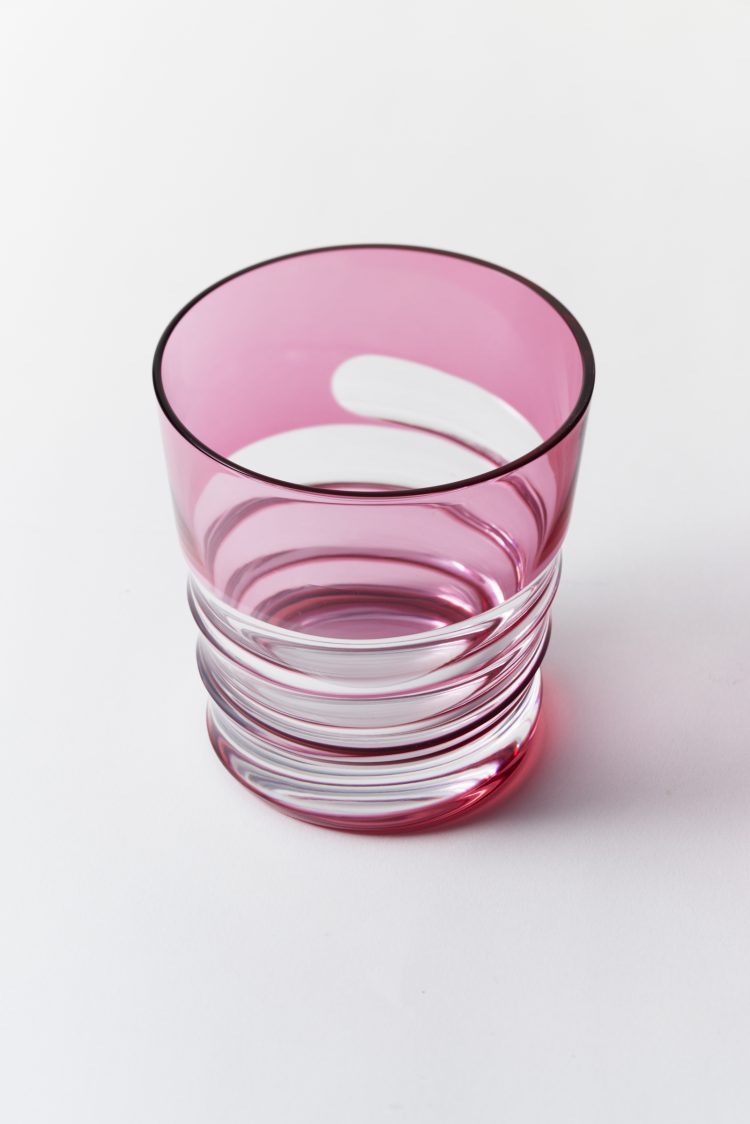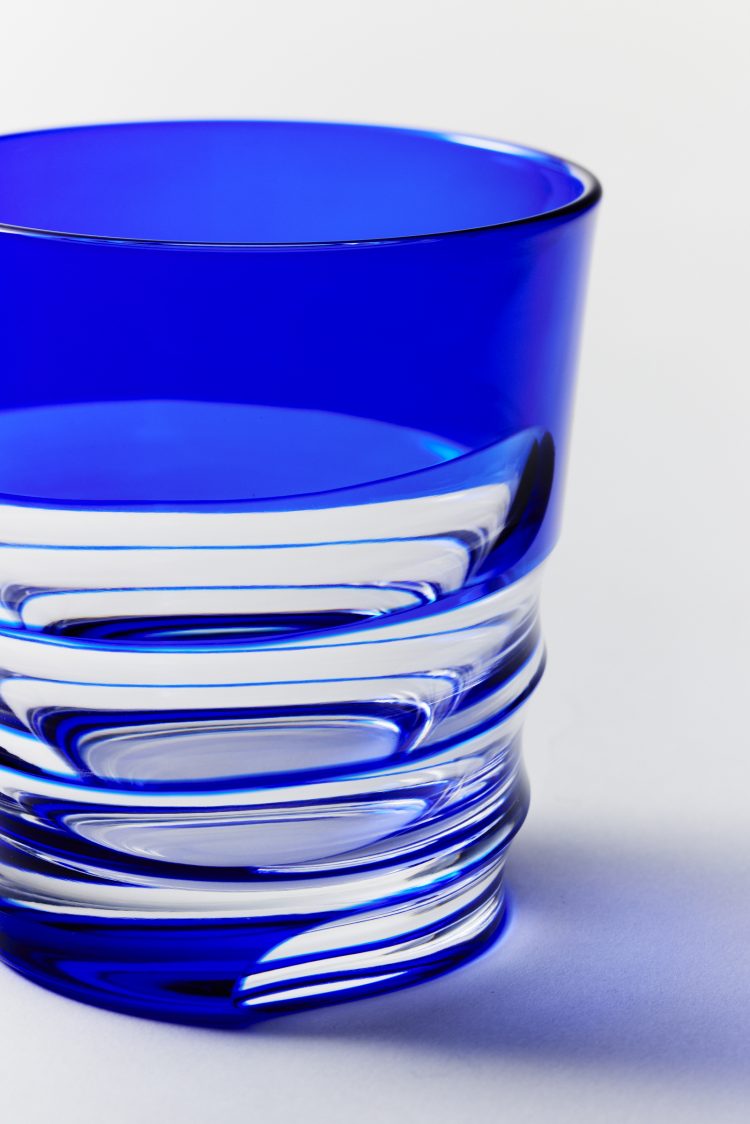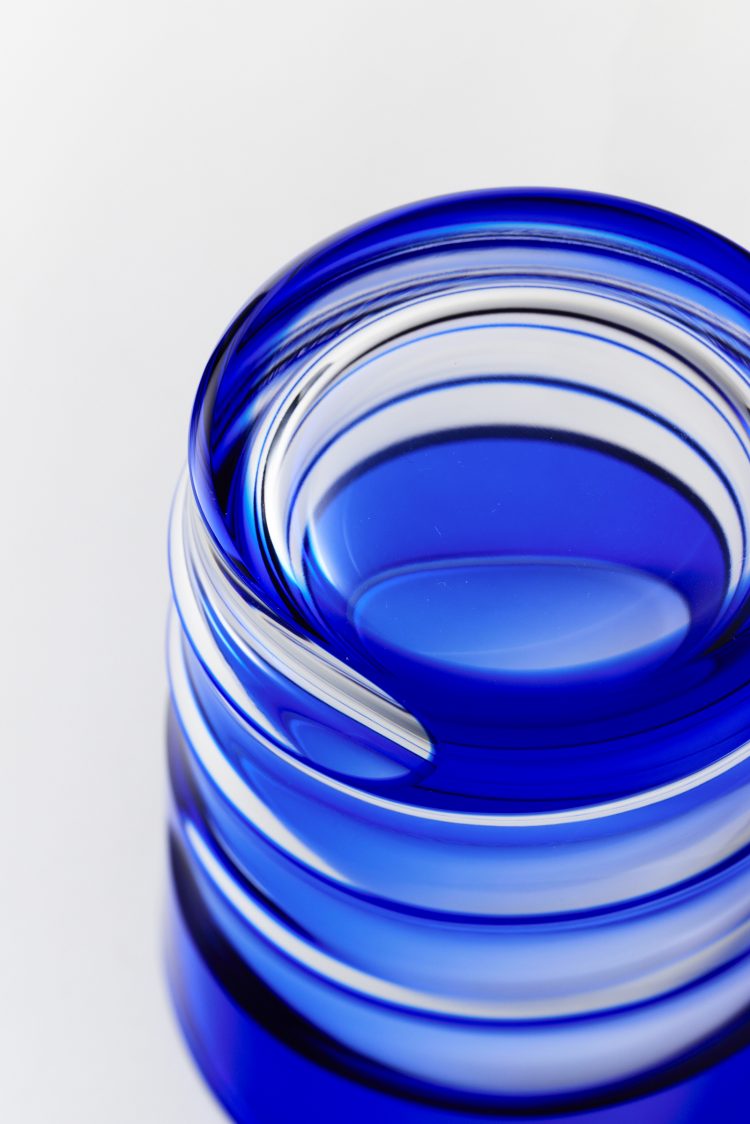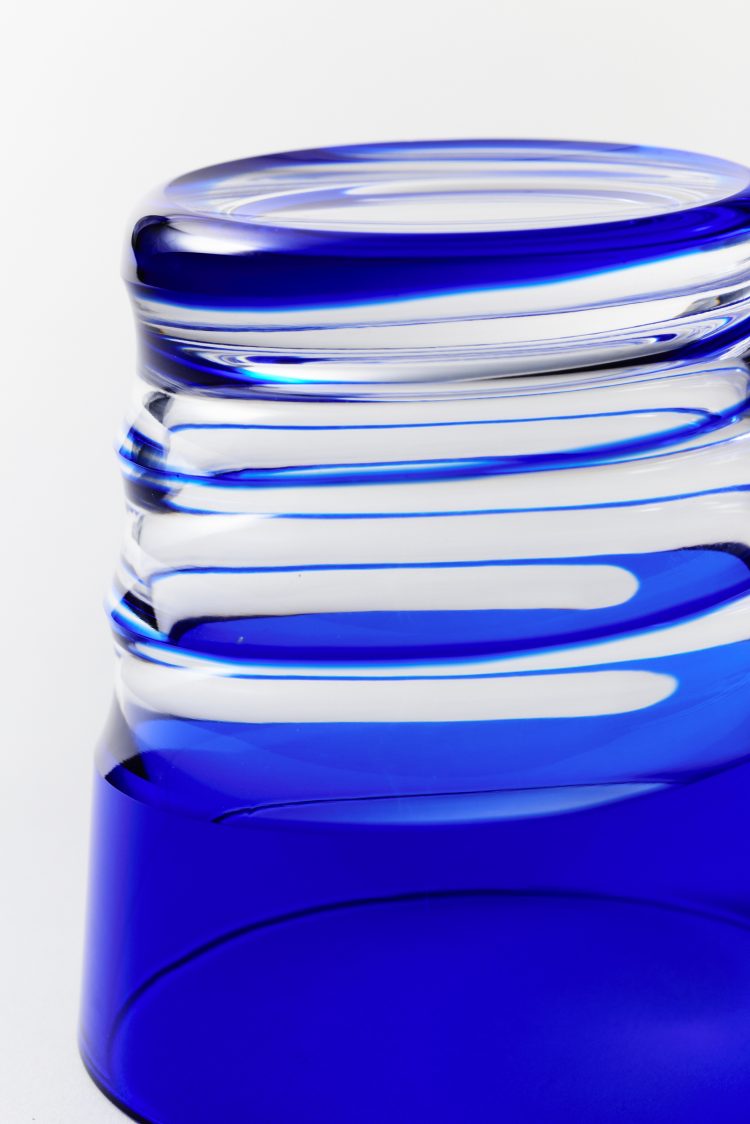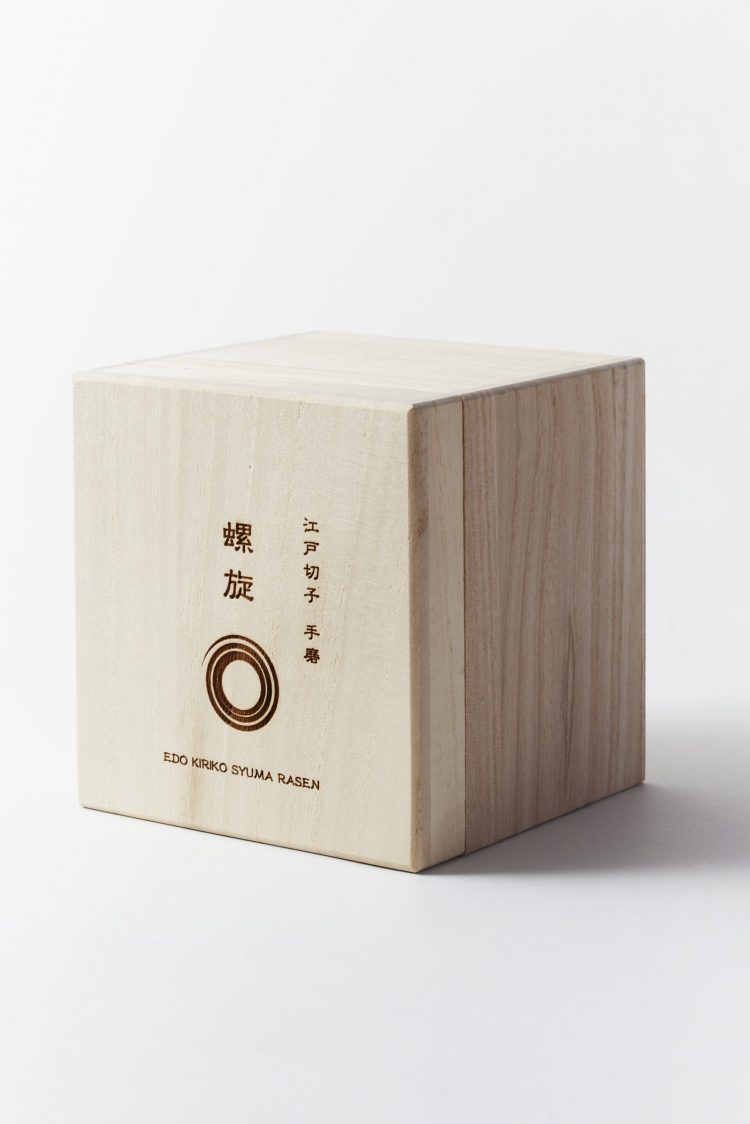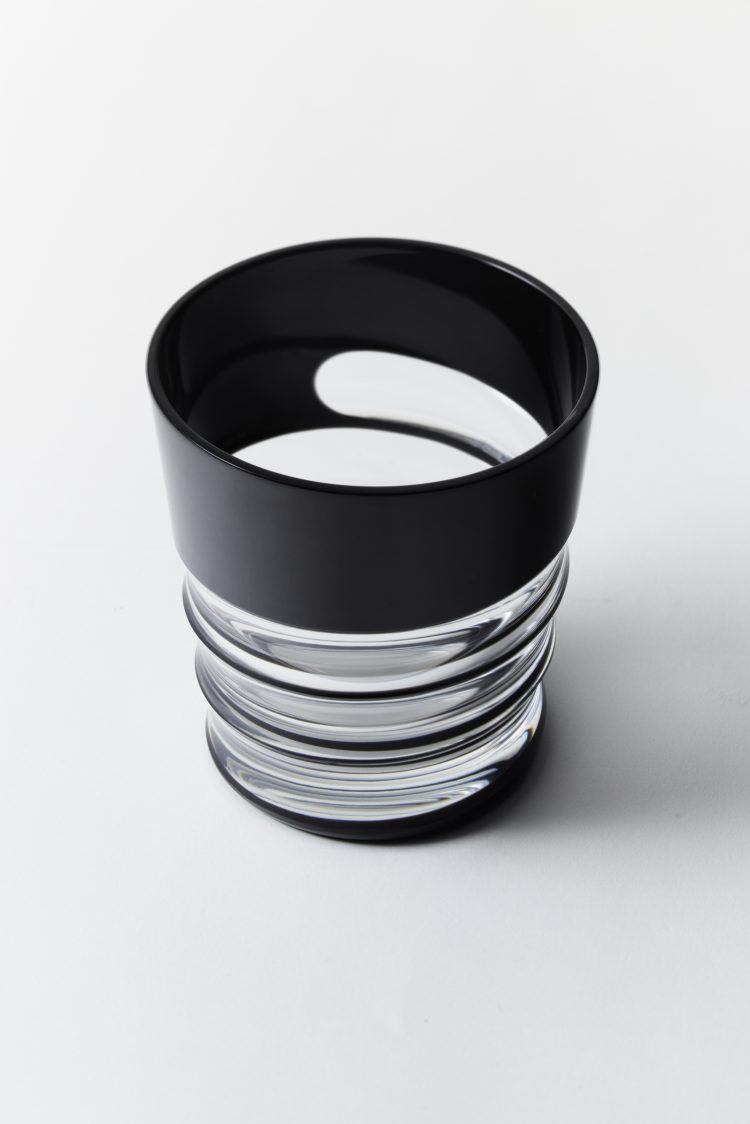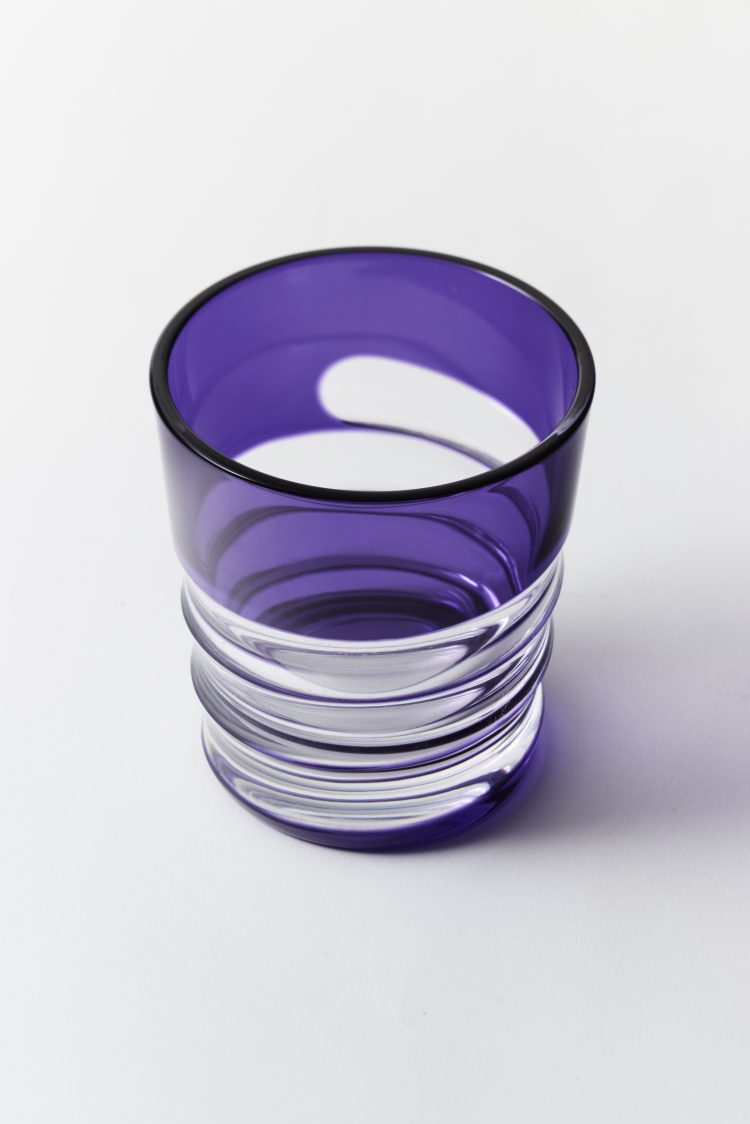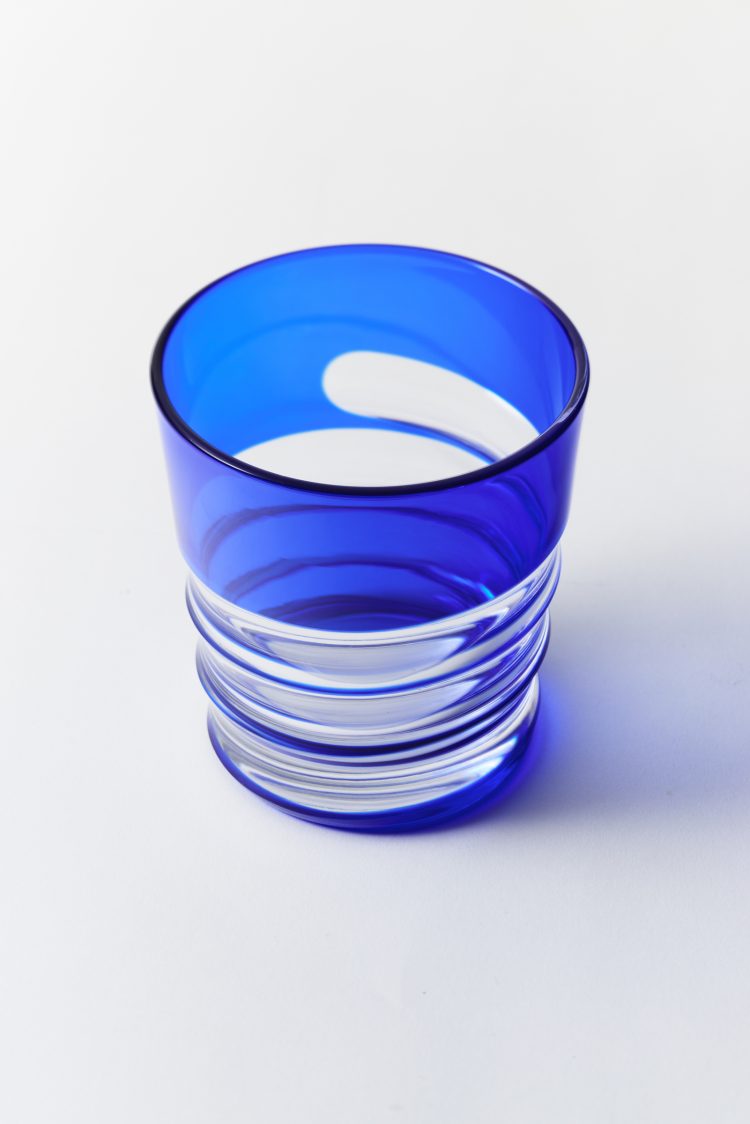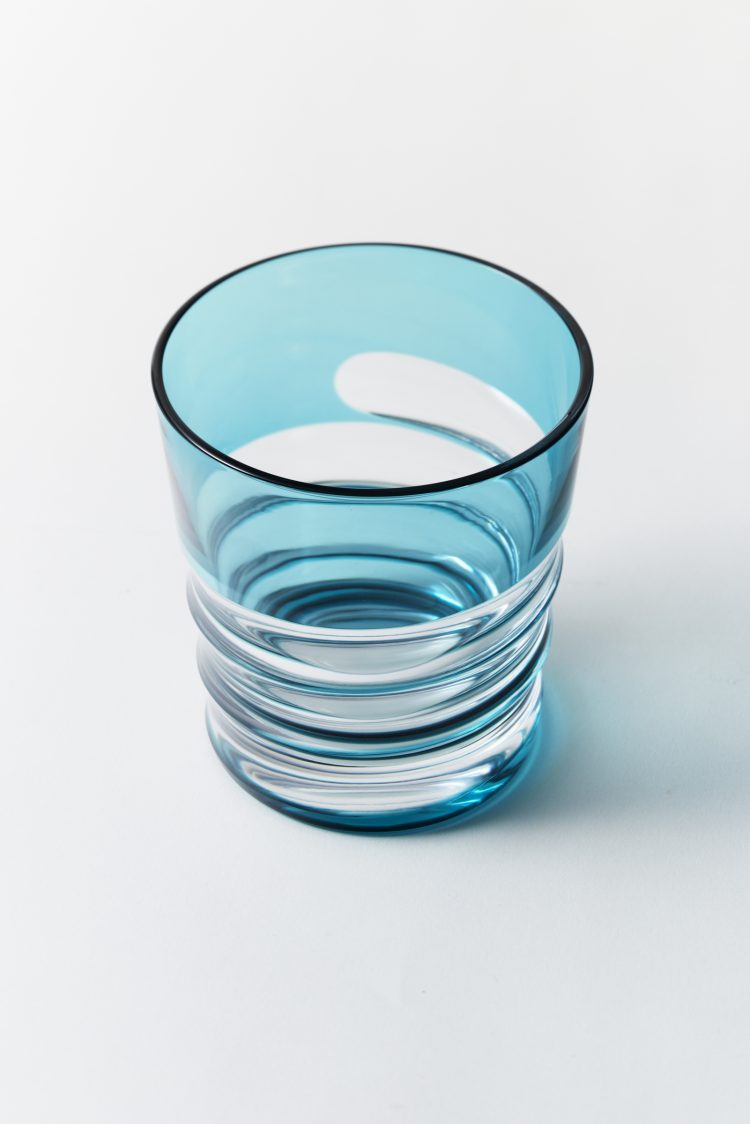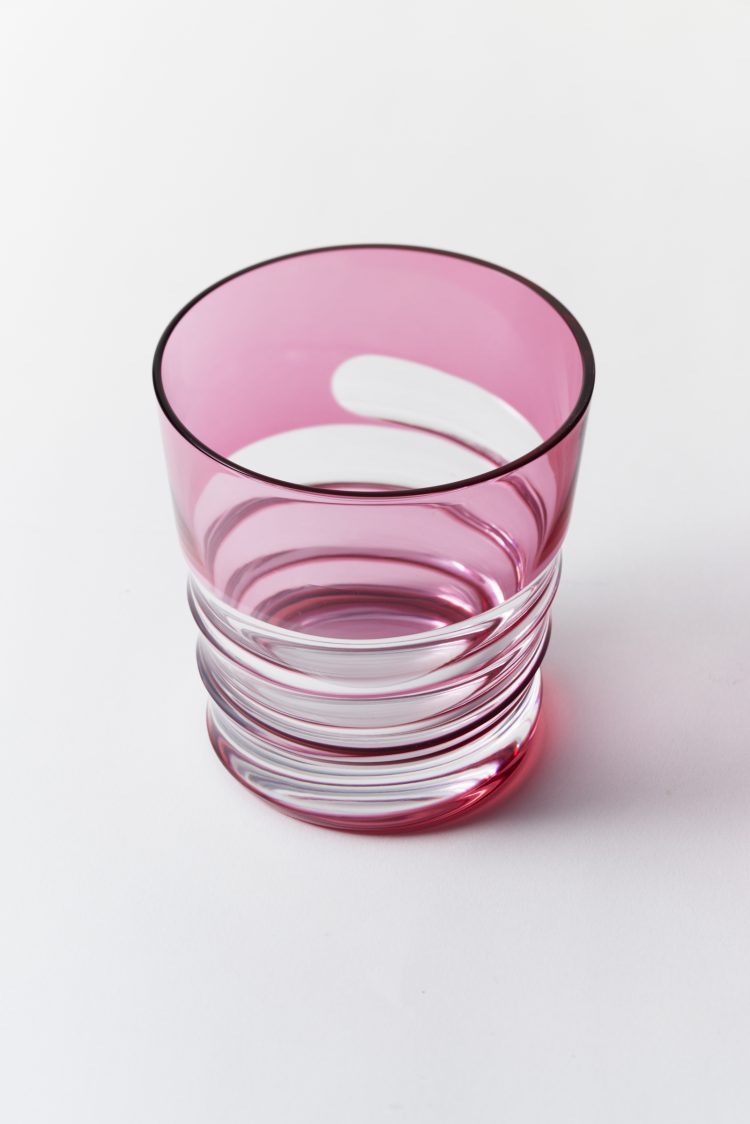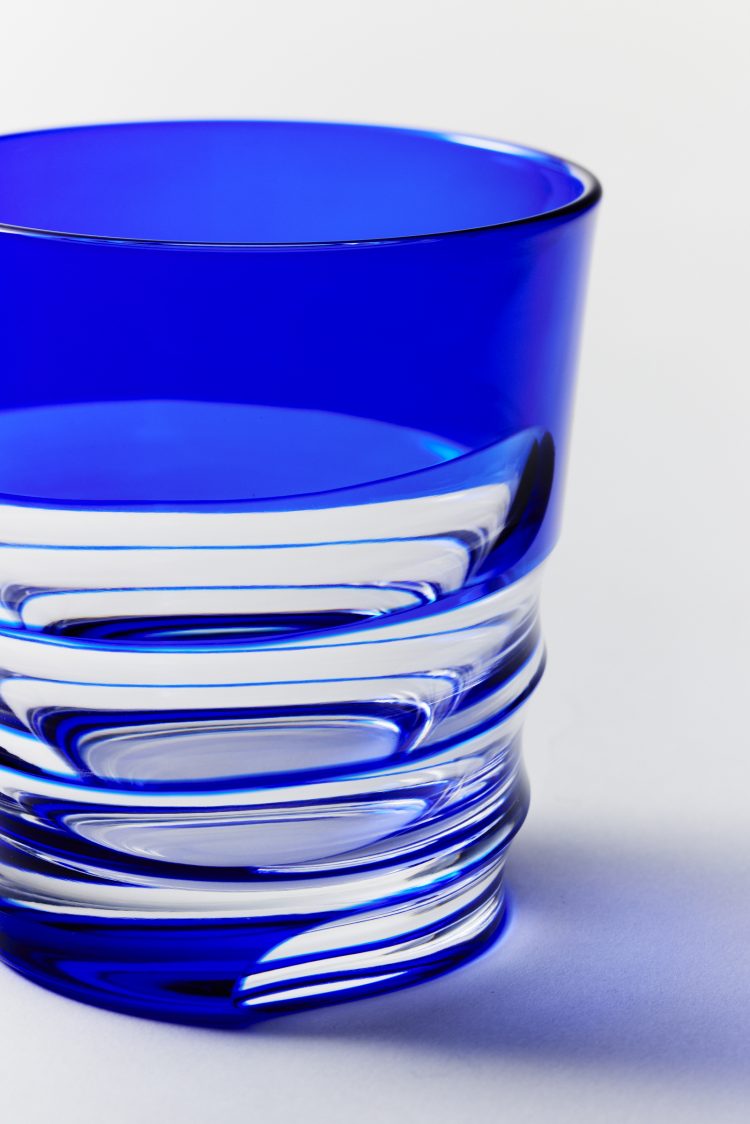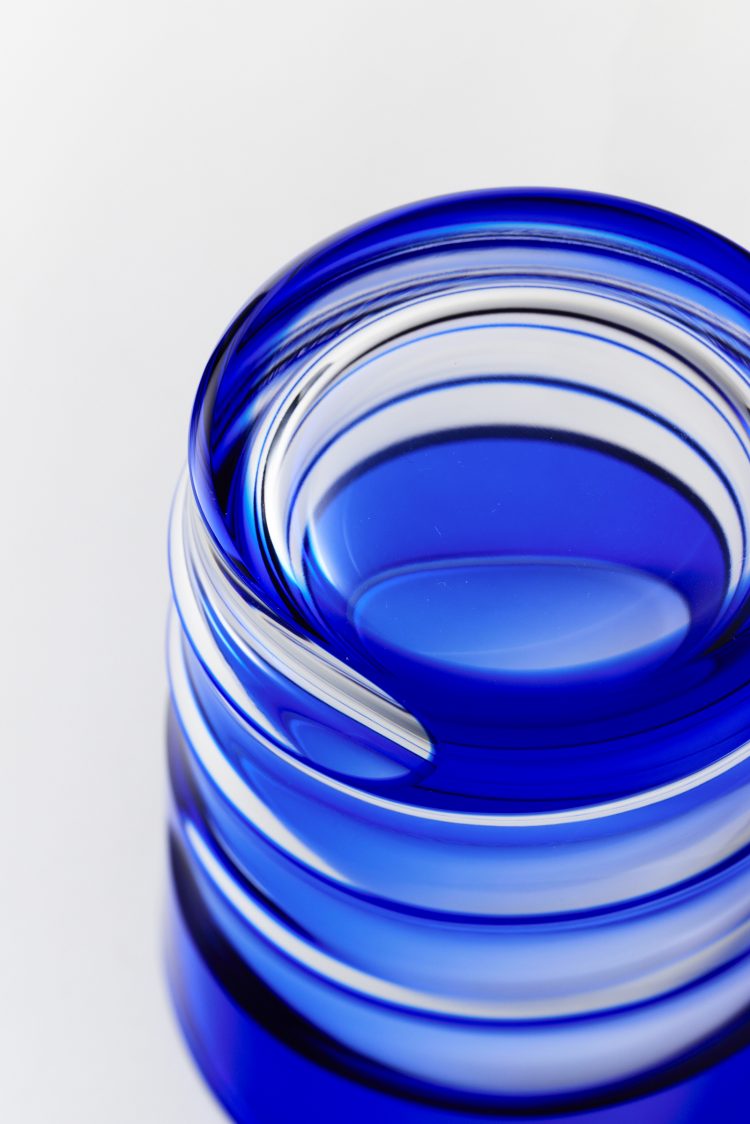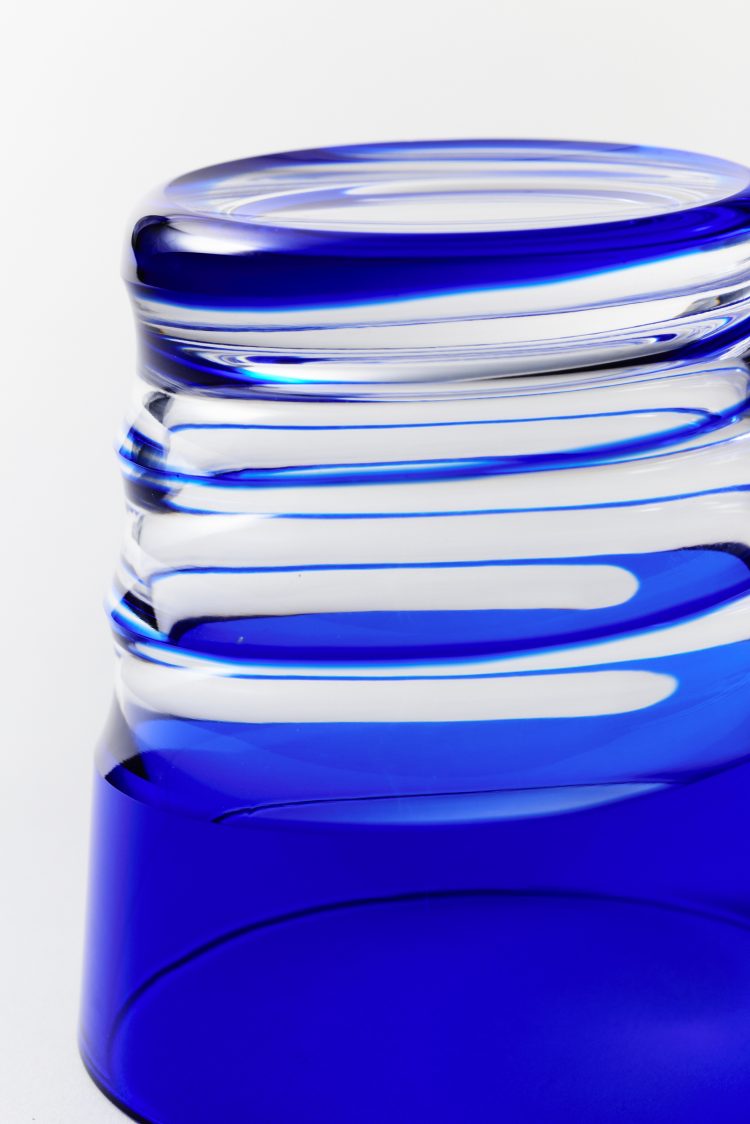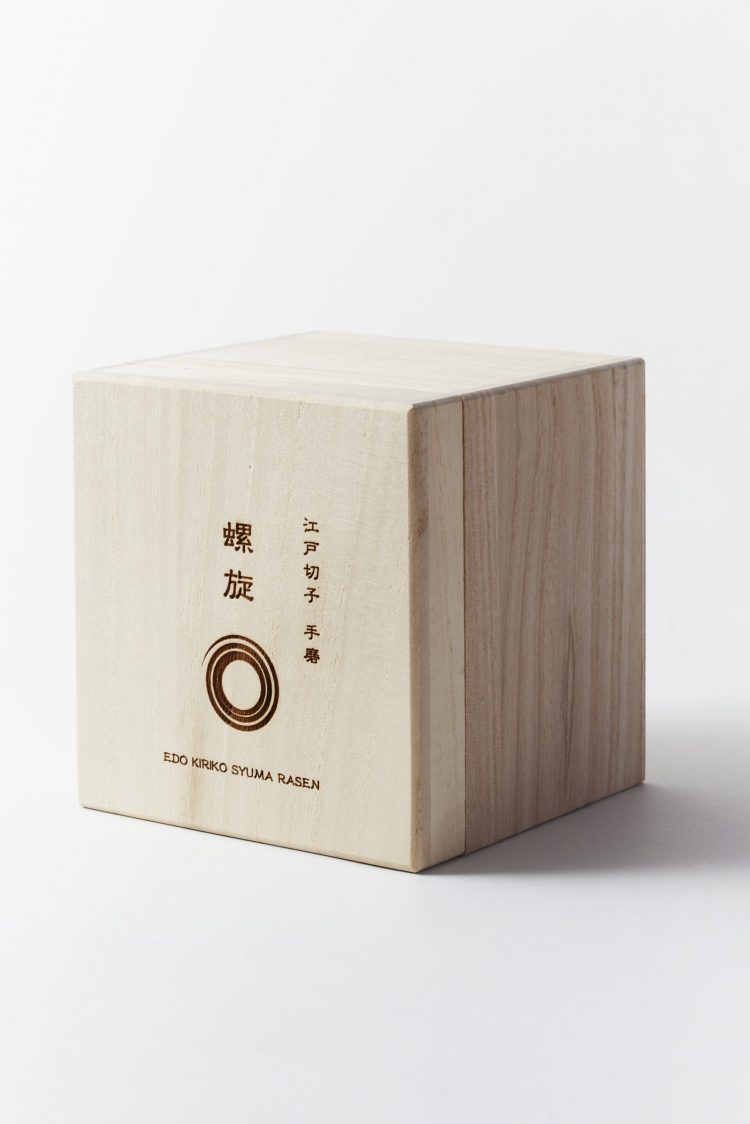 Spiral rock glasses provide covetous luxury.
In addition to the precise cutting and lustrous glass features
that can be enjoyed with Edo Kiriko,
they also boast a hand-polished finish
that produces beautiful colors and a pleasant texture.
The common method of finishing Edo Kiriko glasses,
which are recognized as crystal cut glasses,
is currently acid polishing.
In addition to providing a beautifully fine finish to the cut surfaces,
acid polishing can also be commissioned to outside workers.
Being able to concentrate on cutting Kiriko glass is
a huge advantage for craftsmen.
However, it is said that a phenomenon known as "kise,"
in which chemicals seep into the glass,
has the potential for partially dissolving
colored glass and changing the tone of the color.
On the other hand,
hand-polishing is performed only on the areas
where it is required,
and there is no risk of the original beauty of
the colors being sacrificed.
The main characteristic of this is craftsmen
working carefully on the undulations
that appear on the surface of cut glass
using both their hands and
their eyes to provide the perfect finish.
Unfortunately, learning how to do this is
surprisingly difficult and
it involves many processes and consumes much time,
so there is no shortage of craftsmen who have
ceased doing it
owing to it being difficult to notice much difference
in the end product.
Despite this, there is a craftsman named Hidetaka Shimizu
who stubbornly continues with hand polishing because
"traditional craftsmanship entails performing
every task with one's own hands".
The surface of the cuts on spiral rock glasses,
which are commonly produced,
adhere naturally to the fingertips
to prevent slipping when they are held.
The fine attention to detail
that hand-polishing requires is the reason for this.
Spiral rock glasses exude a fragrance of subtractive aesthetics.
Influenced by images of "peeling fruit" provided by the designers, .
the craftsmen believe that simple designs are
best for ensuring that the texture can be enjoyed.
Patterns are apparent on the bases of many Edo Kiriko glasses.
However, the colors are deliberately omitted from
the base of spiral rock glasses
using a technique known as agezoko (base raising)
and no cutting is performed,
and this provides the entire glass with a brightness
and sense of transparency.
The ostentatious cuts produce
a sense of lightness in spiral rock glasses.
Despite this, they are surprisingly heavy
and substantial when lifted,
and the way in which they seem to fit the contours of
the hand perfectly is astonishing.
A covetous level of beauty that stimulates all five senses,
and subtractive aesthetics that remove excess.
The work performed by craftsmen
who stubbornly insist on hand polishing provides
new insight into the charm of Edo Kiriko.
Edo-kiriko Hand-polished Spiral Rock Glass

Material: Crystal glass
Size: Diameter 85mm x Height 90mm
Types: Series of 5 colors
Green, Black, Gold Purple, Gold Red, Lapis Lazuli
*The information on this site is as of August 2022.
*Sizes, colours and shapes of the actual products may differ slightly as they are handmade.
*Product specifications and suggested retail prices may change without prior notice.