Kyoto, Edo, and to the world
The origin of the Kimekomi doll is in the Kyoto Kamigamo Shrine in the middle Year of the Edo period (1736-1741). It originally started making small doll from the rest of Yanagi Bako wood carving material that are used by priest for festival and the small pieces of priest's costume.
This doll making technique called called "Kamo doll" originally. And it gradually became known as "Kimekomi doll" as the technique is that tucking the piece of fabric into the breaks of wood mold by spatula.
Whereas "Dressed dolls" is put many costumes on its body,"Kimekomi doll" is made from Paulownia wood and molded by Toso Glue (clay).
The Kimekomi method makes the doll's costumes fit snugly around the torso, so the doll has beautiful body silhouette and shows body movement clearly like human being.
Kakinuma Ningyo is a factory which handles seasonal doll by Edo Kimekomi doll making, founded in 1950 (Showa 25). Second generation Toko Kakinuma is Dento Kougeishi (certified Traditional Craftsman) who shines with honor as a creative doll. He is ambitiously working on innovative technique into doll making such as Raden Damascening and Saishiki Futae Kasane (Layering few textile for doll's Kimono to create quality decoration).
The "lucky cat" series born from the thought that "I want to increase the opportunity to adore the Edo Kimekomi doll not only by seasonal dolls but every day." And now, it become a trend in the world. Kakinuma Ningyo is taking modern approach for Edo Kimomekomi doll such as unique combinations of fabrics and new materials such as leather.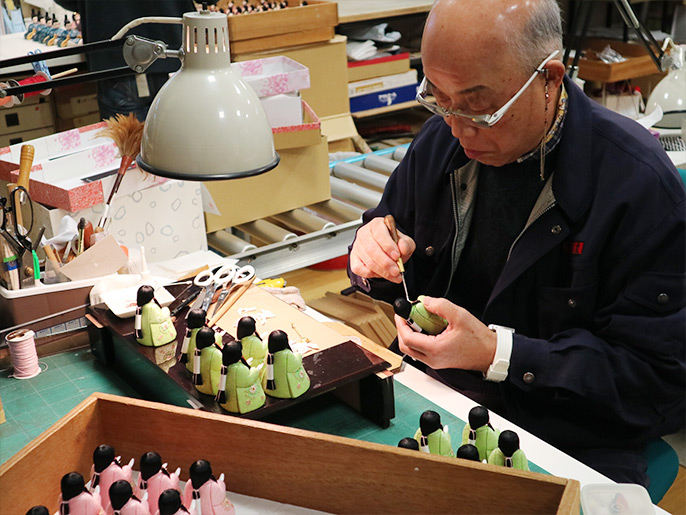 Kakinuma Ningyo
1-21-11, Shin-koshigaya,
Koshigaya-shi, Saitama, 343-0857
Tel:+81-48-964-7877
Fax:+81-48-962-3126
Masashi Kakinuma
info@kakinuma-ningyo.com