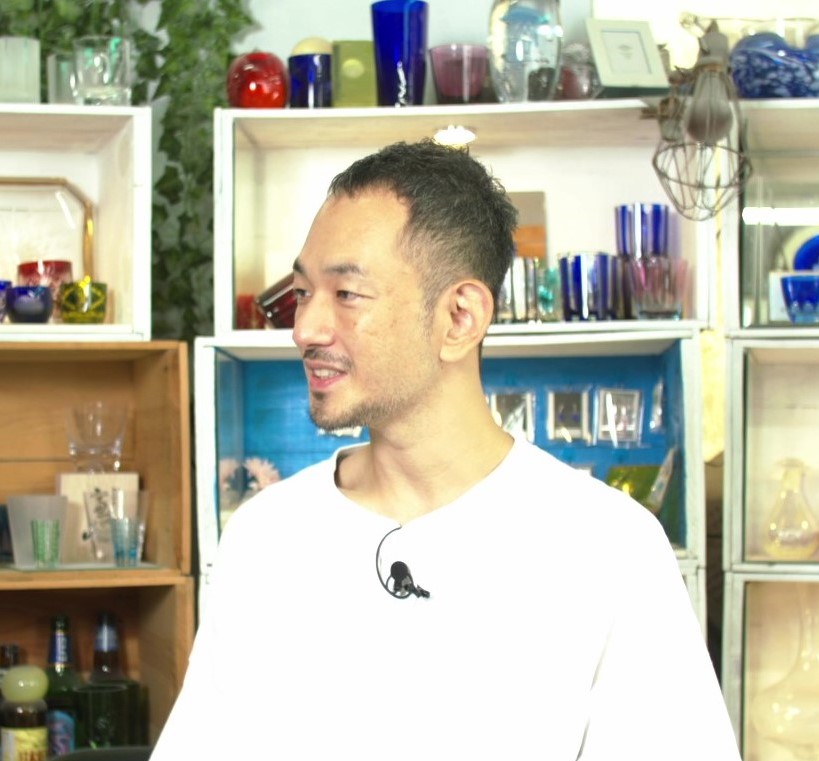 Neo Edo kiriko that enchants with its hira-kiriko and sandblasting
Founded by Takayuki Shiina in 2014, GLASS-LAB co., ltd. is dedicated to glasswork.
It is tied to Shiina Glass,
a limited liability company that has been engaged in cut-glass
processing in the Kiyosumi Shirakawa
district of Tokyo since the days when his grandfather ran the business.
It conceives, makes, and sells products that apply the know-how of Shiina Glass.

Shiina Glass handles the whole range of cut-glass processing including cutting, boring,
and bonding.
Of particular note are two techniques: hira-kiriko,
a traditional Edo kiriko technique
that Takayuki's father Yasuo refined over a long period of time,
and precision sandblasting technique that can even produce very fine lines
with a width down to 0.09 mm and was developed by his younger brother Yasuyuki.

While the business was a family operation, Takayuki recalls that, as a child,
he regarded even the workshop lined with grinding machines as merely a playground.
He had no desire to succeed his father in the business,
and did not appreciate the high level of skills possessed by
his father and younger brother until he founded GLASS-LAB.

This was only to be expected,
as the circle of people who could appreciate the craftsmanship of Shiina Glass was limited.
Almost all of its customers were glass workshops and artists
that came to it for hira-kiriko processing to flatten the bottoms of plates
as well as glasses, and badge makers
who requested the inscription of names by sandblasting.

It was to spread knowledge of this marvelous technology among the general public
that Takayuki turned his attention to retailing when he set up GLASS-LAB.
His company is bringing out numerous suna-kiriko (literally "sand cut-glass")
products of its own making that combine hira-kiriko and sandblasting.
In so doing, it is breathing new life into Edo kiriko.

GLASS-LAB co., ltd.
1-13-11 Hirano, Koto Ward, Tokyo 135-0023, Japan
Tel: 03-6318-9407
Fax: 03-3641-0917
Takayuki Shiina
glasslab417@gmail.com