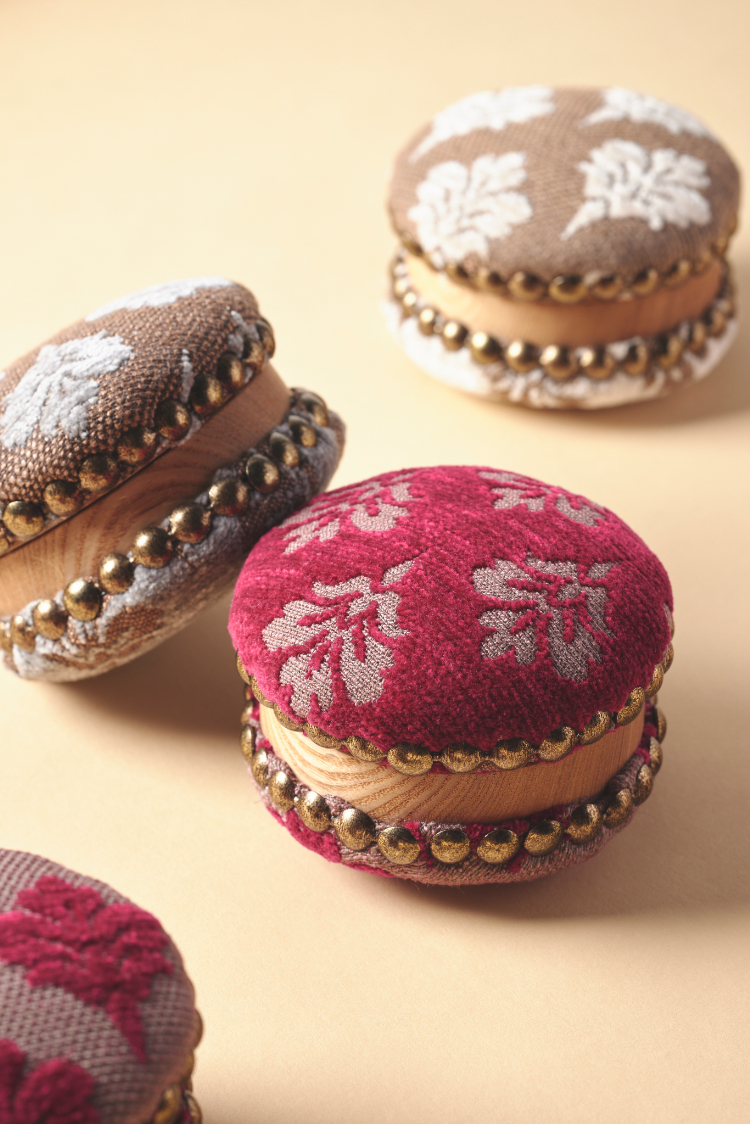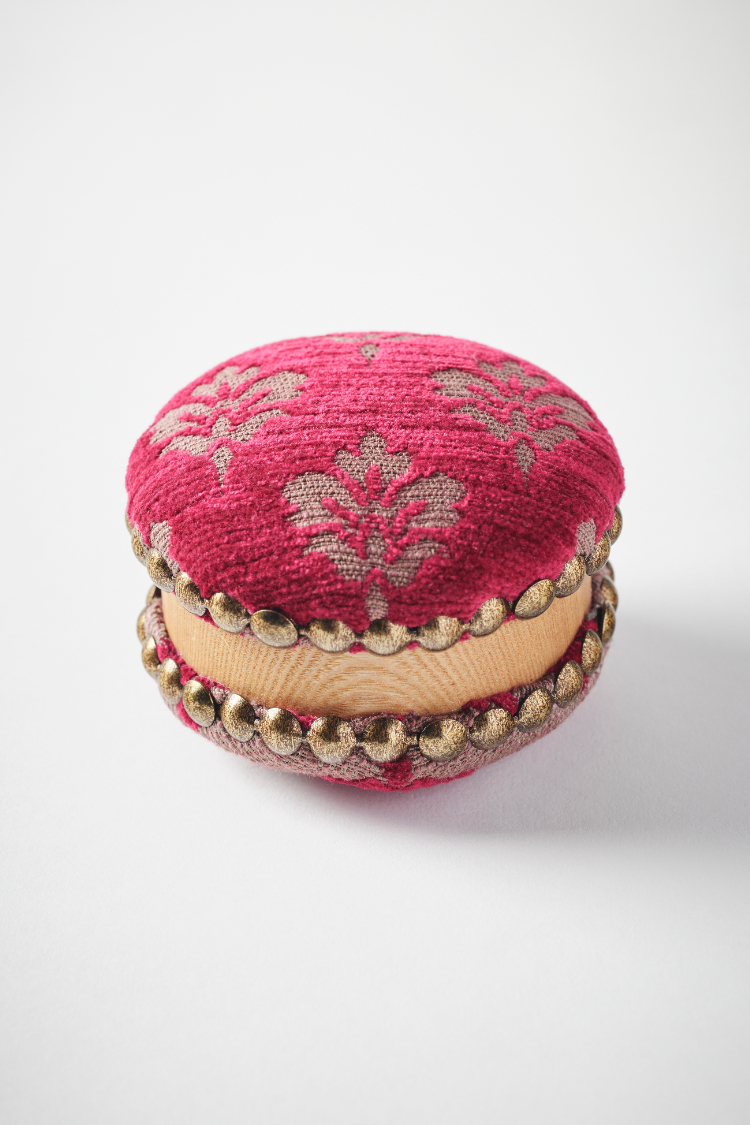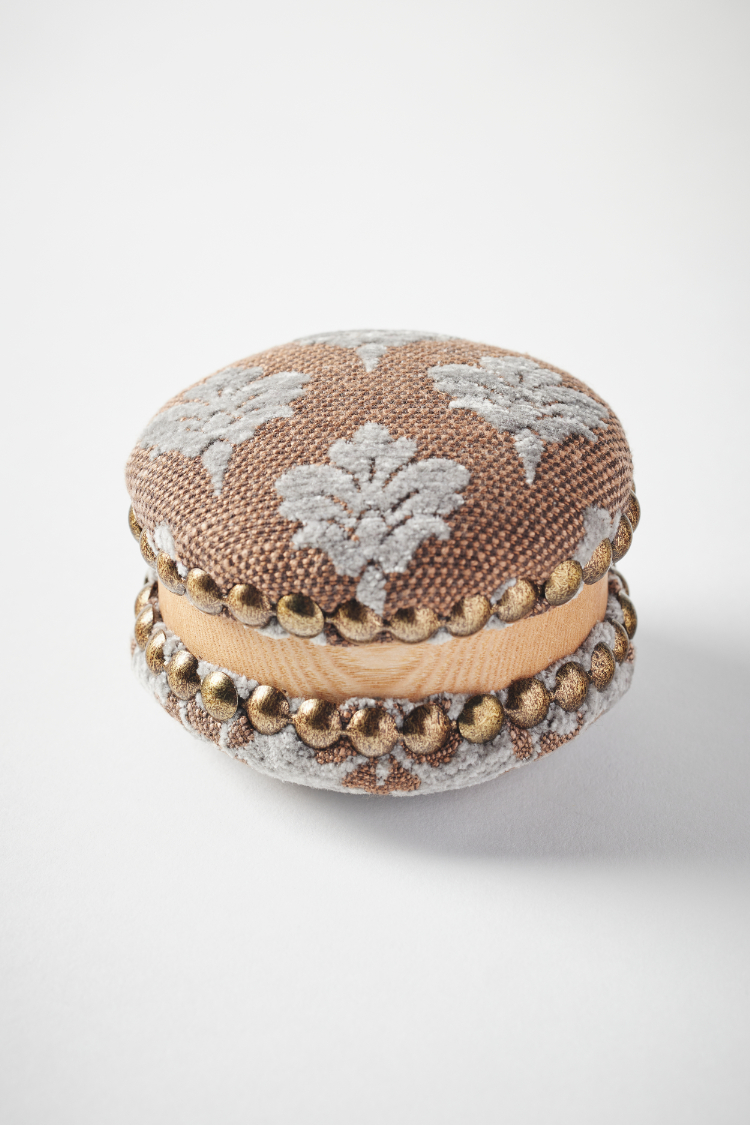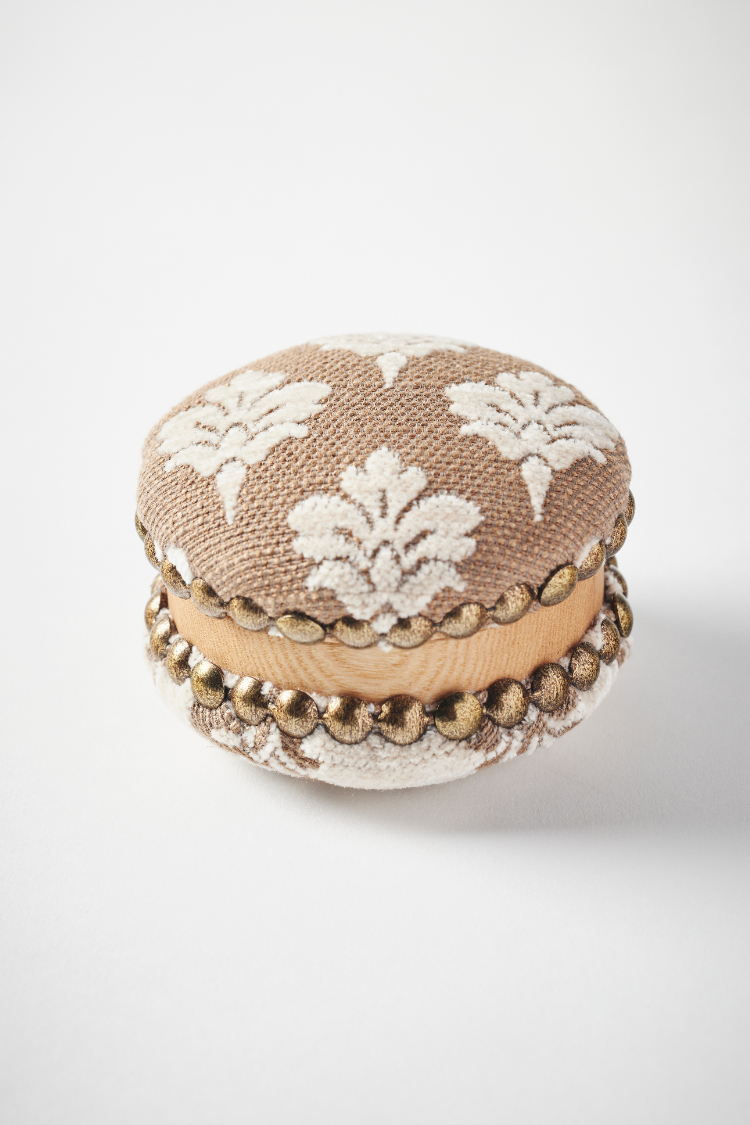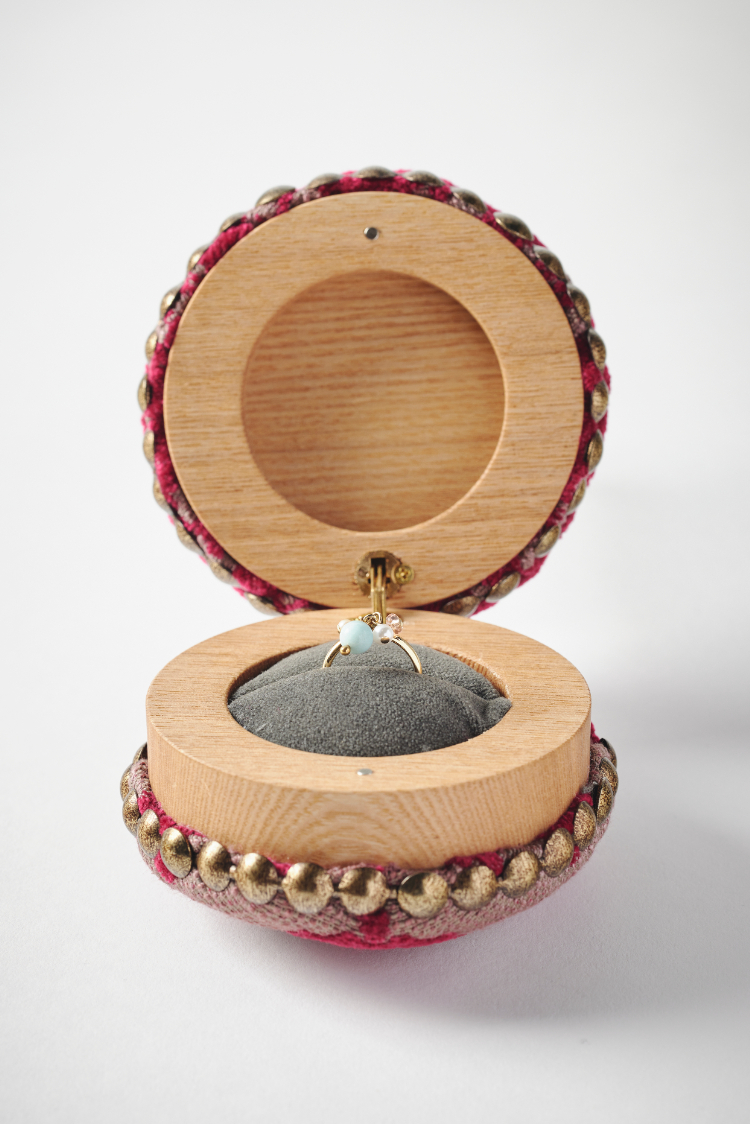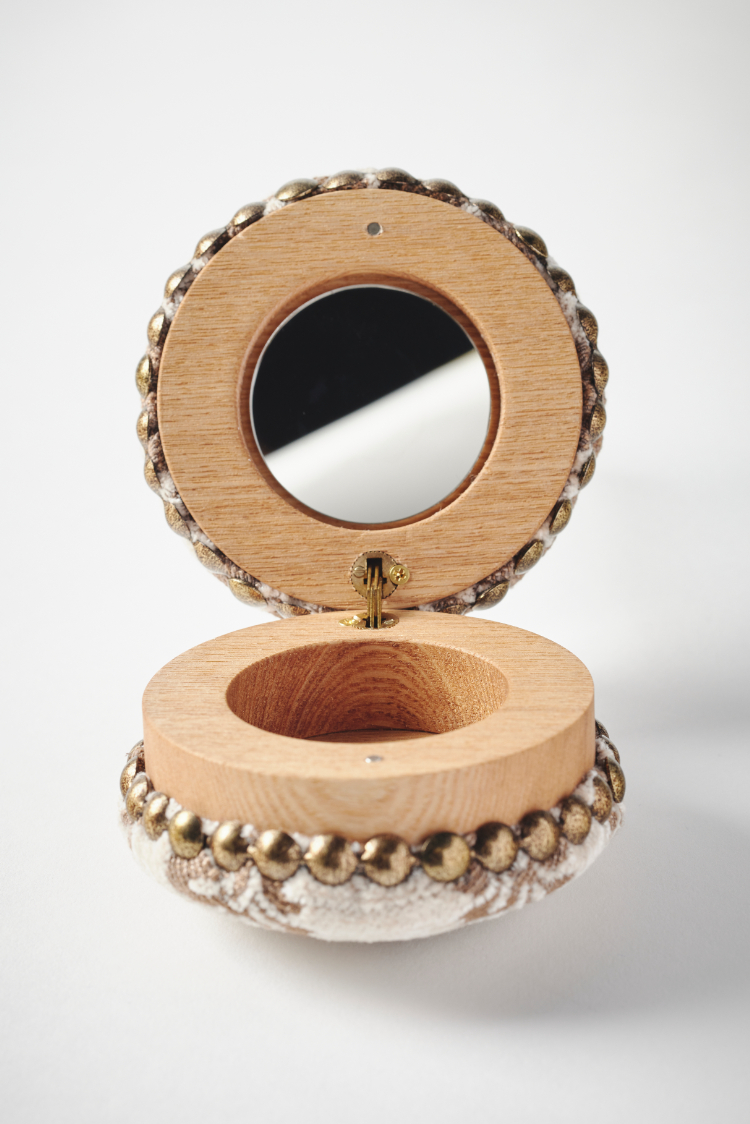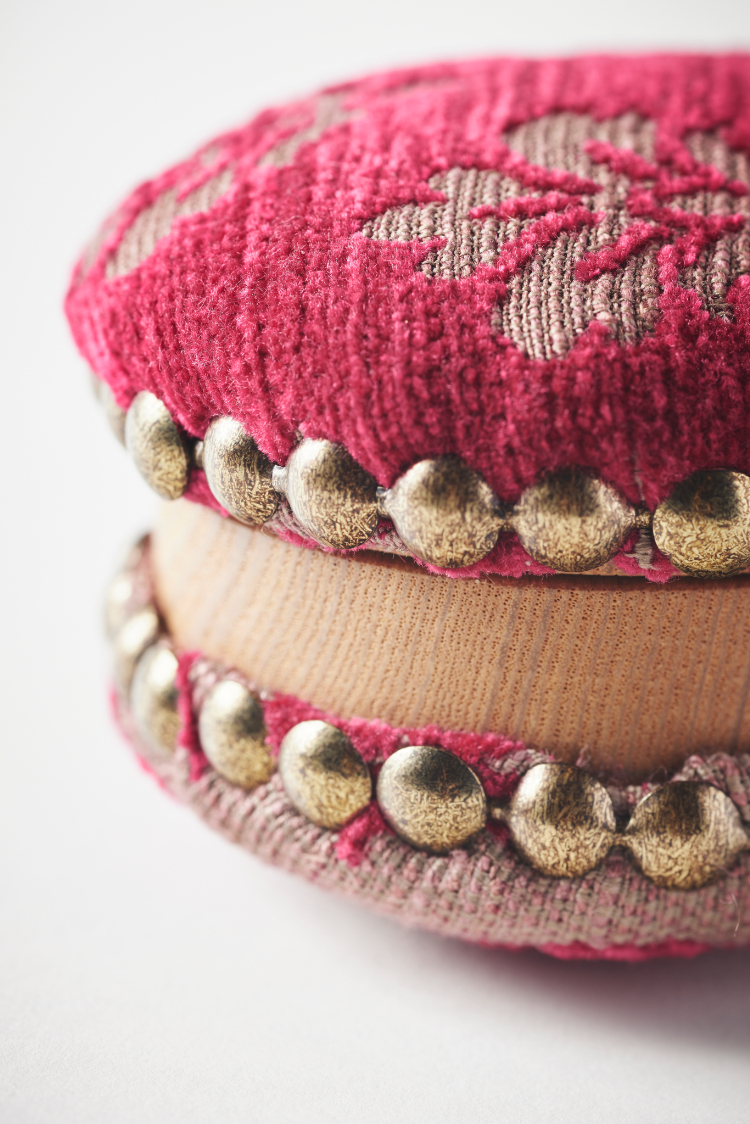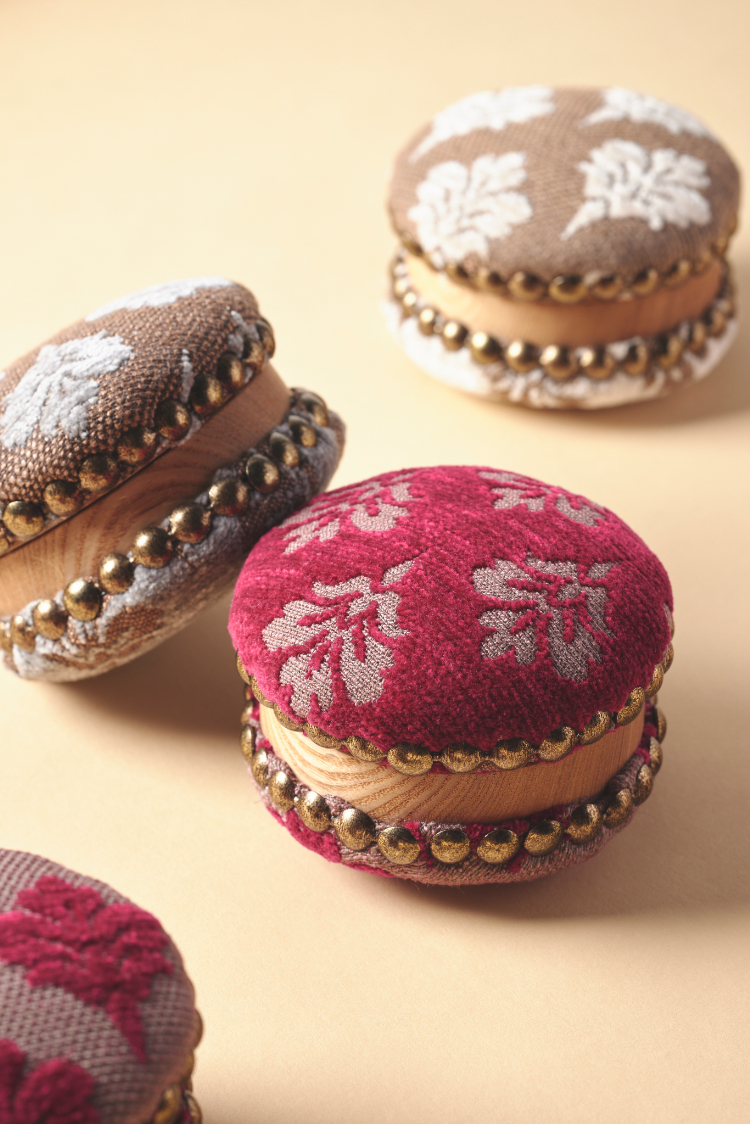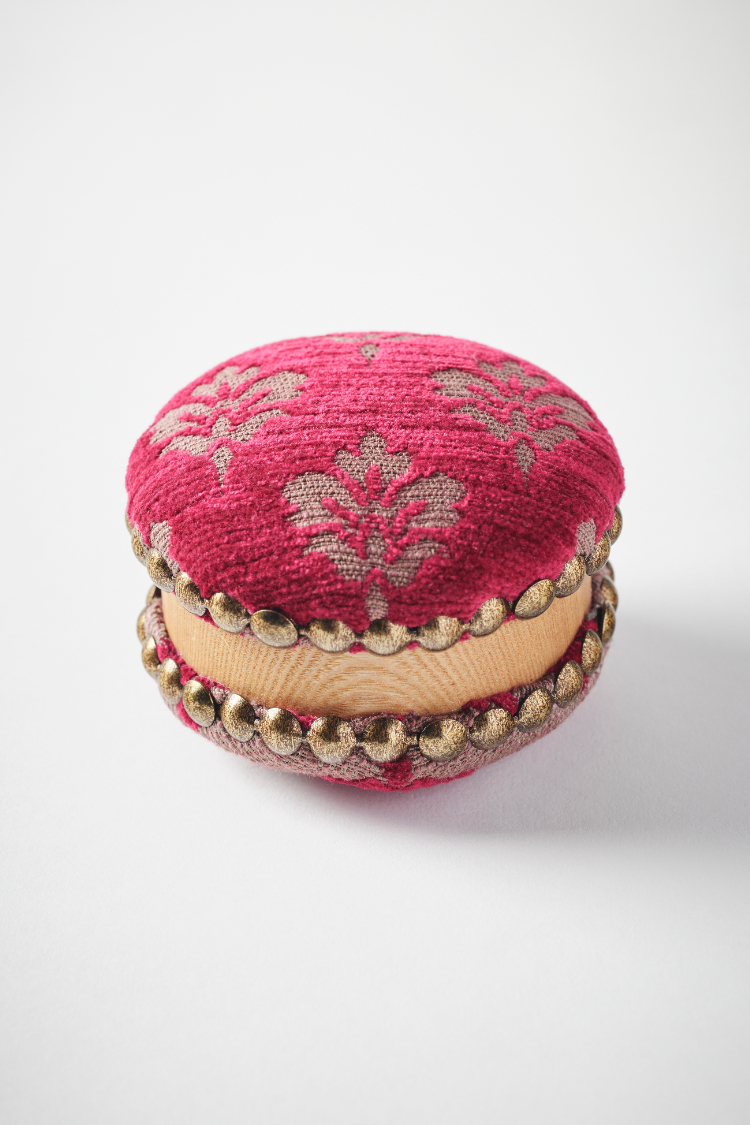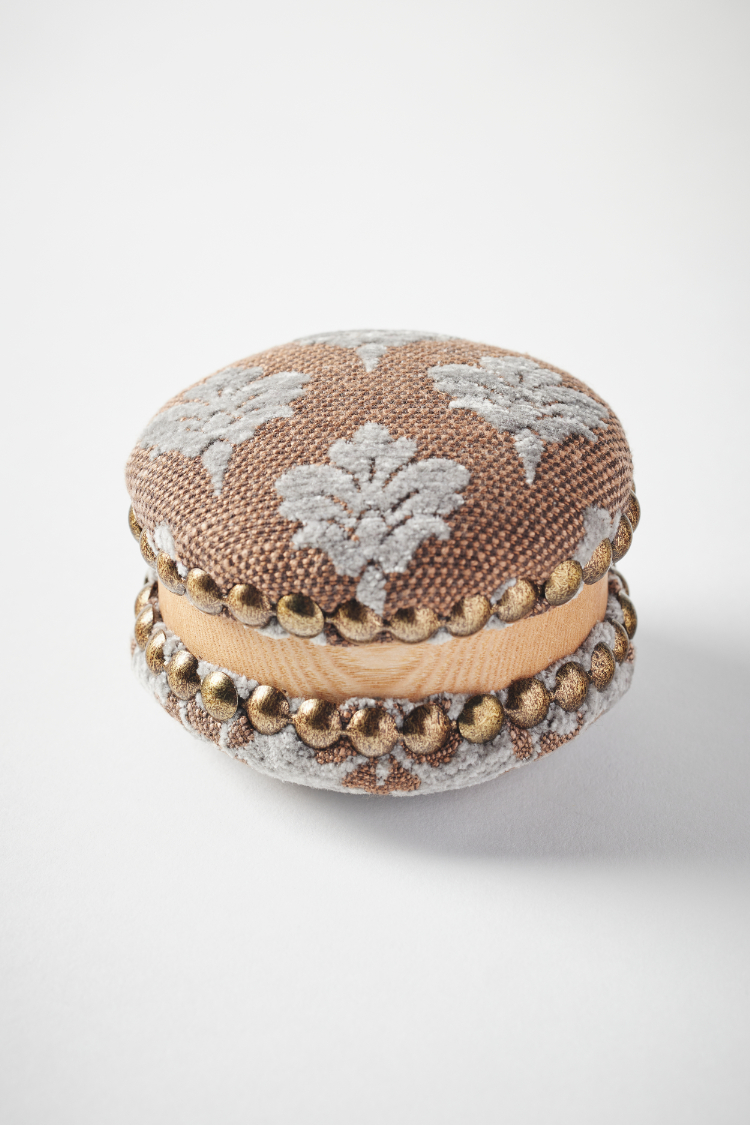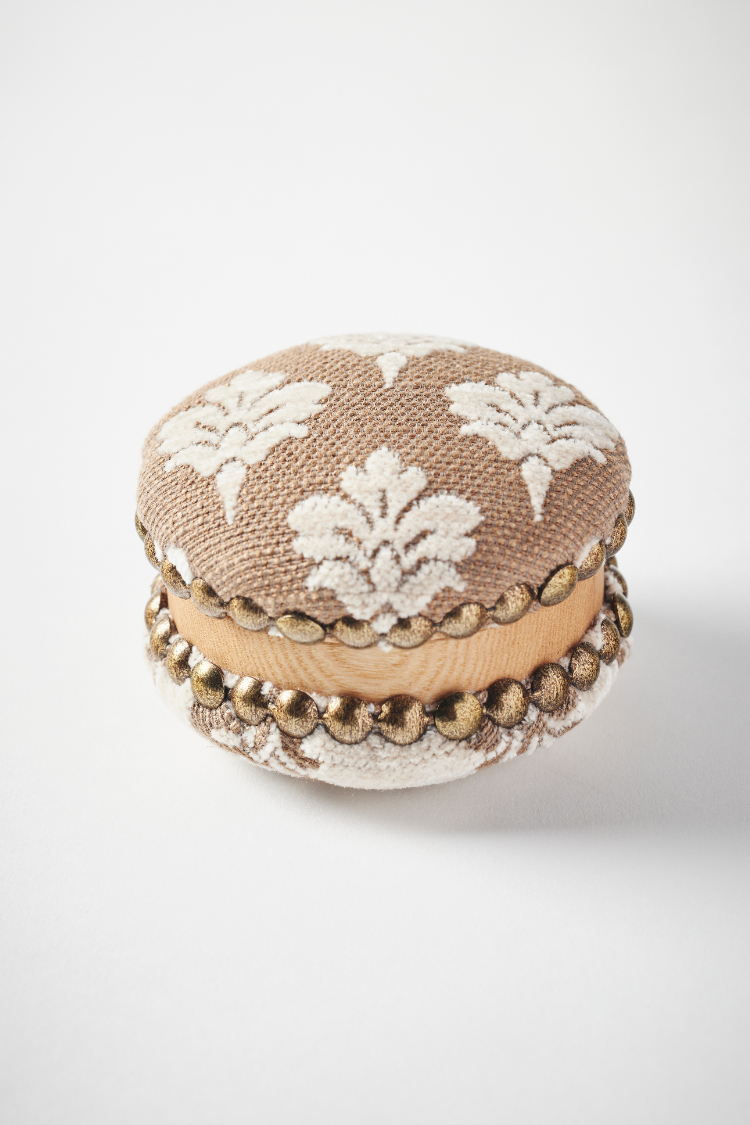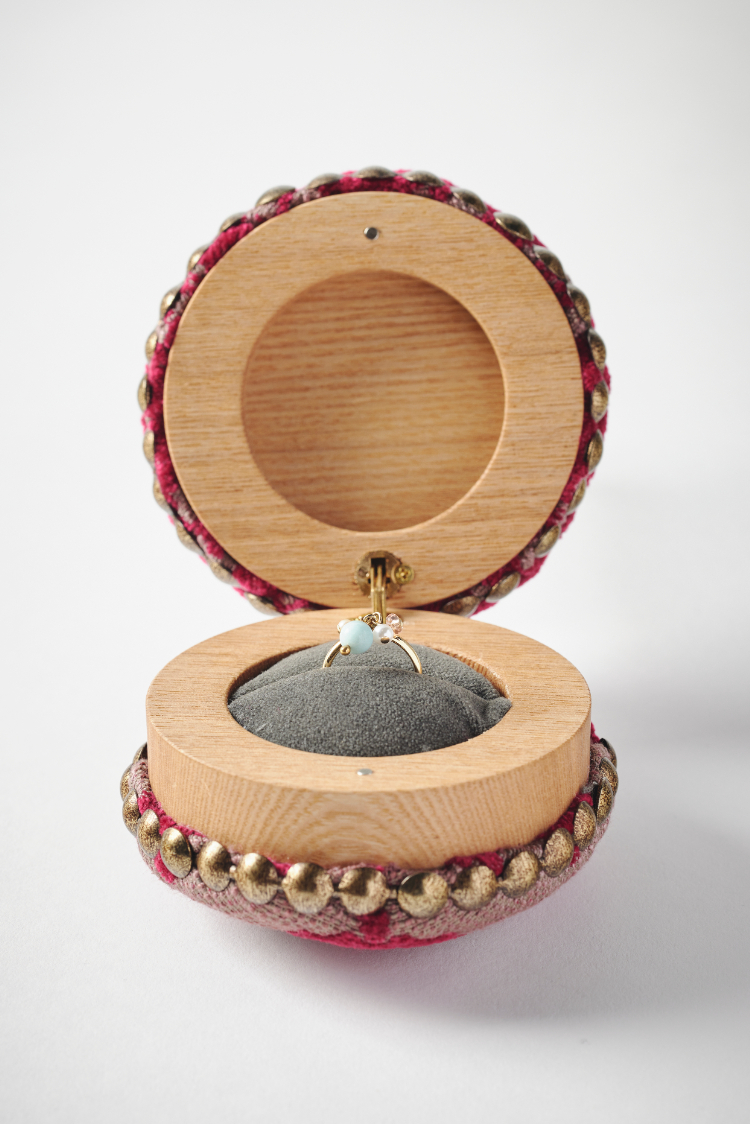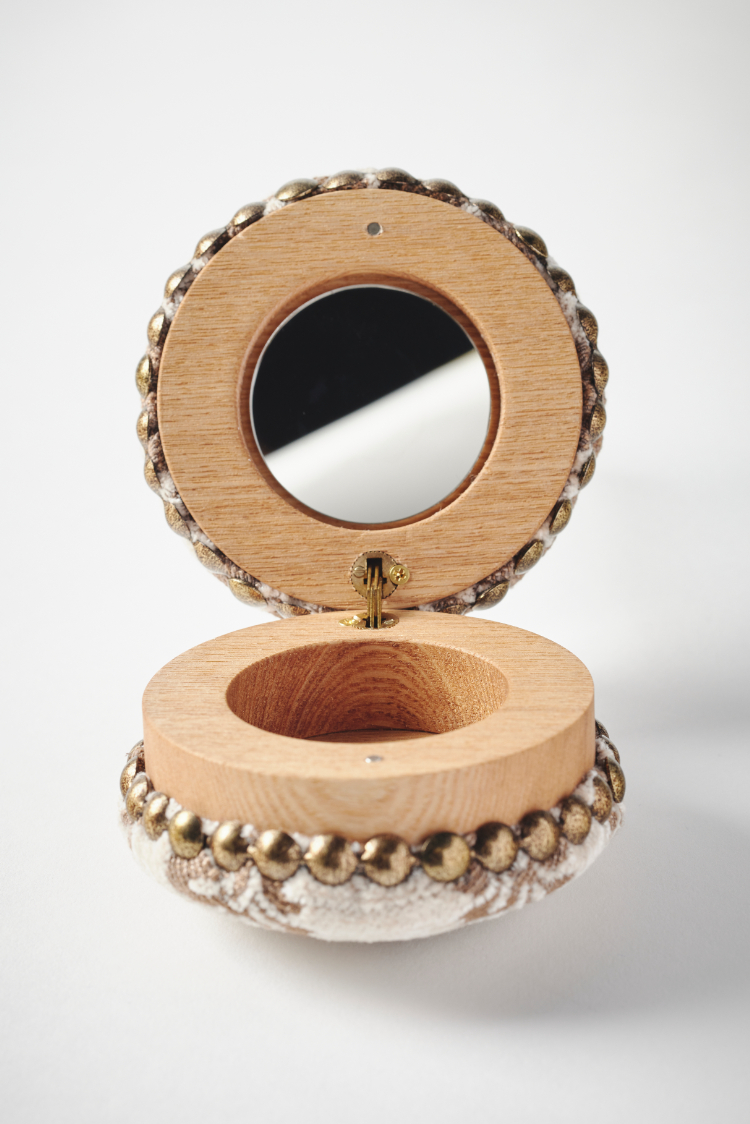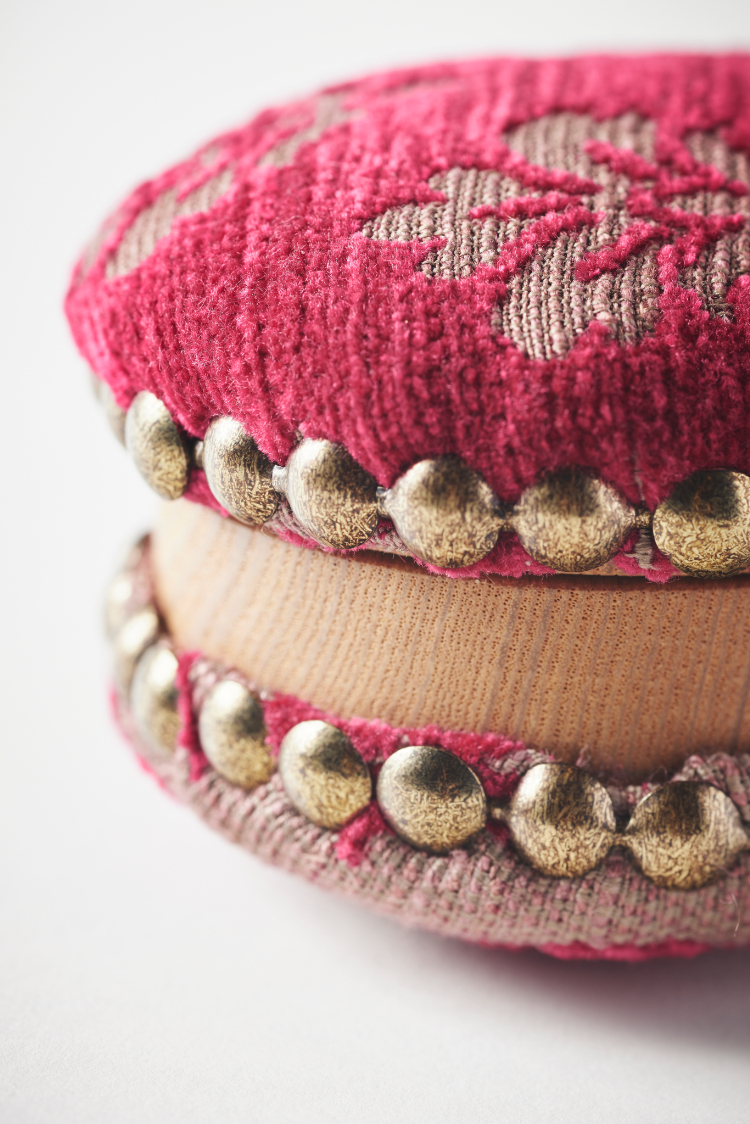 Would you be surprised to hear that an upholsterer
who works on chairs also makes delicate
"macaroon compact" cases,
small enough to sit on the palm of your hand?
The rococo style
– combining the representatively and exquisitely curved chair legs
underpinning cloth upholstered seats,
ceramics and gold accoutrements –
dates back to the time between 1720 and 1760,
carrying everything before
it in the salons of the dynastie des Bourbons.
Having learned those traditional rococo techniques from his father,
the founder of the upholstery business,
Masanobu has made upholstery his specialty.
Yet, even after taking over the studio in 2010,
he not only makes and upholsters chairs
but also finds the time to develop new products.
"I want to make original pieces
that can be admired for their beauty by everyone!"
With that in mind, Masanobu sets out his own designs,
having wooden frames made for him by craftsmen in Japan,
leaving him to upholster the pieces
into the curvaceous delights of his
"egg stools" and "macaroon compact cases".
My first stool was a macaroon one,
but then someone told me
that the stools might be better off without long legs,
so I changed to rounded legs in the "mushroom legged macaroon",
the "macaroon zabuton stool" that divides into three,
and the "macaroon box" that can store small items.
Then, having been asked for something even smaller,
I finally trialed and errored my way
to the launch of the "macaroon compact".
Covered in fabrics from France,
the macaroon's frame is made of hard Japanese ash
that has been hollowed out.
In part,
the rivets running around the circumference are for decoration,
but Masanobu says that he also intentionally
uses them to protect the bare wood section from damage.
Customers can choose from two types,
a compact type loaded
with a mirror and a case type for holding a ring.
Being round and diminutive, the upholstering of fabric,
without a single crease, is arduous.
Chairs, with their backs and arms,
allow some sideway and backway leeway in fabric fit,
but a rounded surface requires every gather to be exactly equal,
or else creases will appear.
And, the smaller the object the harder
it is to apply the right amount of force,
which means no room for even the slightest of errors
in this precision-demanding work.
The usual way of fastening the underside
involves using a tacker (commercial stapler),
but the spirit of an artisan demands that it be done
with a single thread and tacks placed out of sight.
As all the metal fittings are installed inside,
some people hesitate in trying to unfasten cases
because they cannot find the openings.
Exquisite from whichever angle you look!
The palm-sized "macaroon compact" is framed and upholstered
with every ounce of expertise found in the skills
that flowered in the rococo era.
Macaroon Compact

Materials: Wood (Domestic Ash),
Cloth (Imported directly from France: 44% acryl, 25% polyester,
23% rayon, 8% hemp), Cushion (urethane, cotton)
* Made in Japan except for cloth
Size: φ100mm(approx.), H 70mm(approx.)
  (inside dimensions: φ 52mm(approx.), D 20mm(approx.)
Types: 3 types of color patters (other color variations)
*The information on this site is as of November 2022.
*Sizes, colours and shapes of the actual products may differ slightly as they are handmade.
*Product specifications and suggested retail prices may change without prior notice.