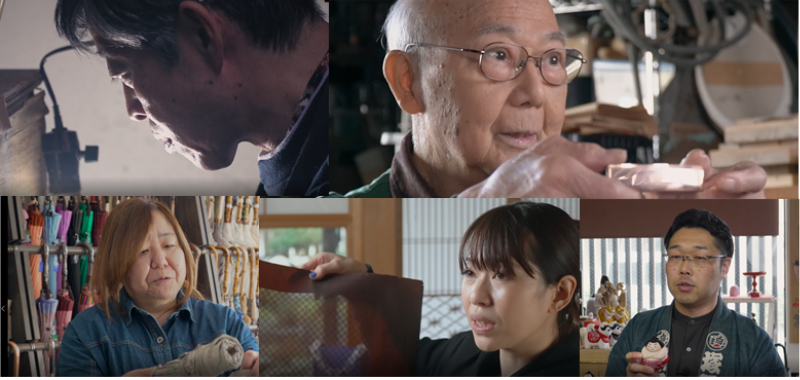 In this video, craftsmen from Ishizuka Senko (Tokyo-dyed komon), Teshigahara Seisakusho (copper grater), Montblanc (Tokyo Yogasa umbrella), Tsukada Kobo (Edo Kimekomi Ningyo dolls), and Hatakeyama Seisakusho (Tokyo Shippo cloisonne Enamelware) talk about the history, background, and techniques of their products.
Ishizuka Senko uses dyeing techniques inherited from the Edo period to produce Tokyo-dyed komon bags in vivid colors.
Teshigahara Seisakusho is passionate about producing copper grater and has realized new grater with a beautiful finish that shines through the craftsmanship of its craftsmen.
Montblanc produces high-quality Tokyo Yogasa (umbrellas), whose craftsmanship and aesthetics make them elegant, refined, and easy to use.
Tsukada Kobo produces Edo Kimekomi Ningyo dolls that combine traditional techniques with modern ideas, resulting in wonderful products filled with the skilled techniques and aesthetic sensibilities of its craftsmen.
Hatakeyama Seisakusho uses its unique Tokyo Cloisonne technique to create beautiful and colorful ornaments.
Please take a look.
https://tokyoteshigoto.tokyo/en/movie/