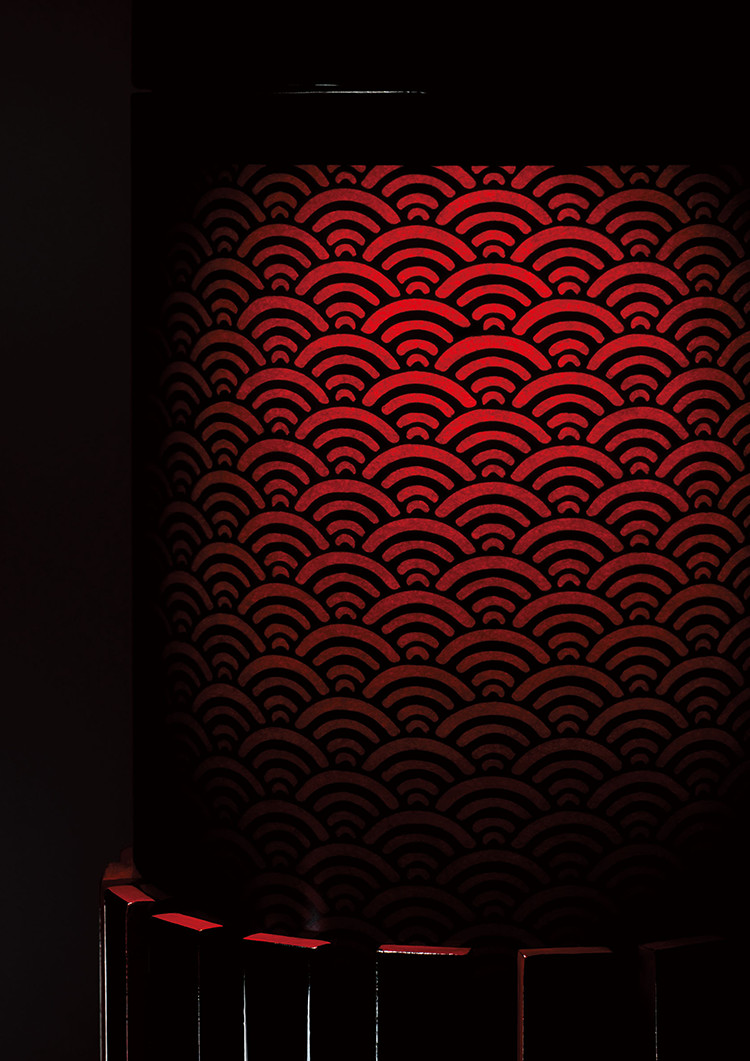 The pitch-black of darkness is interrupted with a lacquered glow. "Urushi-bi" is an "urushi" lacquered lamp that stirs emotions in dramatic ways when lit. Its surface, combining the depth of a moonless night with a lustrous shine, is created with a polished finish, a technique for traditional Japanese lacquerware. This technique of repeated polishing, by rubbing with raw lacquer after top coating with "urushi" and polishing with charcoal(a), creates a beautiful lustre that can only be achieved with "urushi". When lit, patterns of ocean waves, arranged from within the lamp, rise up from its surface. These patterns are hand-carved one by one on traditional Japanese paper called "washi" applied and overlaid with lacquer by a collage artist. The colour of the light has a distinct sense of warmth that can only be expressed by "urushi". The spectacle created when light passes through the lacquer from its ebony-like surface, has never been tried before. And this realisation required numerous relentless challenges even for an expert such as Mr Ataka. The designer wanted to emphasise soft light leaking from a latticed window used in traditional Japanese architecture. The bottom of "Urushi-bi" is designed in the image of lattice crosspieces. And the light that leaks from the "urushi" is comforting, like hometown memories from the good old days.
Size: φ108mm × H195mm
Materials: MDF, Japanese urushi lacquer,
washi (Japanese paper), a crylic
Urushi-bi
*The information on this site is as of December 2017.
*Sizes, colours and shapes of the actual products may differ slightly as they are handmade.
*Product specifications and suggested retail prices may change without prior notice. Prices shown are all tax exclusive suggested retail prices.