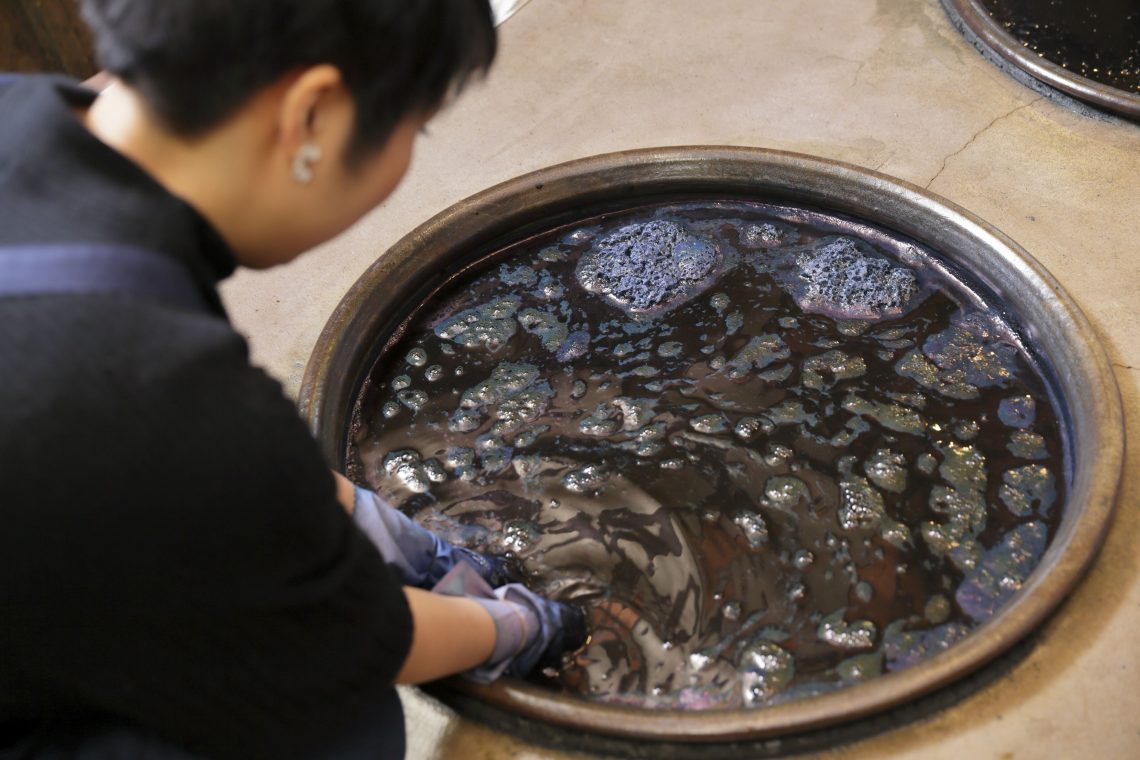 ●Content: Experiencing Aizome 〜Jikkuri Course〜
●Participation Fee: Cotton Stole : \4,800 (tax included)
T-shirt (short sleeves) : \5,200 (tax included) ※men's size (S・M・L)/ ladies size (M・L)
※material cost included in every fee
●Time: about 90 minutes (time depends)
●Reservation: Please inform us 3 days ahead of time either by TEL, FAX or WEB including the following information. ①contact info ②preferred time and date ③number of participants ④course (size of T-shirt for T-shirt course participants)
TEL : 0428(24)8121  FAX : 0428(22)4069     WEB : https://www.kosoen-tennenai.com/
(Please use the web form for WEB reservation)
●Notes: In addition to this, we offer "Otegaru Course (handkerchief and bandana)", "Bring-in Course" which you bring in your own fabric that you want to dye. We also offer "Group Course (discount for over 30 people)" for over 10 people. Please check the participation fee and details from the homepage.
Aprons and rubber gloves are available for rent. Please come with easy clothing and comfortable shoes.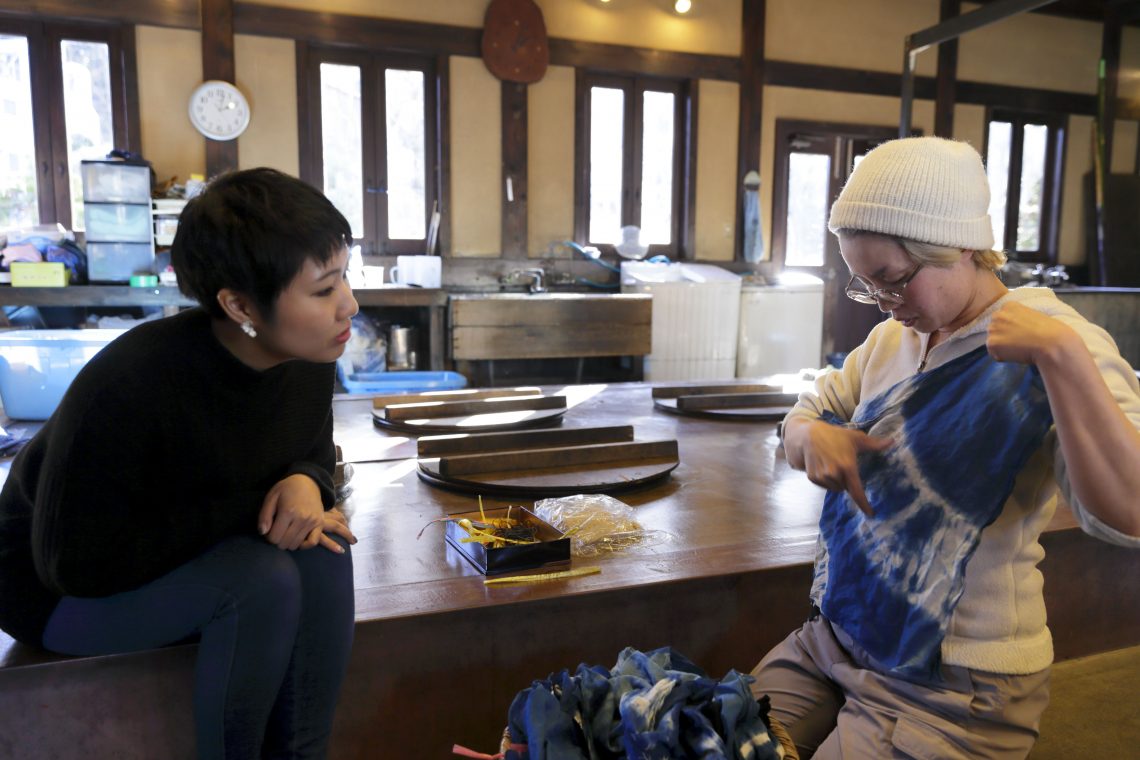 Ms. Suzuki is going to experience Aizome for the first time (left photo). The coach is Ms. Nakamura, who works at Kosouen (right photo).
Challenge real Aizome in a good old town "Ome"
It takes about 1 hour from Shinjyuku to Ome staion using the JR Chuo Tokkai. After getting off at "Ome" station, old movie signboards and old-fashioned waiting room will welcome the visitors. Around Ome station, there are places like "Showa Retro Museum" and "Ome Akatsuka Fujio Kaikan" which brings back memories of the good old days. Ome is a good town to walk and hang around on weekends. The studio that we would like to introduce is "Aizome Kobou Kosouen." This studio is located about 20 minutes' walk from Ome station. Ome is a town where textiles industry originally prospered. "Omejima" which had appeared in "Tokaidochuhizakurige" was Ome's special product that mainly used the technique of Aizome. Kosouen is a real Aizome studio that uses the dyeing process of Tennen Aiaku Hakkodate which was used in Edo era. You also can experience dyeing using Aiaku Hakkodate. Ms. Suzuki, who is ready to experience the dyeing is excited to be at the same studio where craftsmen move around busily. Before starting her experience, she curiously listened to the explanation in how to make the patterns of Aizome.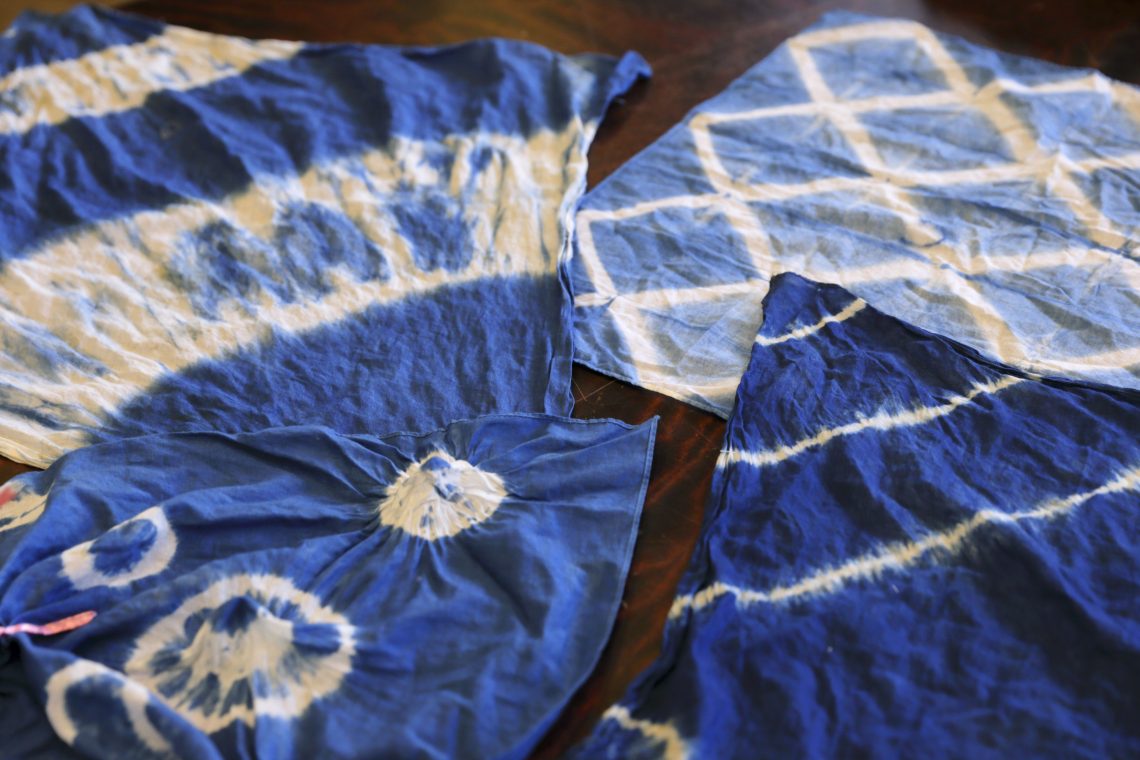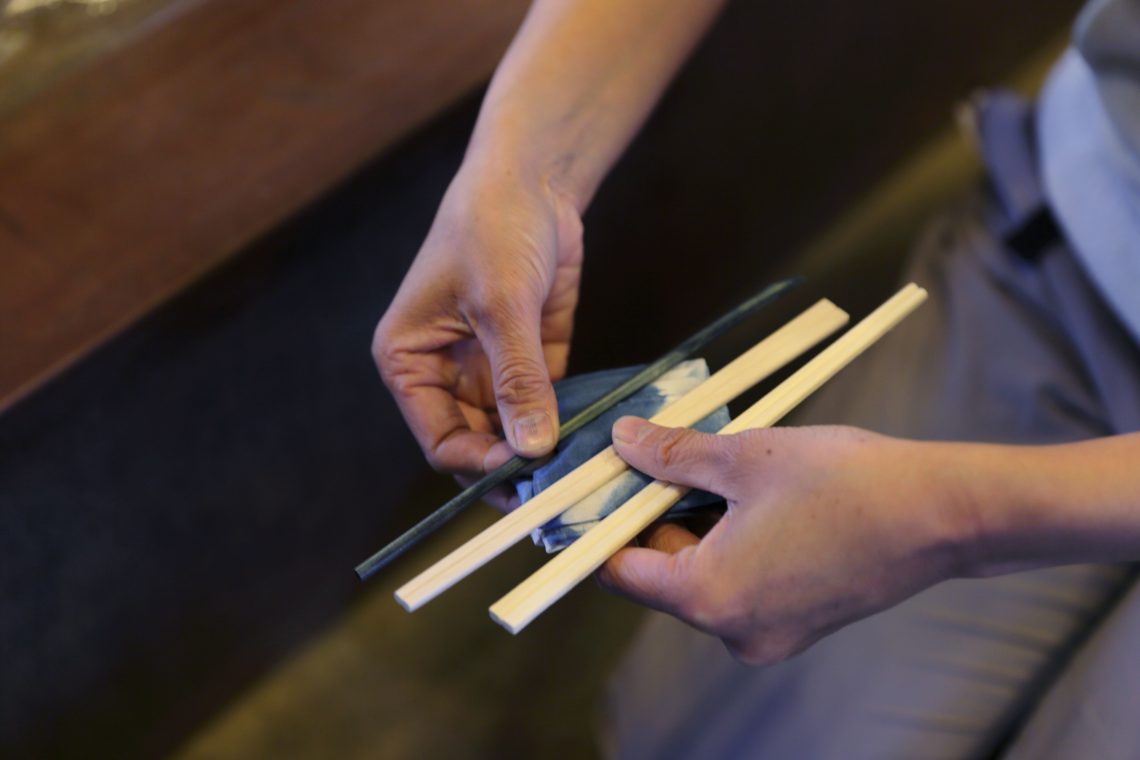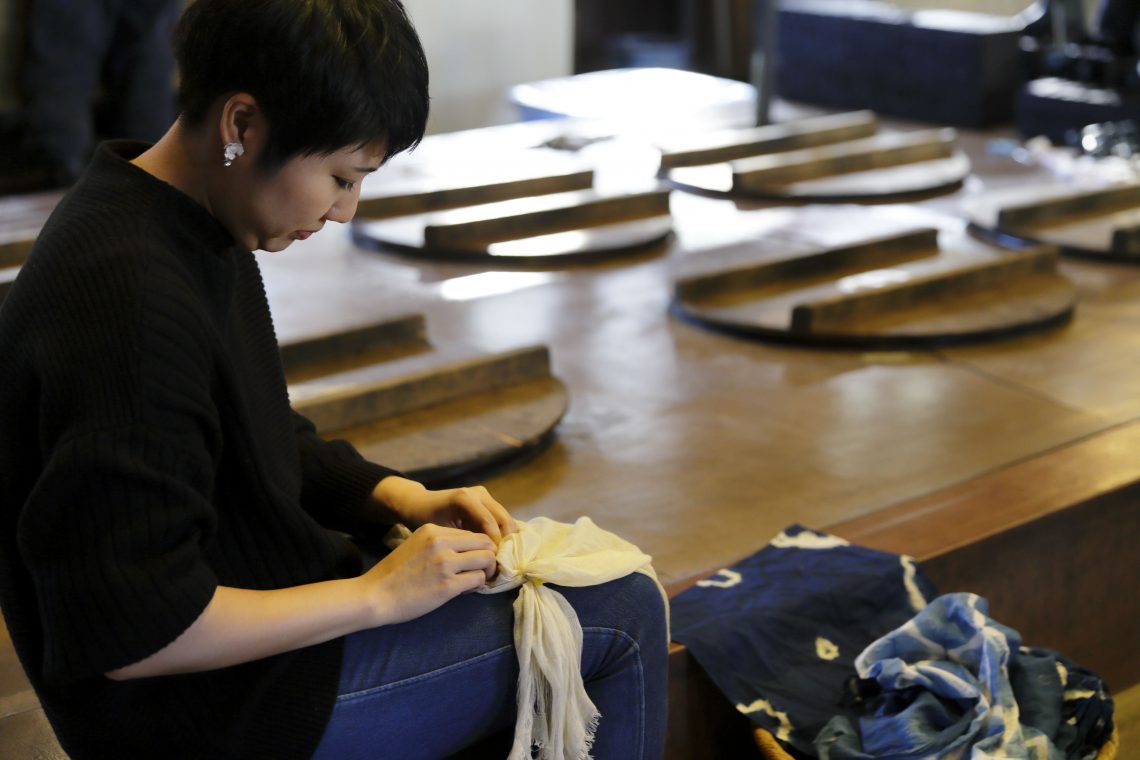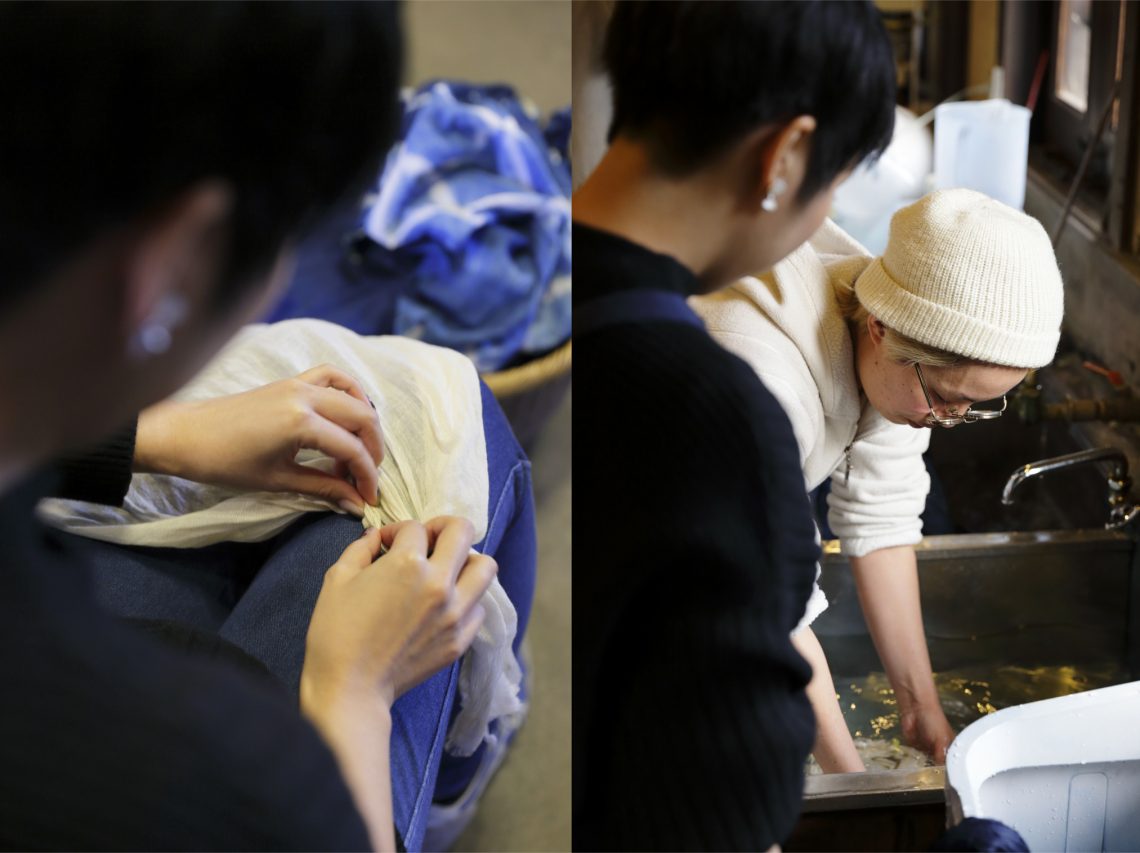 Decide the design and tie up the fabric with rubber bands and disposable chopsticks
To dye the fabric, you have to absorb the fabric into an indigo liquid but the place where the indigo liquid is not touched remains white and becomes a pattern. The patterns are made by tying rubber bands and using a tool like disposable chopsticks to tie and hold the fabric firmly so the patterns will come out. When you experience in making these, you will first learn how to make the patterns and learn how to use the tools by looking at the samples. This time, Ms. Suzuki is going to dye a "stole." She was imagining where to put the patterns on the long rectangular fabric. She decided to dye the fabric unevenly which will cover around her neck and add sharp lines to the edge of the fabric. It depends on the design but the process of making the patterns usually takes from 15 to 30 minutes to get it done.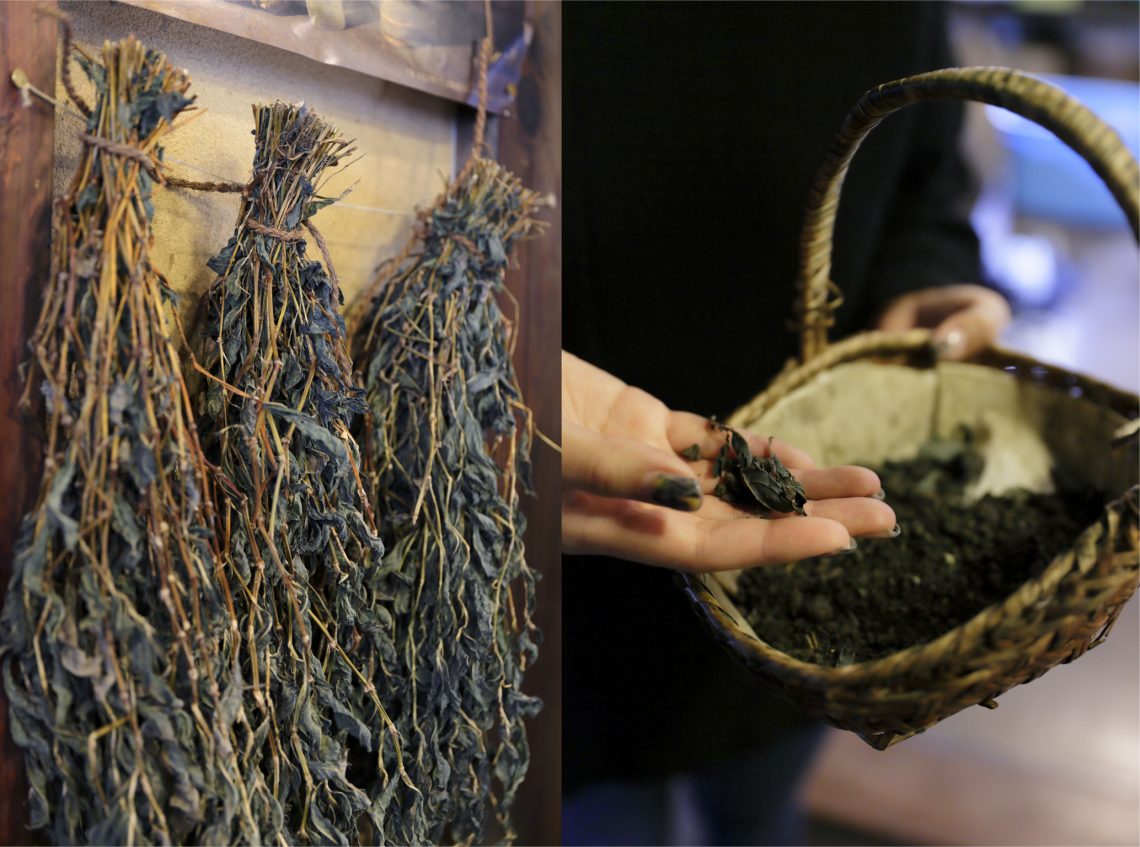 The studio also displays "tadeai" (left photo) and fermented indigo leaves called "sukumo (right photo)." Kosouen buys sukumo from an indigo specialist who lives in Tokushima Prefecture. Indigo is made by blending lye, lime, fusuma (wheat hull) and sake into sukumo.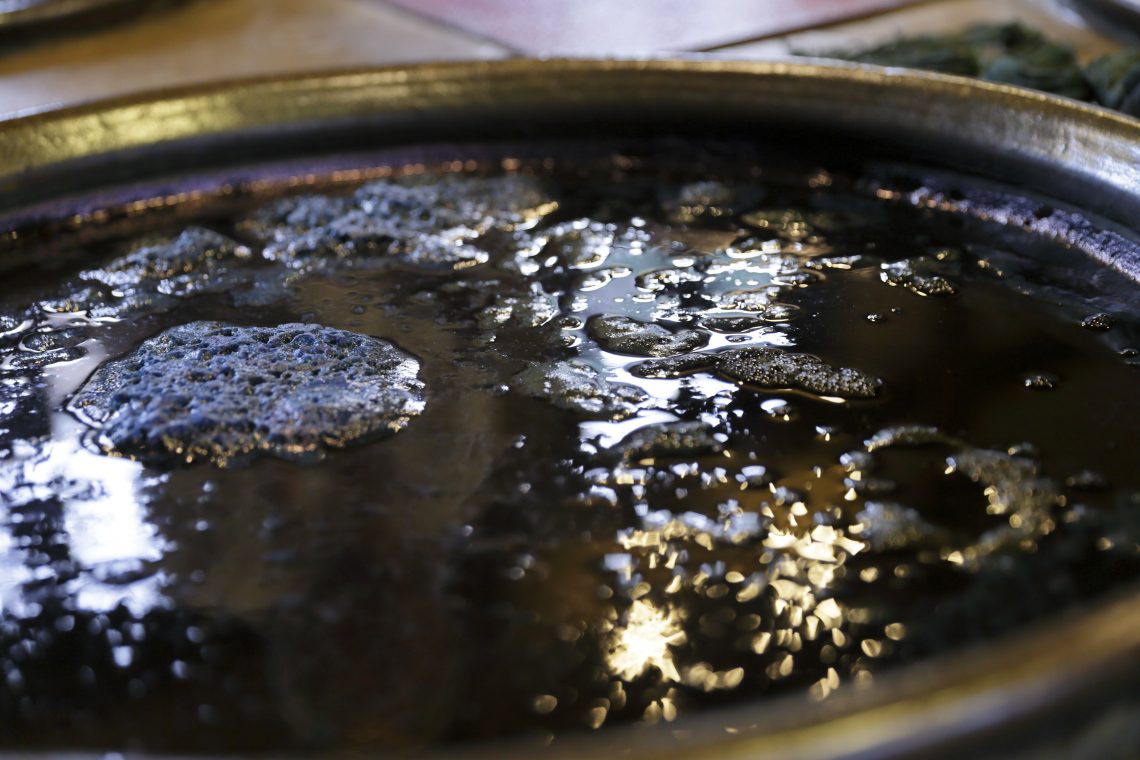 You can see bubbles called "ai no hana" on the surface of the jug contained with full of indigo. These bubbles are the measurement of fermentation.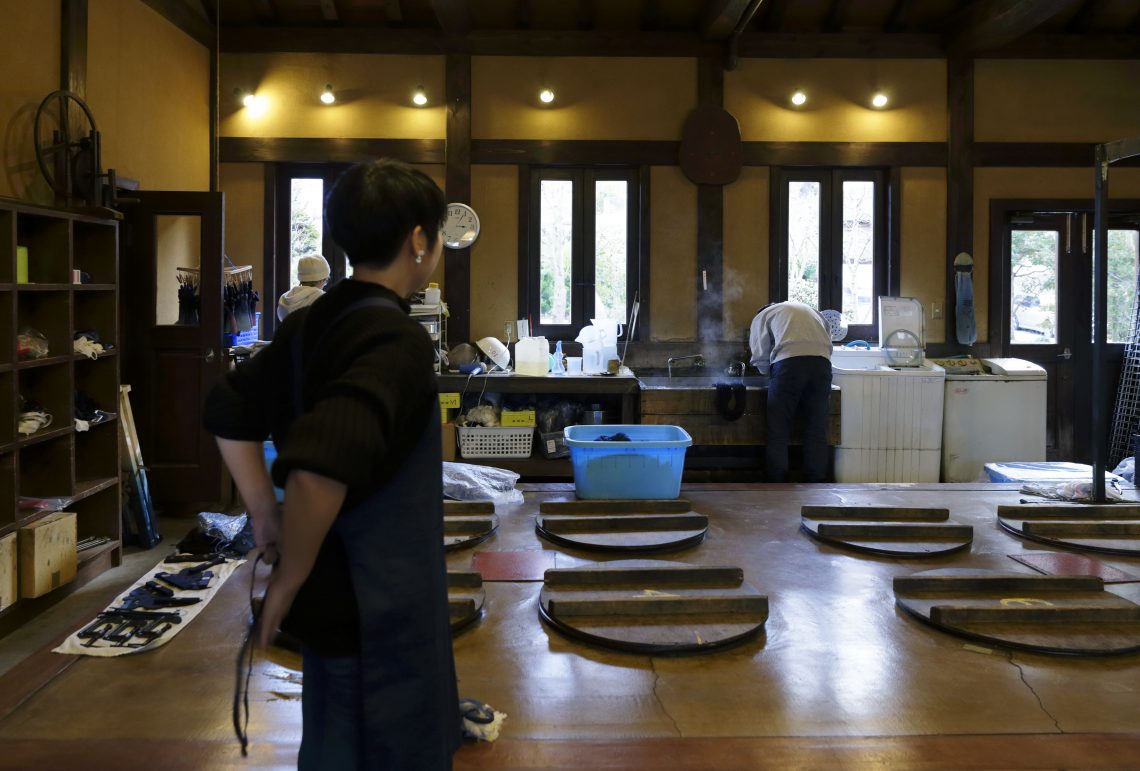 Put on your apron and rubber gloves
There are 8 jugs of indigo liquid in the studio. You get to choose which sukumo to use by checking each condition of the indigo liquid.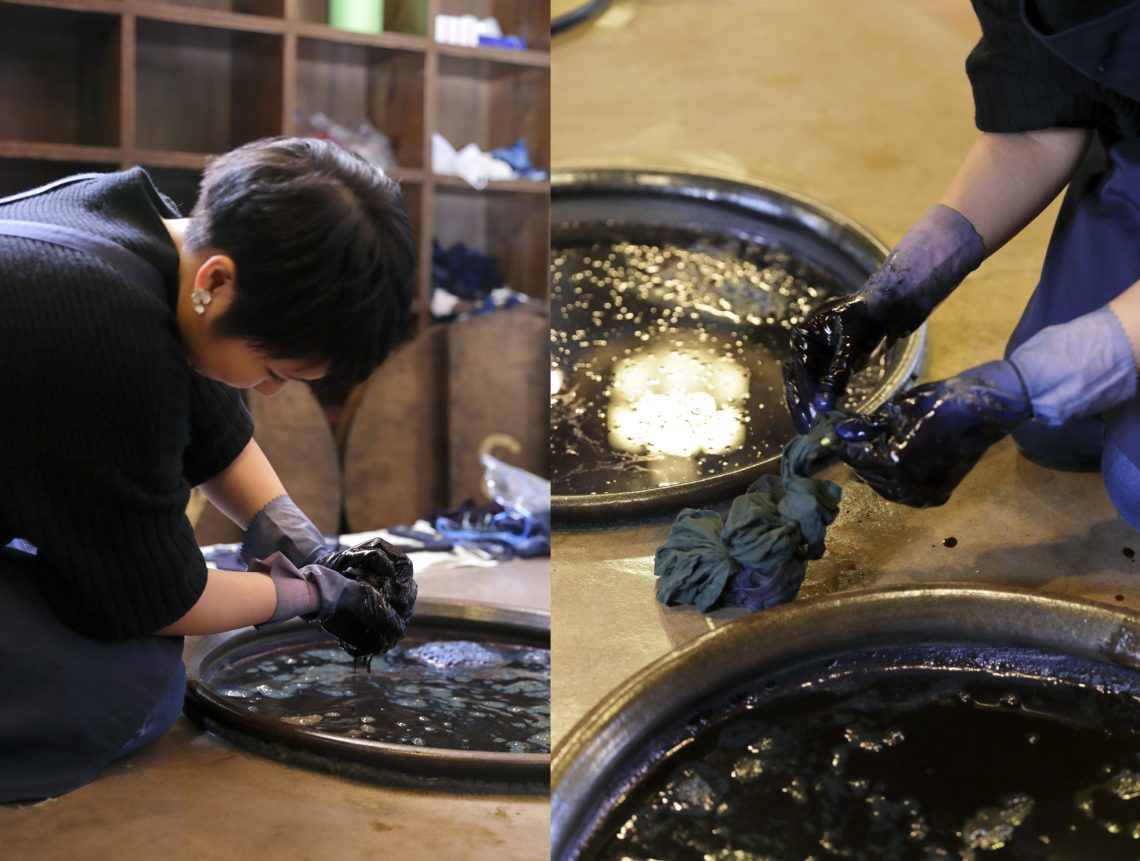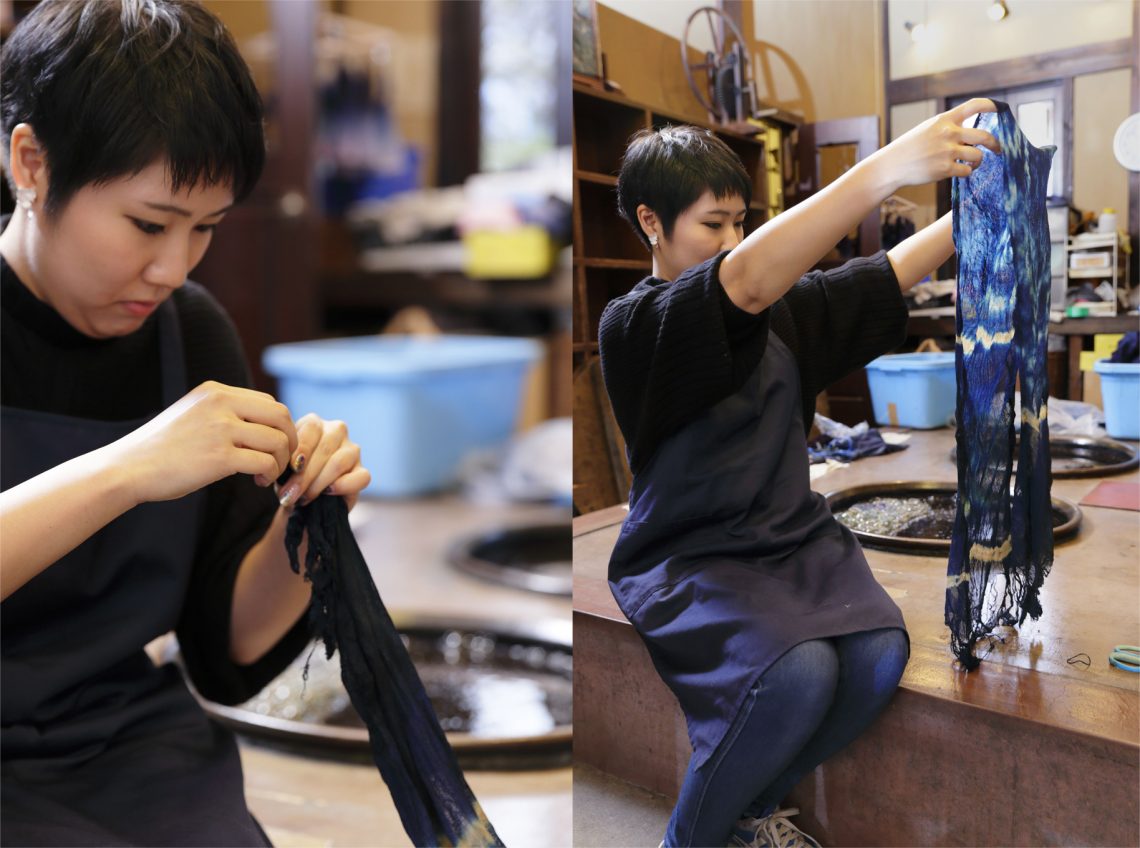 Go over the process of dyeing and drying for several times until you get the dark indigo colour
Have your fabric soaked with water and hold it firmly, then dye it into the indigo liquid. Spread the fabric so the indigo liquid can go through the fabric. Spread out the fabric gently in order to prevent from dropping the fabric to the bottom of the jug. After soaking for 3 minutes, pull out the fabric and squeeze out the indigo liquid and let it dry with air. You can tell that the colour comes out blue as it dries. The first dye is light green. After drying for few minutes, you have to soak it into the indigo liquid again. The fabric turns out to a darker blue compared to the first dye. Doing this process over and over makes the colour darker and to make it really dark, you have to go over this process more than 7 or 8 times. It depends on what you want to dye but this process will take about 30 to 40 minutes.
Take off the rubber bands after you get the fabric dyed into the exact indigo colour you want.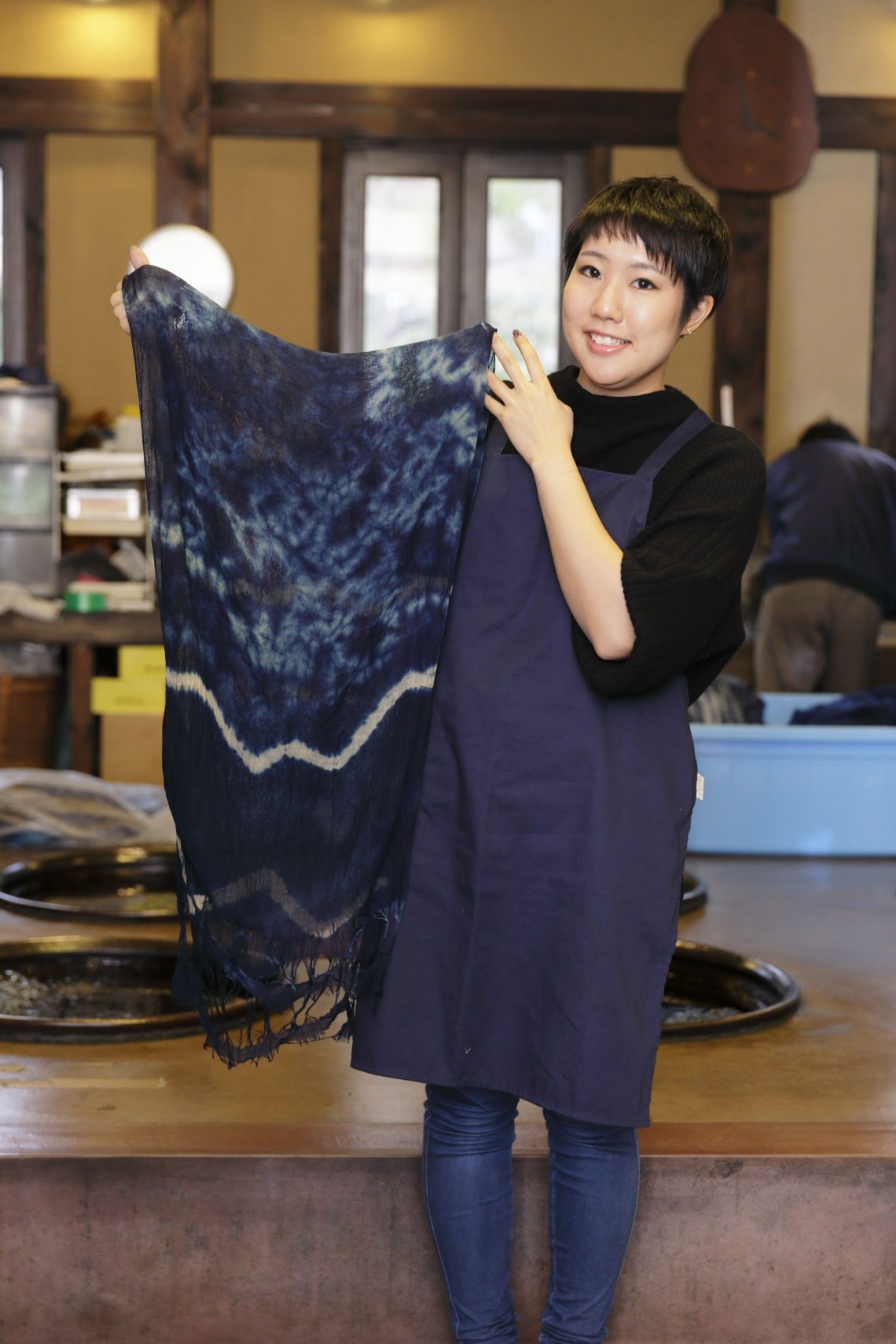 Well done!! Take it home
Ms. Suzuki spread out her stole to check and was able to make the patterns exactly how she imaged. The uneven patterns which she wanted to make around her neck was made very well. Usually once after the product is made, you need to rinse it off with water several times to take the extra dye off but you can skip this process and take it home after finish making your product. When you take it home without rinsing, all you need to do is to soak it in water for one night and dry it out under the sunlight. Then you will be able to wear it. If you are concerned about discoloration, wash it with hands individually. By the way, the products that are sold in Kosouen is washed thoroughly so you don't need to worry about discoloration. Aizome's attractive point is that you don't need special care to handle.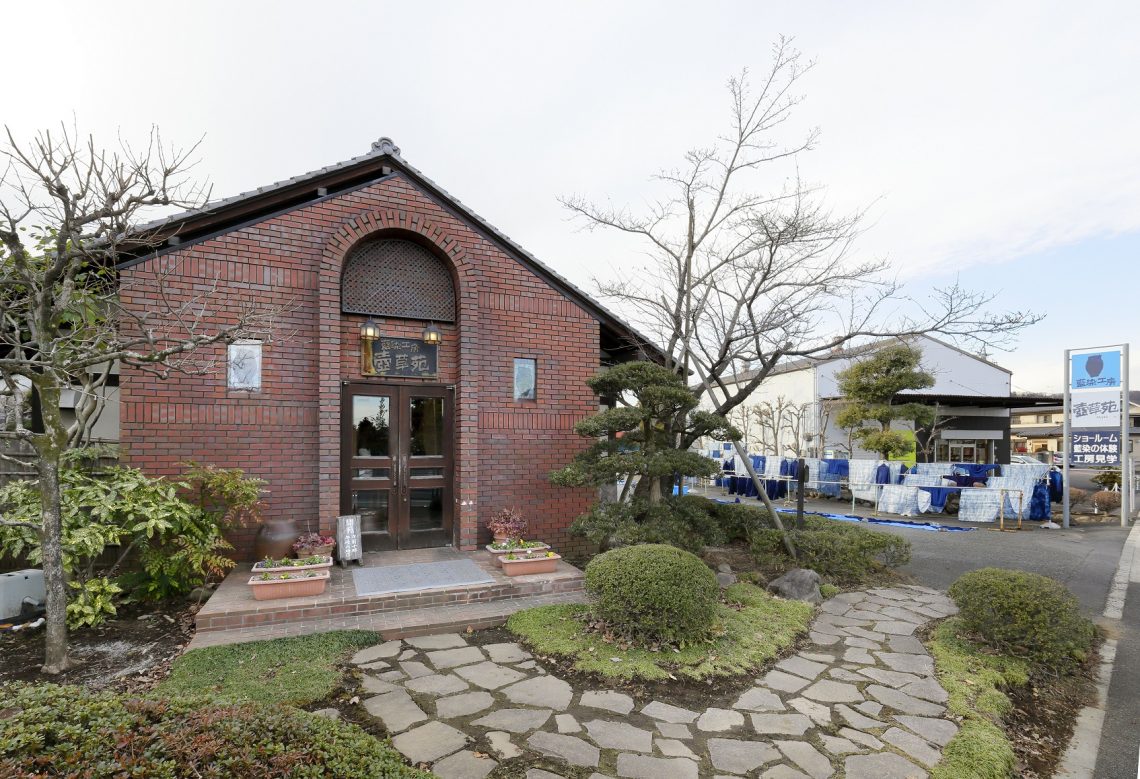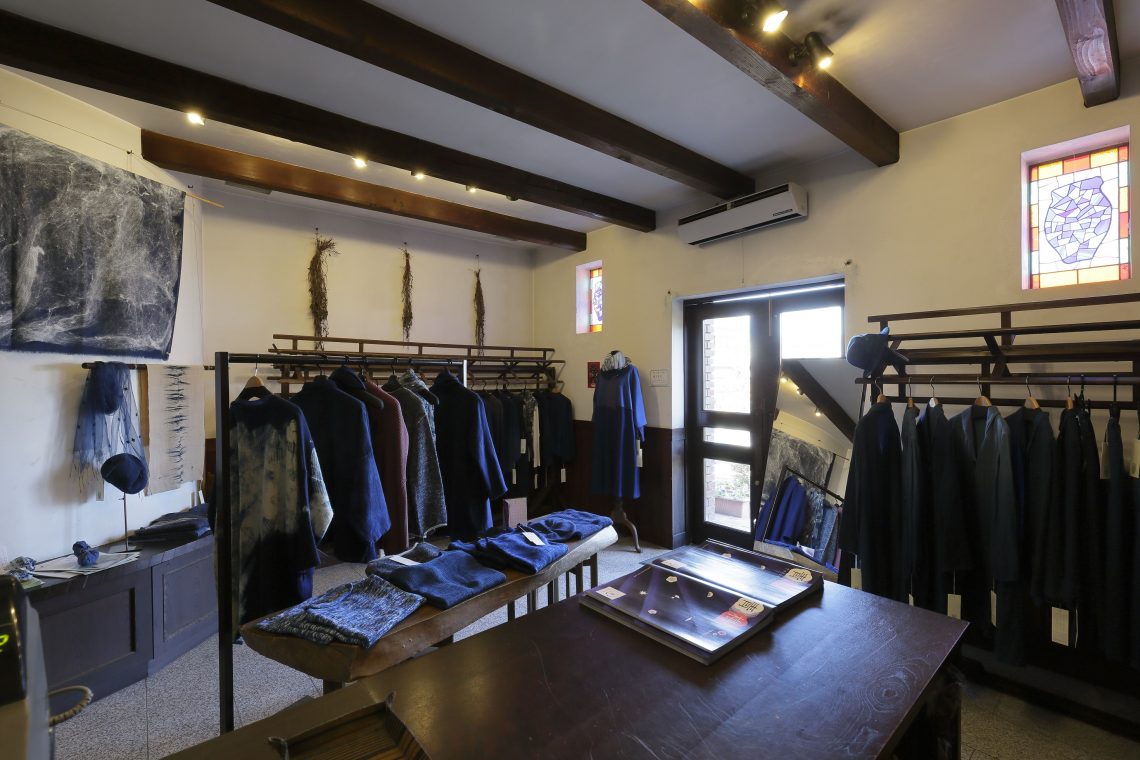 "Aizome Koubo Kosouen" has an adjoining shop. The shop has dresses, jackets, pants, accessories and other small accessories as well.
●Company Name: Aizome Koubo Kosouen
●Address: Nagabuchi, Ome-shi Tokyo 8-200
●Open Hours: 10 : 00〜18 : 00
●Shop Holiday: Tuesdays・New Year's Holiday Season
●Homepage: https://www.kosoen-tennenai.com/
●Access:
・5 minutes by taxi, 20 minutes on foot from JR Ome Line, "Ome" station.
・Take Tama Bus【Meisesi University / Shimin Saijo】from South Exit of "Kawabe" station, JR Ome Line. Get off at "Nagabuchi 5 chome".
・15 minutes from Kenoudo Ome Interchange