2020.05.19
Join the [Trial Class for Making Brass Accessories] organized by Atelier Tan and make your own pierced earrings and earrings!
Workshop Experience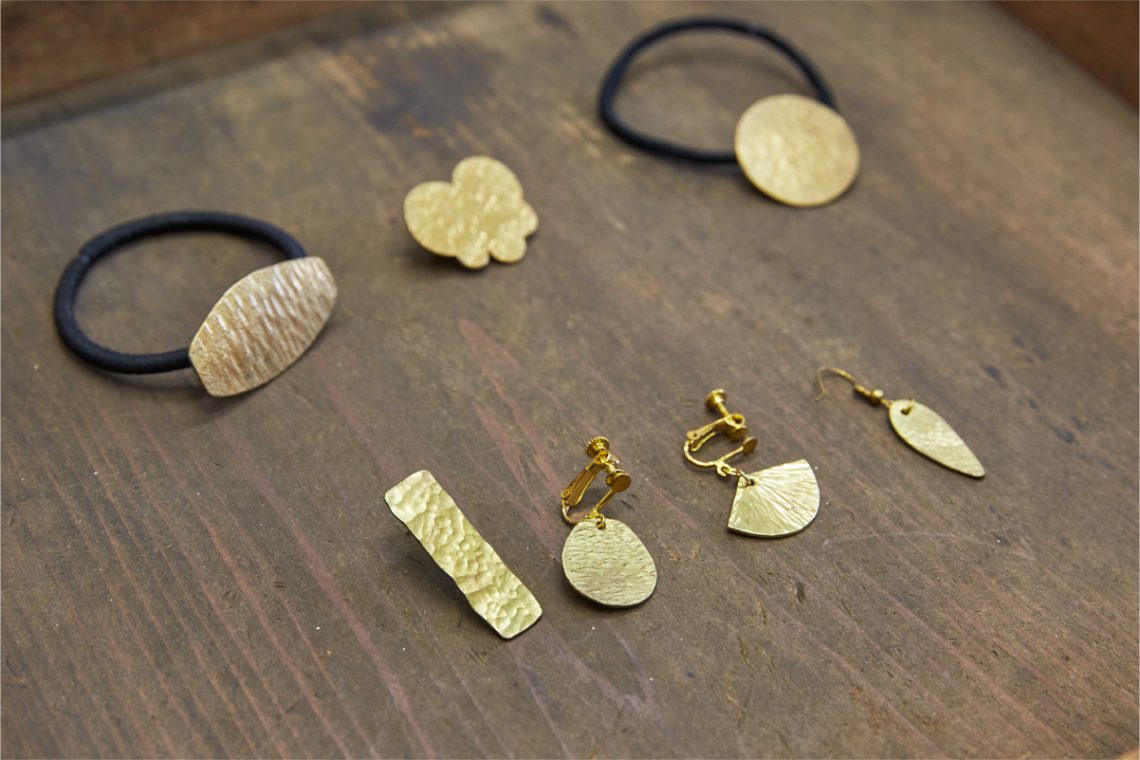 Content: brass accessory workshop
Entry fee: 3,000 yen (tax inclusive) * including the cost for the materials
Time required: approximately 120 minutes (13:00-15:00)
How to sign up: Please sign up from the website of "cocoromiru" below by 18:00 of the day 4 days before the day you wish to join.
https://cocoromiru.jp/plans/65
* Please feel free to contact us at the e-mail address below, if you have any questions or requests about the schedule or the like. Atelier Tan: tankin-koto@gold.nifty.jp
Note:*Please be dressed in clothes that you do not mind getting dirty.  For your safety, please refrain from wearing sandals.*Children under the age of 12 must be accompanied by their guardian(s).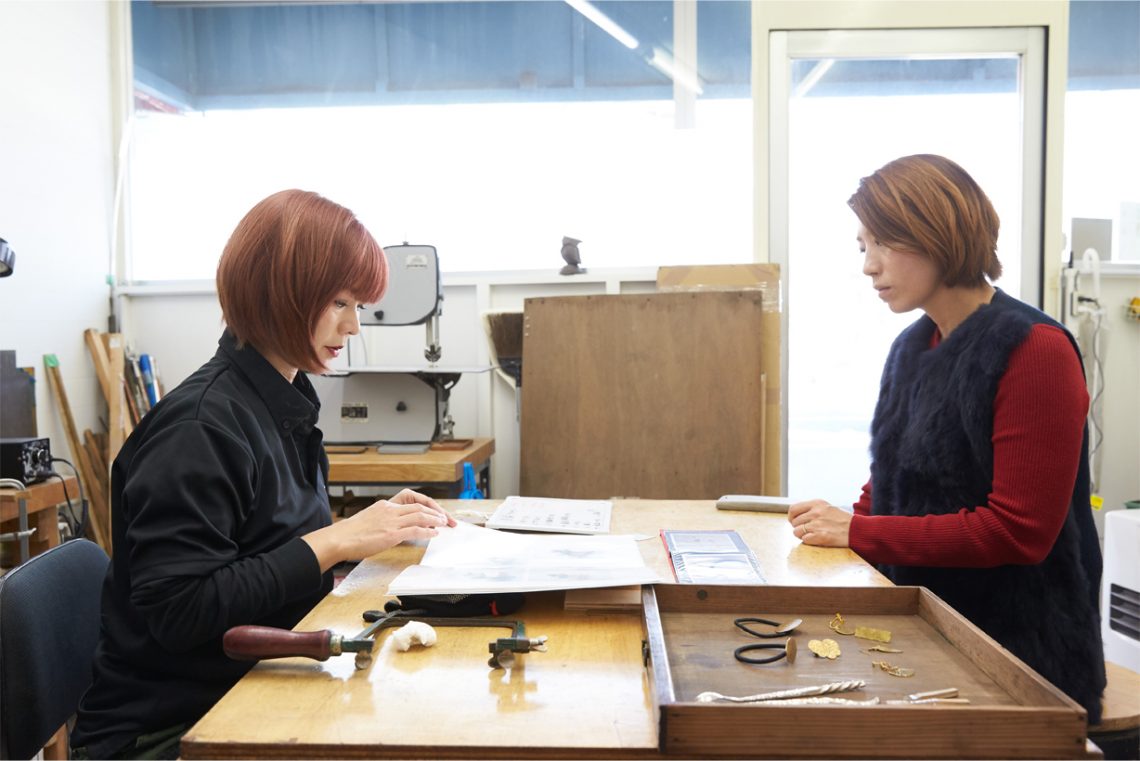 Ms. Iwata, who joined the "Trial Class for Making Brass Accessories" (to the right) and Ms. Miyata, from "Atelier Tan", who coached the making of accessories (to the left).
Make your own brass accessories!!
We would like to introduce today the "Trial Class for Making Brass Accessories", which you can experience at "Atelier Tan", a hammering workshop located in Kashiwa City.  Not only can you enjoy the time to be fully immersed in making, but you can also wear what you made every day when you go out without just displaying them or keeping them at home, which is also what is making the class popular.  There are people who visit there to make something they wear, as well as those who sign up to make a gift for someone's anniversary.  Today, it was Ms. Iwata who visited "Atelier Tan".  She wanted to make pierced earrings for herself to wear.  She has always loved creating things, but recently, she had not been able to spare much time for creation.  So, she had been so much looking forward to today's experience.
What is hammering?  The class starts after a brief lecture!
Ms. Miyata of "Atelier Tan", today's coach, is a hammering artist.  The class starts off with her introduction of the works she normally creates, followed by a brief lecture on the hammering technique.  She will also explain the general process flow of the "Trial Class for Making Brass Accessories".  In the class, you can make earrings and pierced earrings, as well as hair elastics and brooches.  Ms. Iwata chose to make "pierced earrings".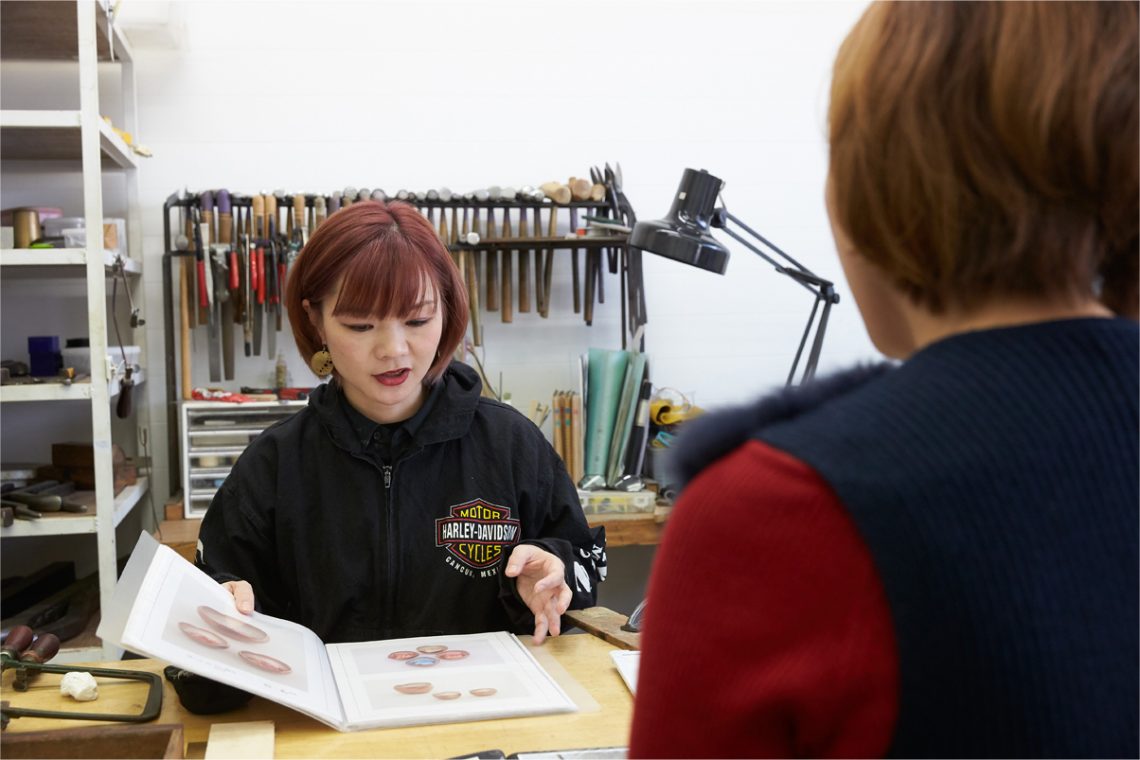 Ms. Miyata of "Atelier Tan" is a hammering artist.  She shows the portfolio of her artworks to explain her tender, soft, and feminine style.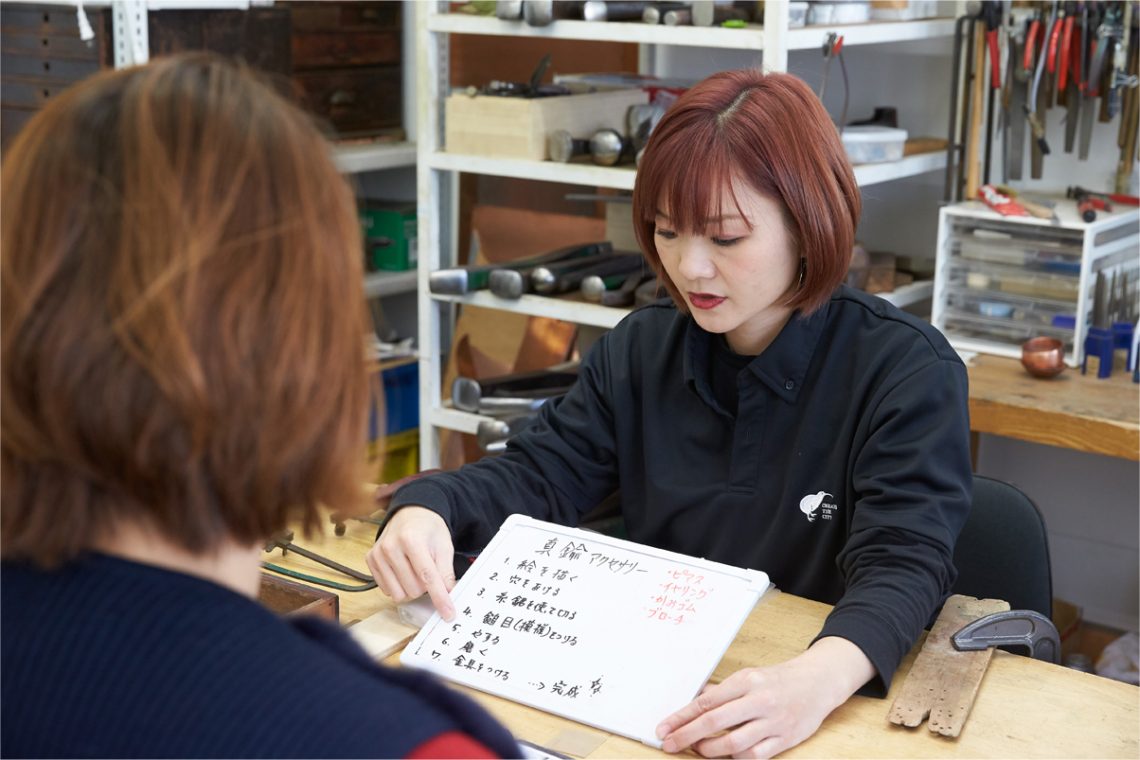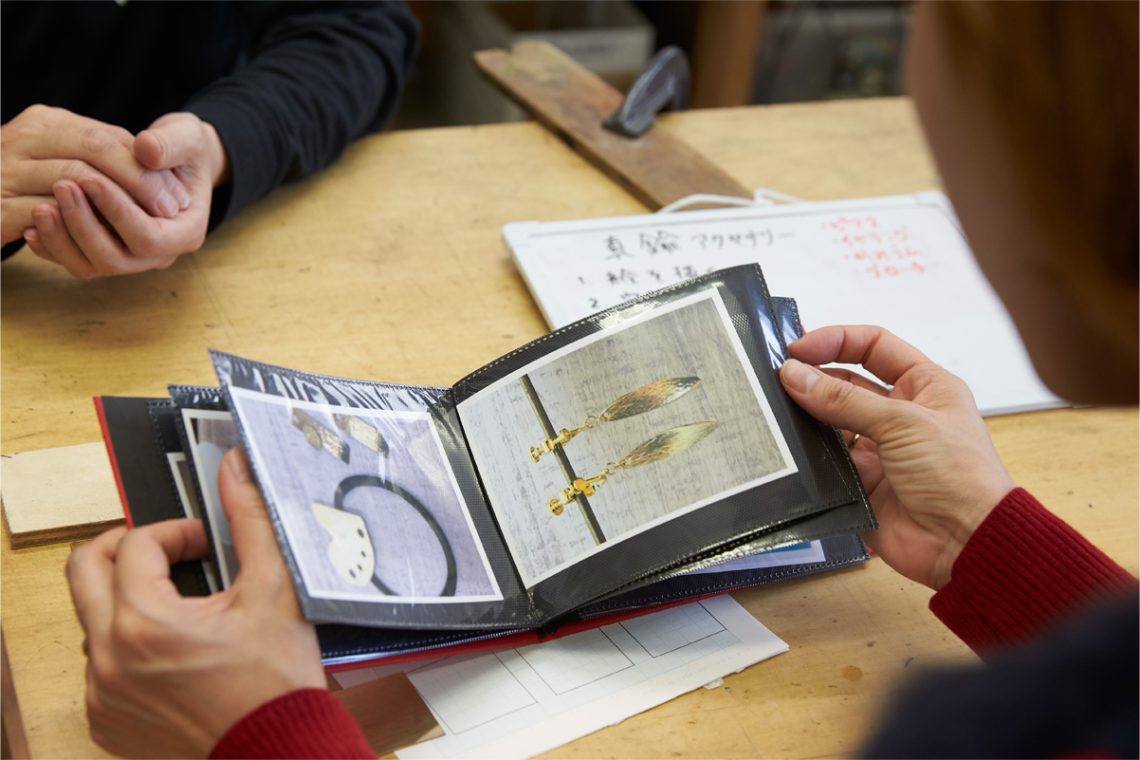 After the explanation of the general process flow of the "Trial Class for Making Brass Accessories", you will decide what to make.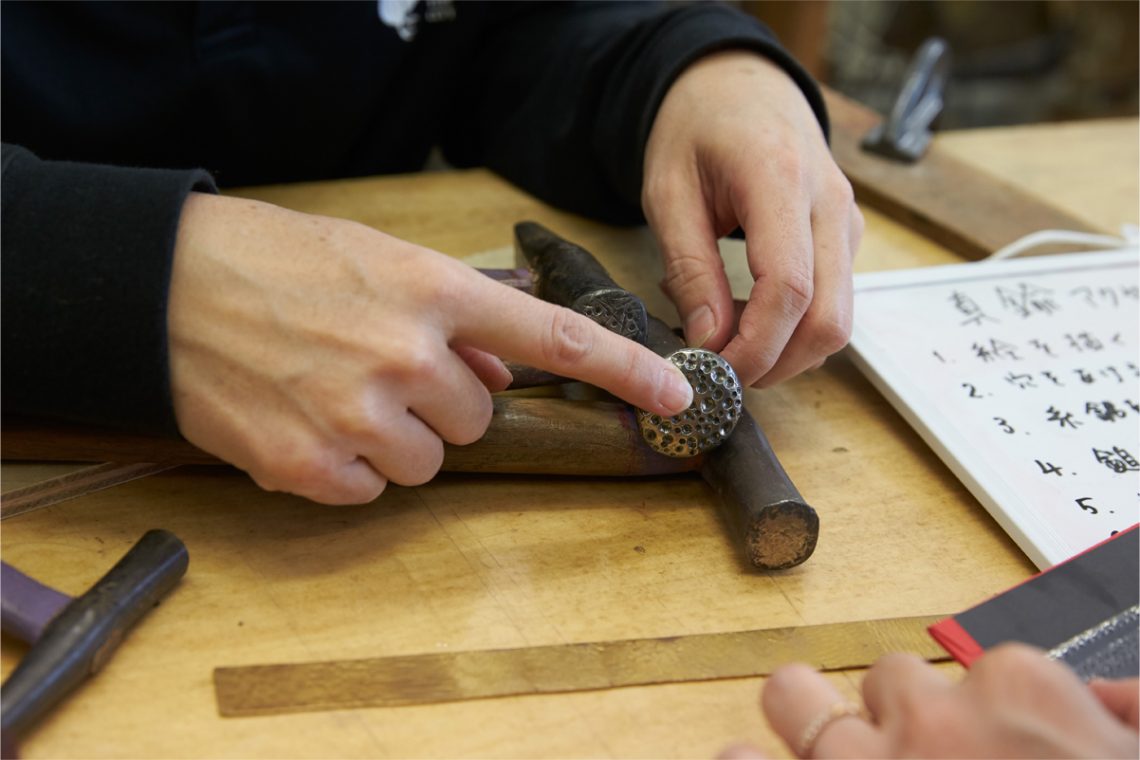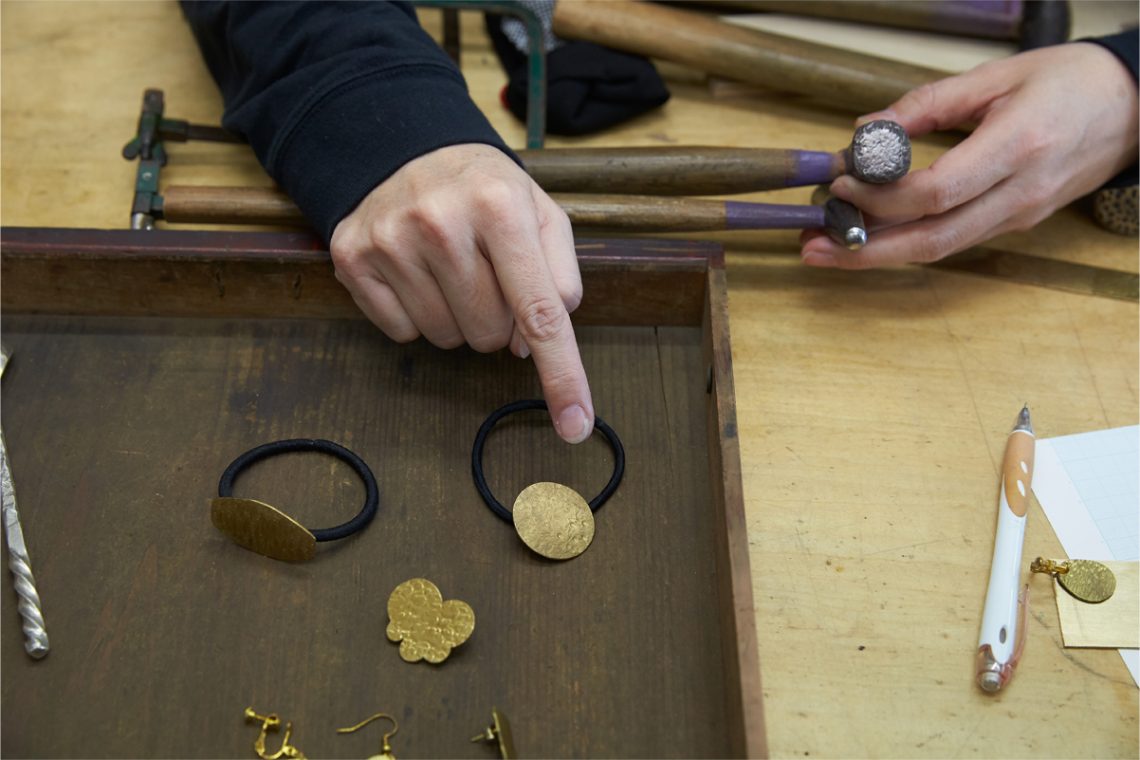 "If you want to create those patterns, you use this hammer", explains Ms. Miyata carefully.
Focus on cutting out your favourite shape with a jigsaw!
When you have decided the shape you want to make, you draw it on a brass board.  Ms. Iwata wanted to make a circle, so she is copying the shape using a ruler.  Once you have copied the shape onto the board, you will cut it out using a "jigsaw".  As you try to cut it out cautiously, it still happens sometimes that the edge of the jigsaw gets broken when your concentration gets scattered.  You may become nervous, but they say that the time of this "concentration" is somehow comfortable.


You copy the shape that you want to make onto the brass board.  The circles are drawn on the places where they could most efficiently be cut out.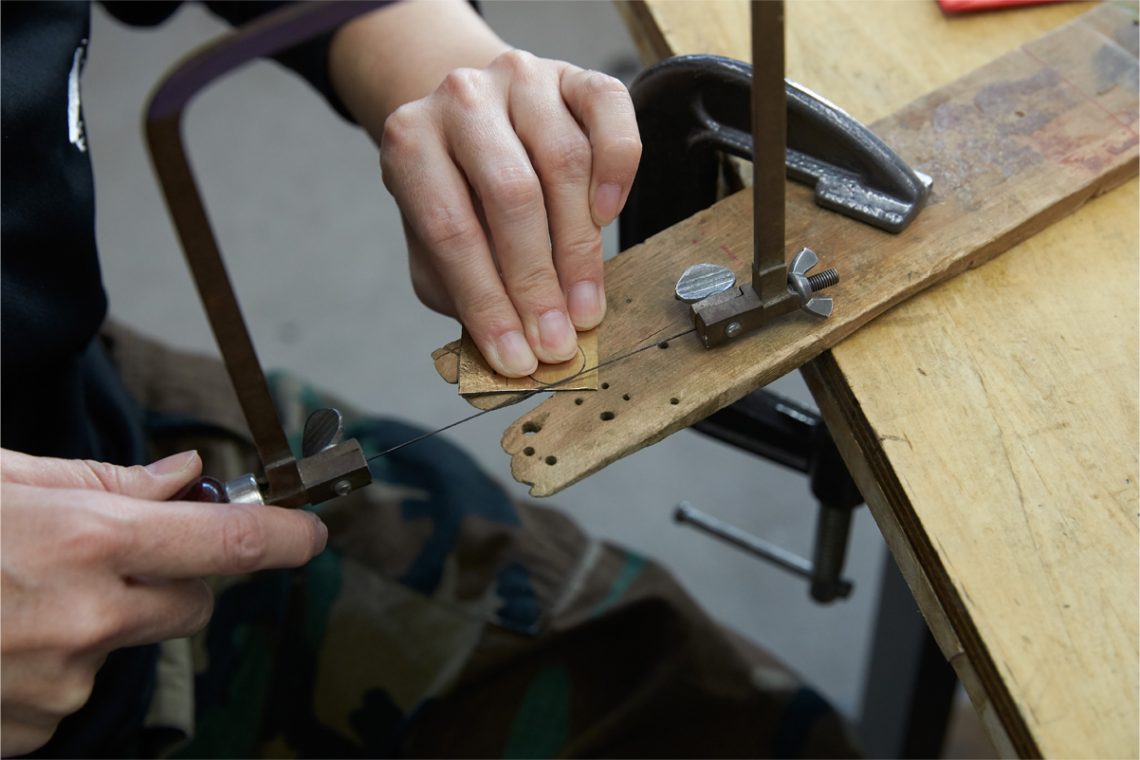 First, you will find a point where you start cutting from with the jigsaw.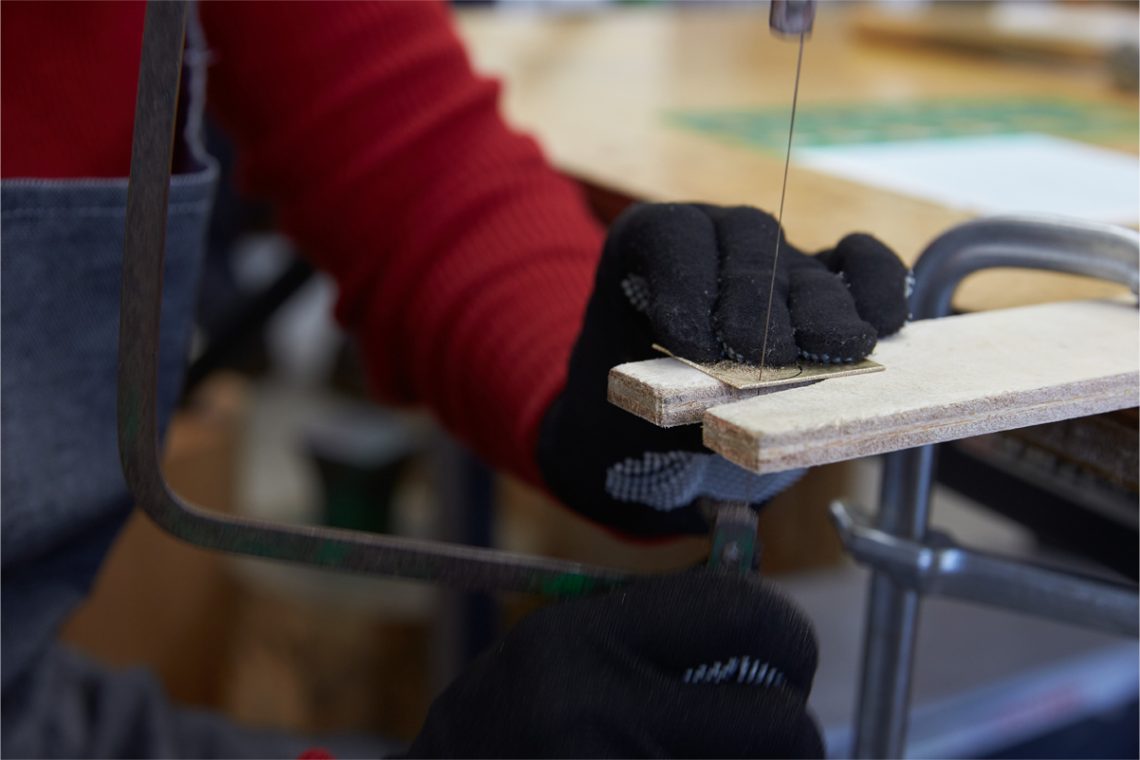 Once the edge enters the board, you hold the "jigsaw" vertically and just keep moving it up and down.  You will apply adjustments by moving your hand holding the brass board little by little, so that you can cut out the circle along the line you copied onto the board.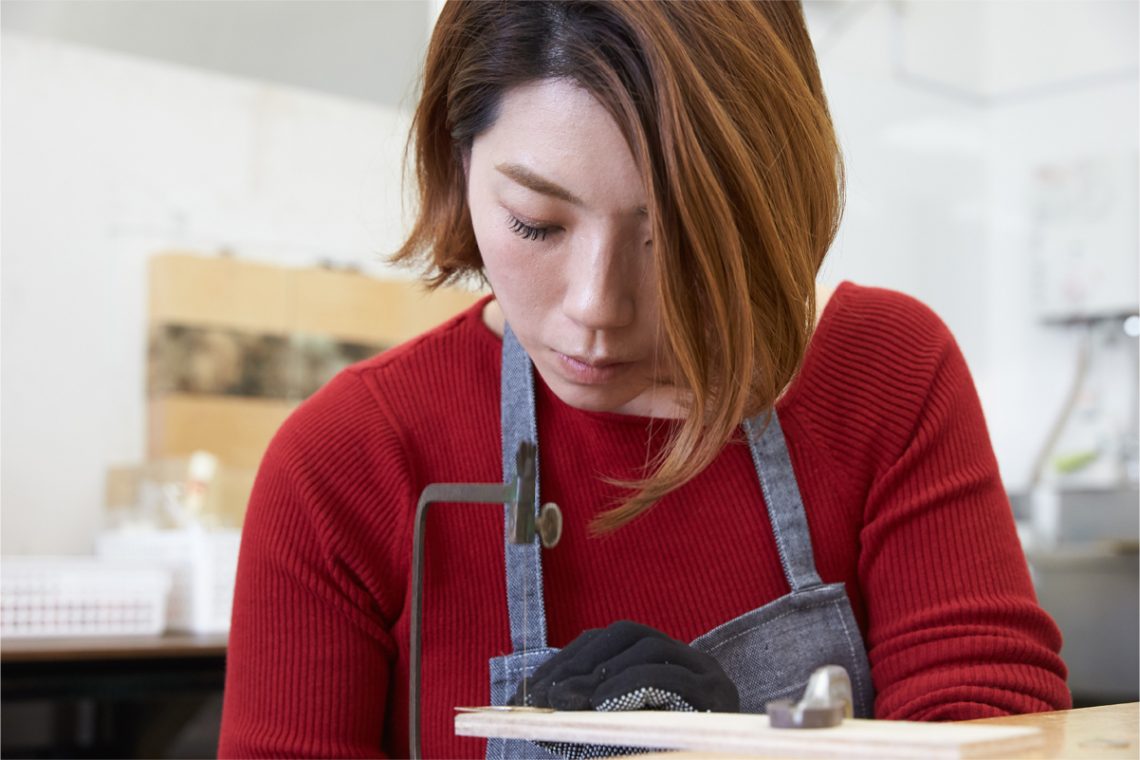 Ms. Iwata, focusing on cutting out.
Now, you will create patterns by hammering!
Once the shape has been cut out, you will start hammering to create patterns on the surface.  You place the pieces of brass board that you cut out on something called a "dolly block" and create patterns with a hammer that has the patterns you like.  "You can only make patterns on half of the board, or you can choose several different patterns and mix them", says Ms. Miyata.  It is also fun to spend time pondering which patterns to choose.  Ms. Iwata chose a design with 2 patterns.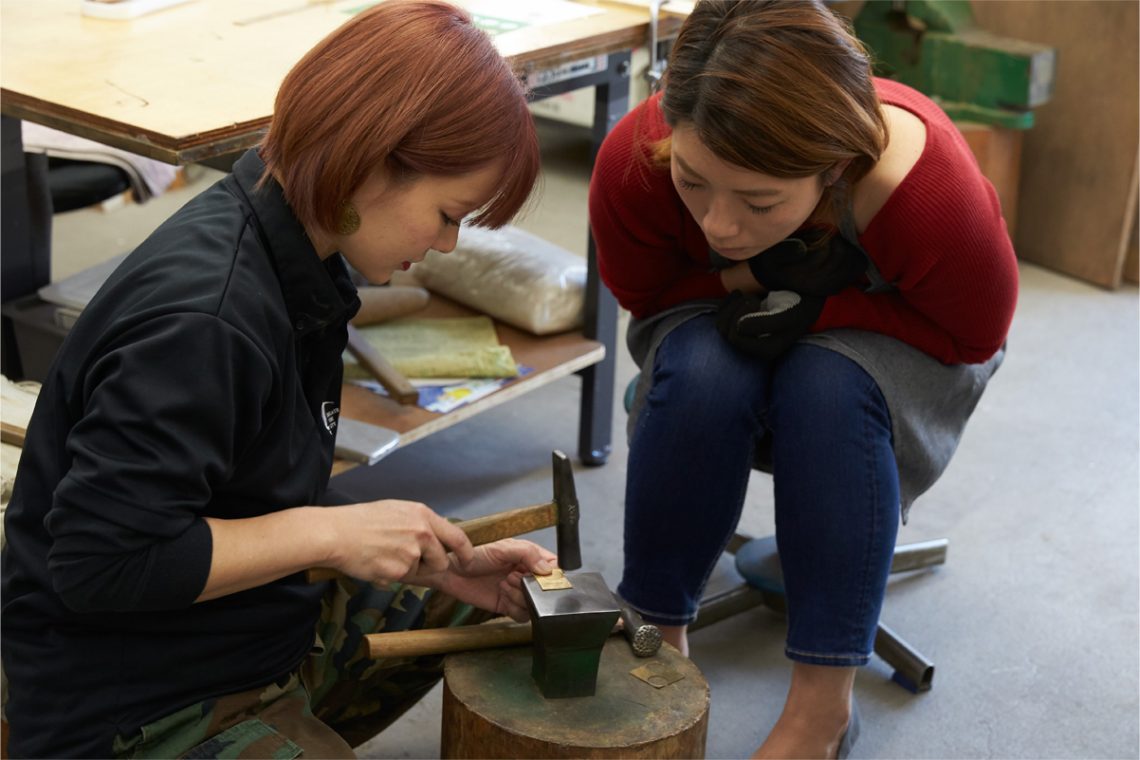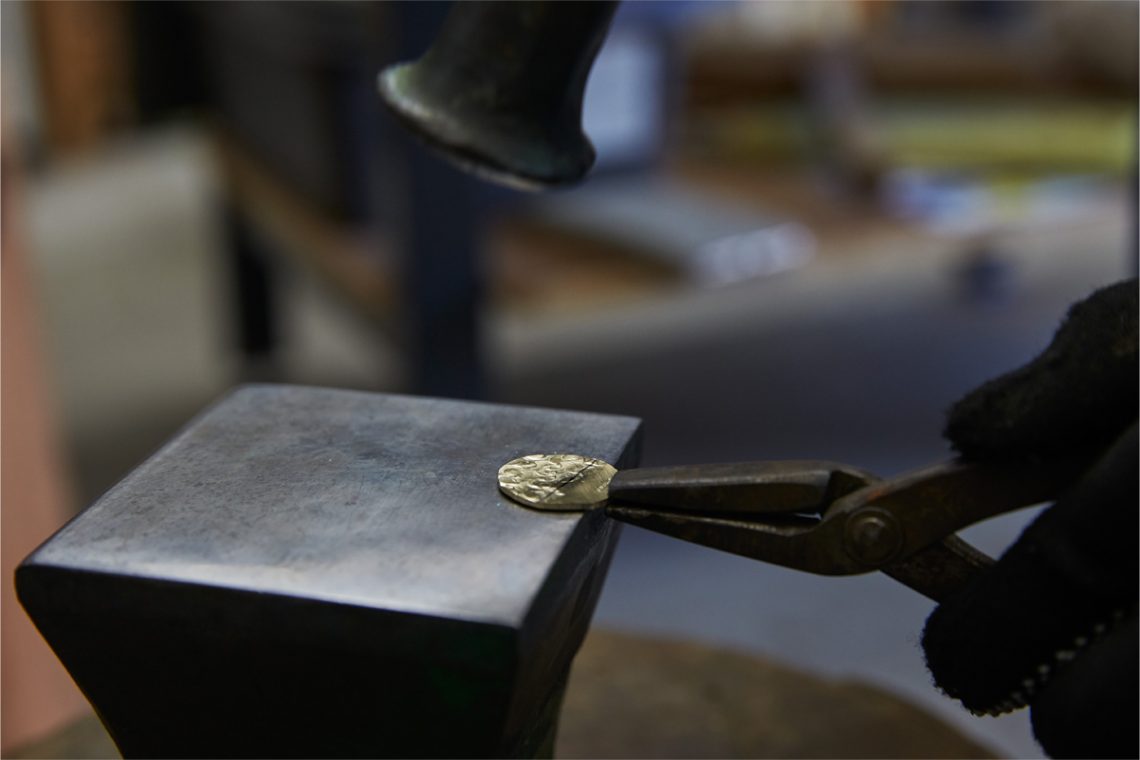 After Ms. Miyata shows the example, you will now get ready for creating patterns.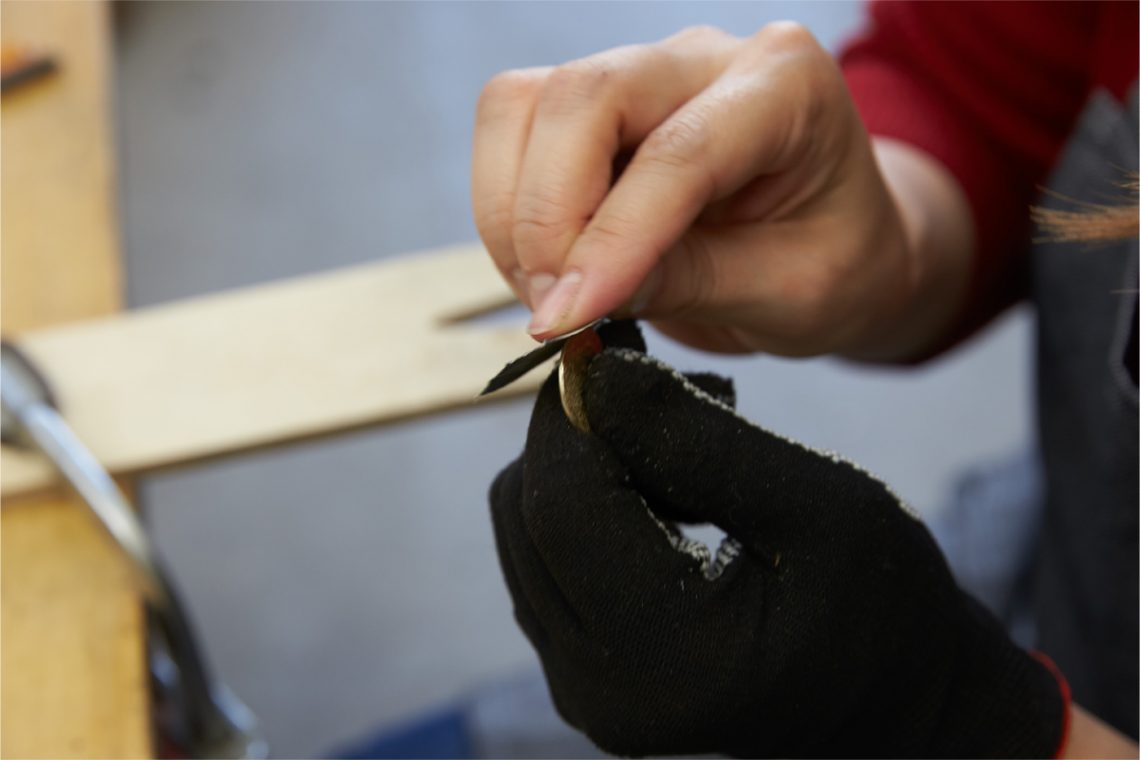 You will polish the cut edge with abrasive paper to make it smooth.
With a finish, they're done!!
When the patterns are beautifully created, you will now move to a finishing process.  If you would like to give a flat piece of board a bit softer nuance, you will place it on the wooden rack where it is roundly dug and hammer it with a wooden hammer to form a round shape.  When the shape has been fixed, you will polish it with soda to recover the luster that the brass originally has.  At the end, you will glue the parts for the pierced earrings to complete the process.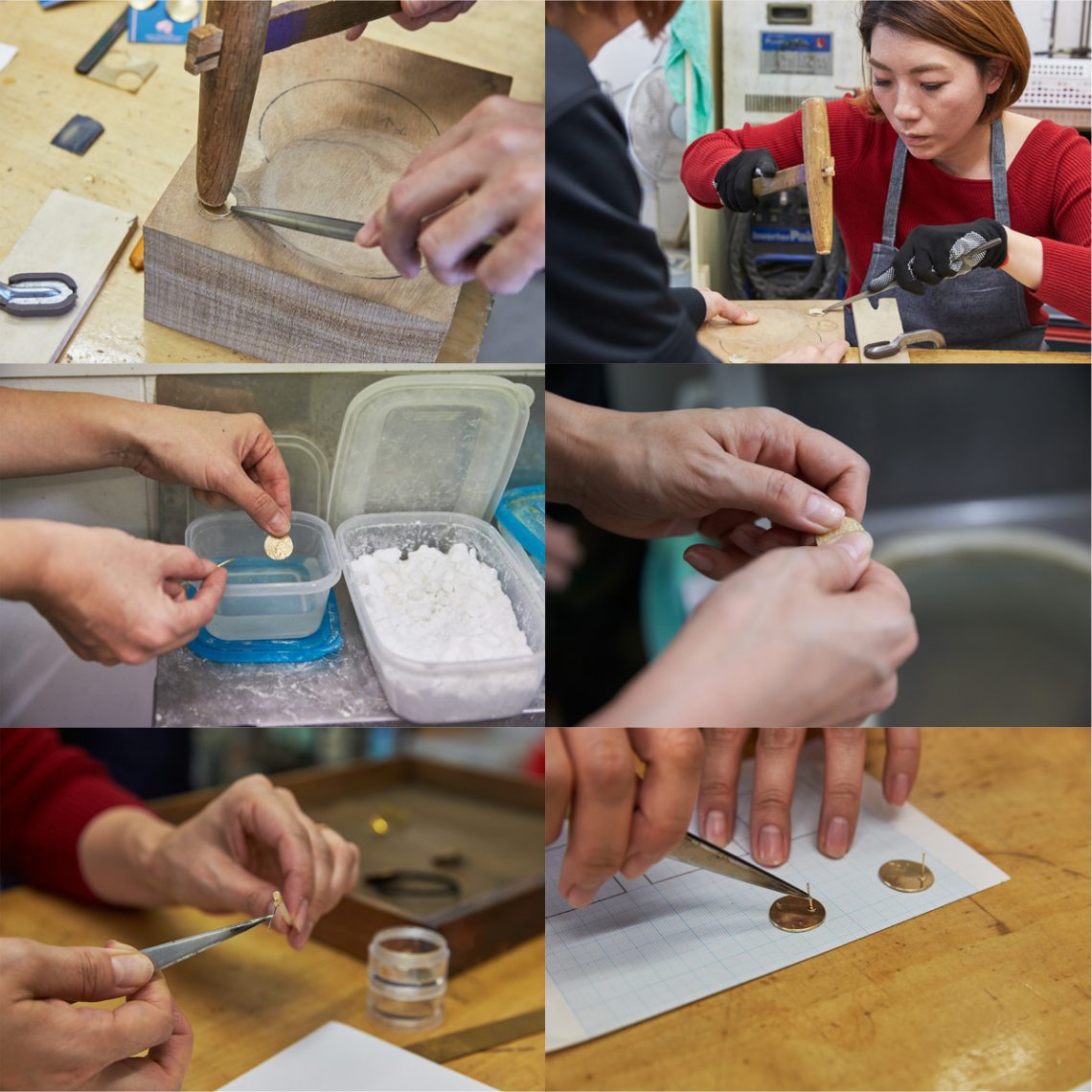 Creating a soft shape using wooden rack and wooden hammer.  After polishing them with soda, the parts necessary for the pierced earrings will be glued to complete.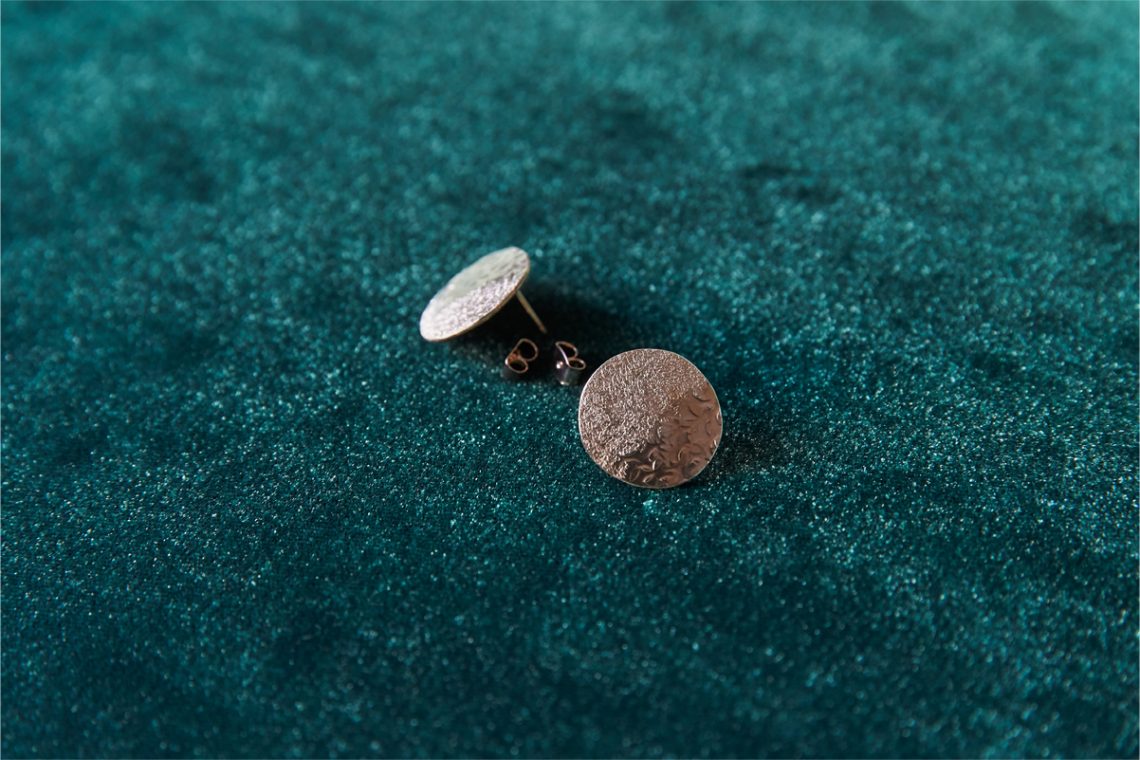 So, here is a gracious pair of pierced earrings that you might even see sold in shops.  The gracious hand-made accessories would also serve well as a gift.

"I enjoyed the time concentrating on creating something", says Ms. Iwata, who is satisfied with the experience, standing beside Ms. Miyata of "Atelier Tan", who provided meticulous coach.
Popular brass accessories.  Highly recommended!
The metal used in the trial class for making accessories that we introduced is "brass", which is relatively rarely used for a trial class like this.  Brass is among the popular materials, as the colour changes as you use it and adds charm.  The "Trial Class for Making Brass Accessories] organized by Atelier Tan" is highly recommended for you and for someone you love.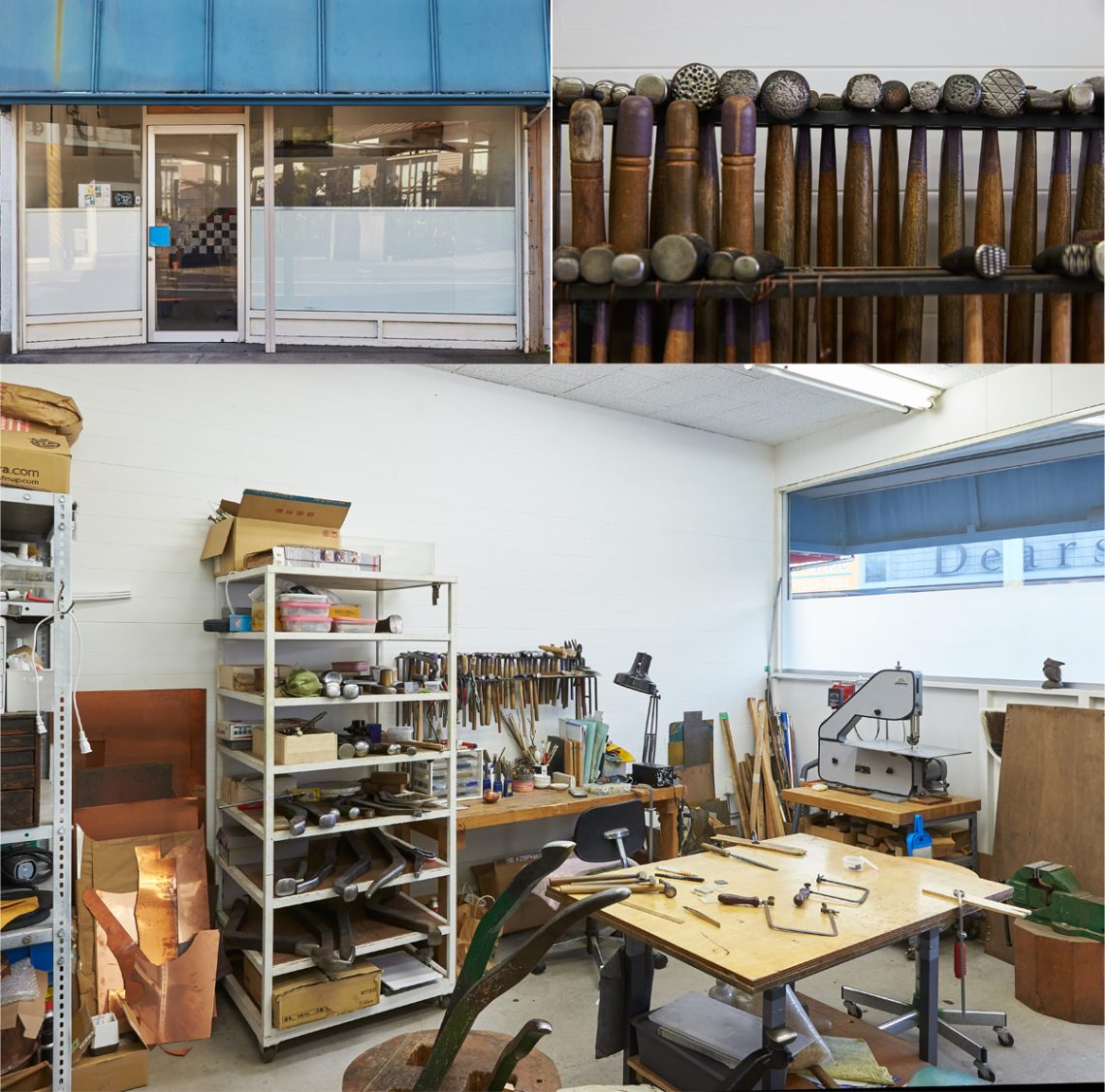 Name of business: Atelier Tan
Address: 12-15 Otsuka-cho, Kashiwa-shi, Chiba Prefecture
Business hours: 10 : 00-17: 00
Holiday: Not fixed
Website: http://koto-miyata-tankin.com/
Access: 18-minute walk from "Kashiwa" Station, JR Joban Line, or take a bus (Tobu Bus) from the station. If you take a bus, you will get on from "Kashiwa East Exit", destination "Shonan Shako", and get off at "Shintawara", and it is a 1-minute walk from the bus stop.