Let's craft a pass case in this 'Leather Craft Experience'!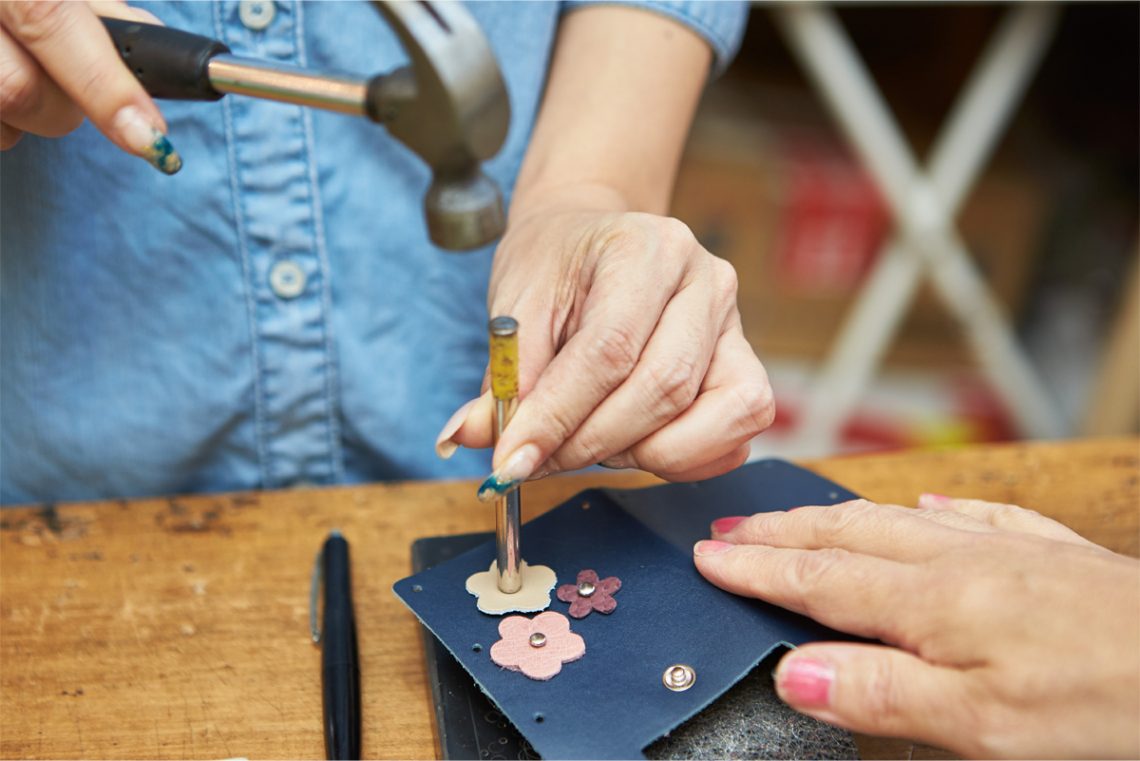 Contents: Leather Craft Experience (Pass Case)
Participation Fee: 3,500 JPY (incl. tax) *Material costs included
Time required: Approximately 50 minutes (depending on the individual pace)
How to make a reservation: At least two days in advance, please let us know via telephone or Email your (1) desired date and time (2) number of participants (3) age & gender and (4) mobile phone number. * Implemented twice per day, starting at 11:00 and 13:00.  TEL : +81 (0) 3-3625-6907  Email: info@leather-handmade.com
Remarks:* In addition to pass cases, there are also courses for accessory cases and coin cases. Please check the official website of Sakura Works for details such as participation fees and required times.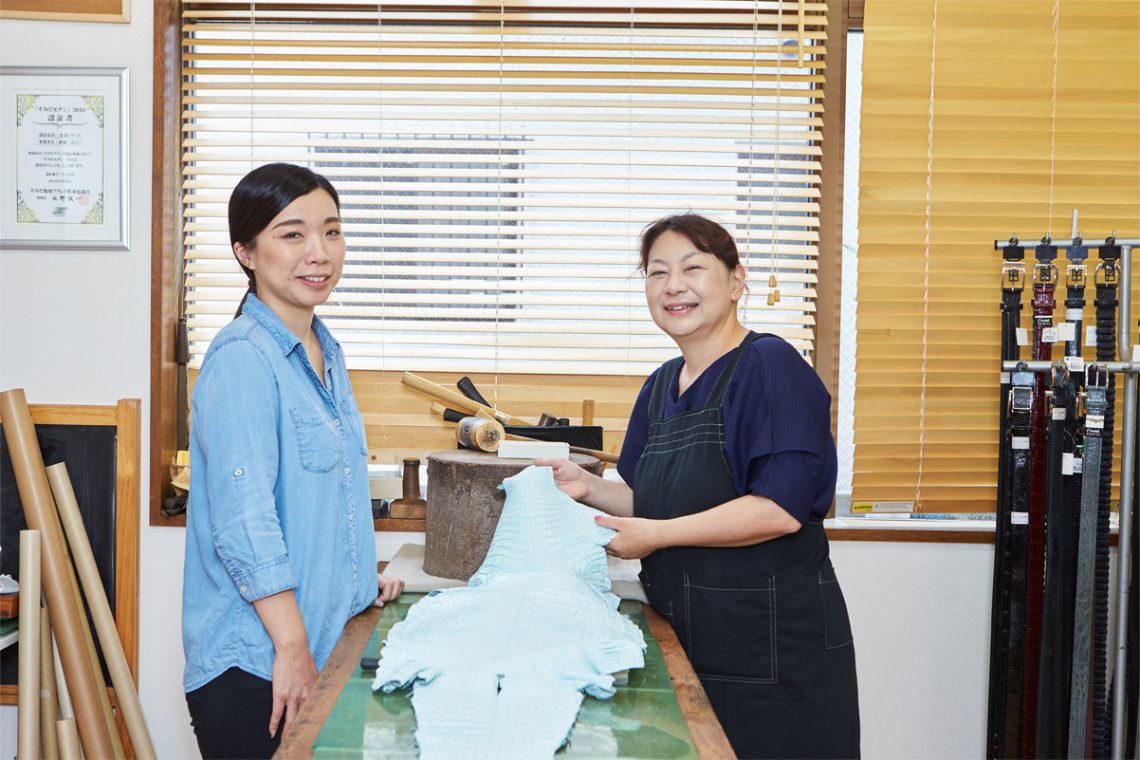 Ms. Kasuga (to the left) who tries out the 'Leather Craft Experience' and Ms. Kazuhisa (to the right) of SAKURAWAQS who guided the experience. This is the first time Ms. Kasuga has ever made leather accessories.
Experience the production of small leather goods in a manufacturing town!!
Sumida-ku in Tokyo has long been known as a 'manufacturing town'. 'Manufacturing' incudes a wide variety of industries, like printing, metal, and textiles. The leather & leather products selected as the theme of the workshop experience is but one of the manufacturing industries in Sumida Ward, located only a few minutes' walk from 'Oshiage' station and 'Tokyo Skytree' station, which are also the nearest stations to the Tokyo Skytree and crowded with tourists. At the leather craft workshop SAKURAWAQS, Ms. Kasuga experienced crafting a leather accessory (pass case).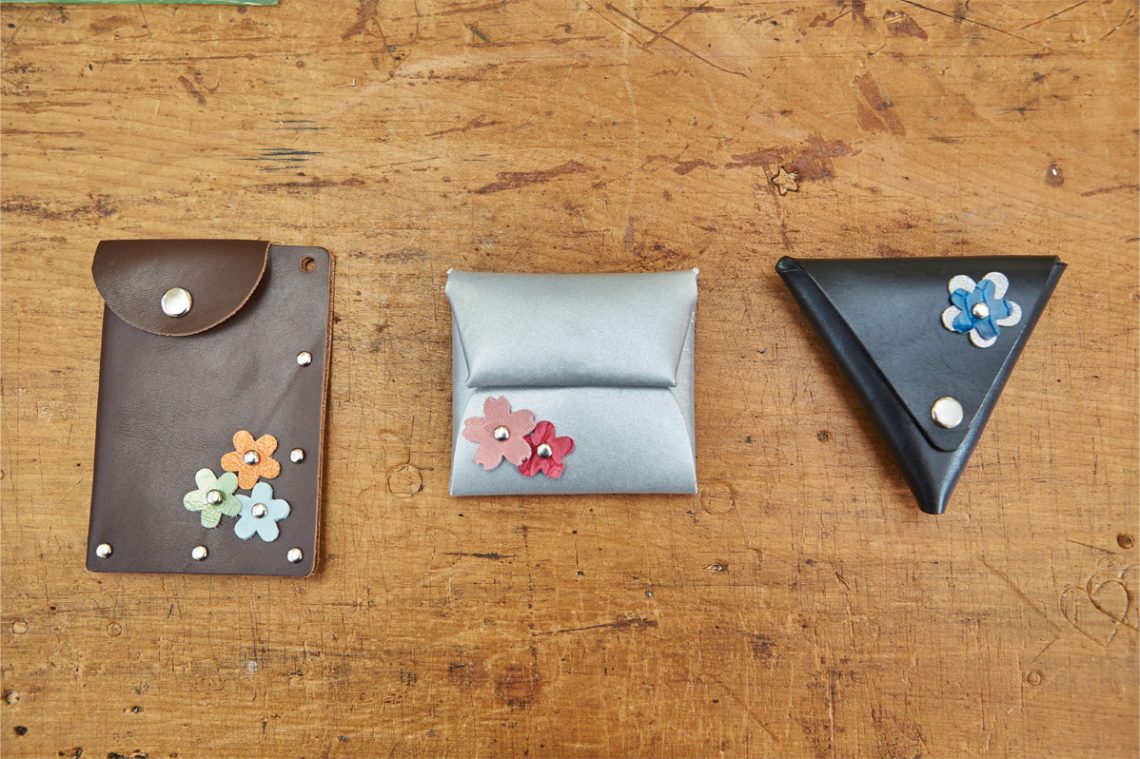 Sakura Works offers three types of courses for each leather accessory. This time, we chose the pass case course (to the left). In addition, there are courses for coin cases (middle) and triangular accessory cases (to the right).
Treasures mingled in with the other materials?
The place for the leather craft experience is on the ground floor of the SAKURAWAQS workshop. Here you can find a small gallery where products of SAKURAWAQS are displayed, as well as tools used for leather processing. You can also find a piece of crocodile leather in the exhibition. SAKURAWAQS is a workshop that specializes in processing high-quality leather such as crocodile and ostrich. Before the leather craft experience, the workshop representative Ms Kazuhisa will explain the production process of leather products and the different types of leather, but you can also take a closer look or even touch valuable leathers such as crocodile, python, lizard, etc., making it quite a fun way to study. Parts of these precious leathers are also used in the leather craft experience.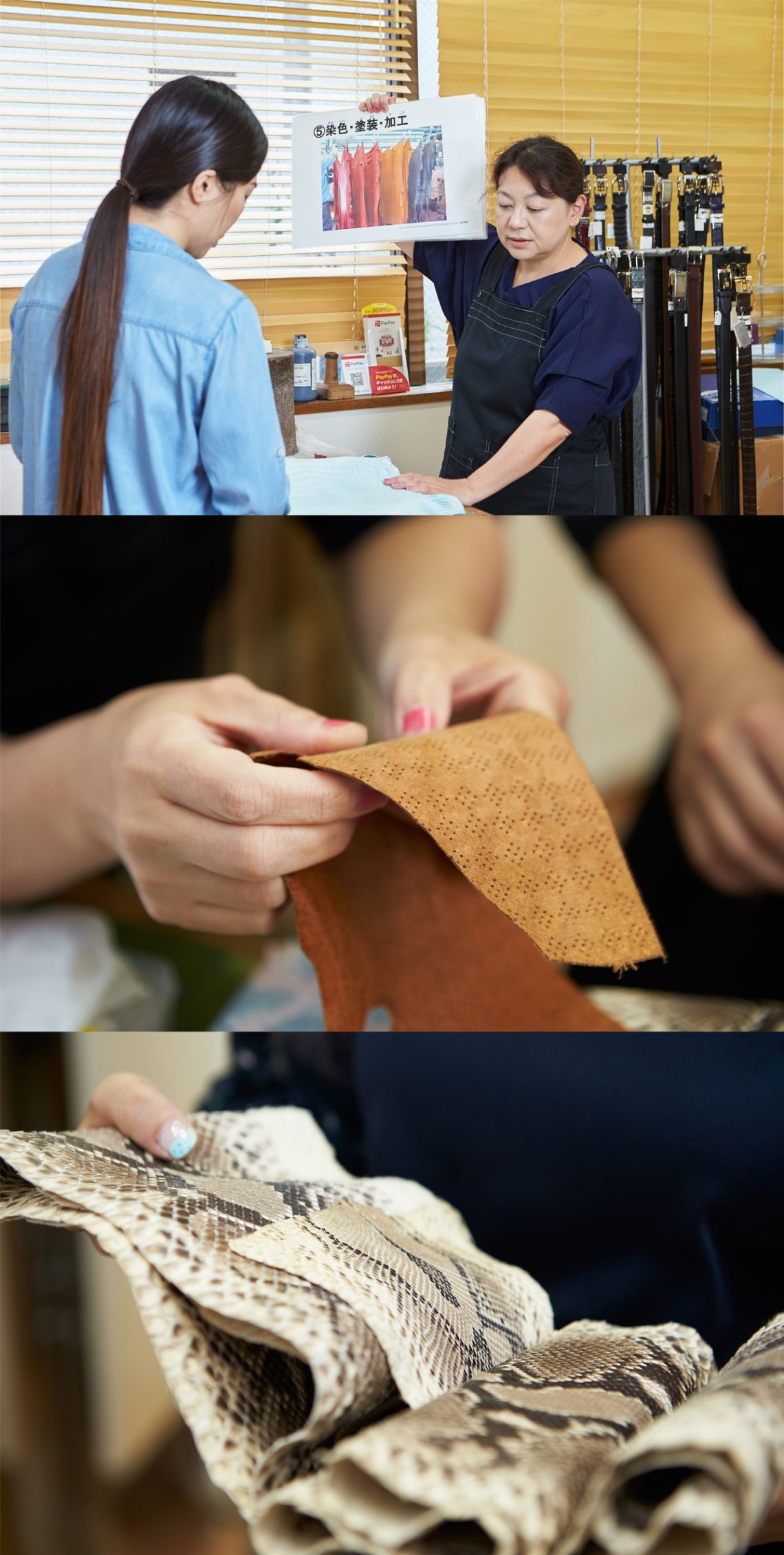 The production process of leather products is explained in an easy-to-understand way through the use of panels etc. During this time you also have the chance to touch crocodile and python leather.
Once you know about the leather, it's time to proceed to the production experience!!
Once you received an explanation about the processing of leather products and the different types of leather, it is time to start your production experience. This time Ms Kasuga will try the 'pass case' course from among the three courses available. For each course, three pieces are chosen from various small leather parts such as star shapes, flower shapes, animal shapes, etc. to produce original leather accessories. Within these small leather parts, valuable leathers such as python and crocodile are mixed in. 'When you first explain the types of leather, everyone enjoys selecting parts just as if they were looking for treasure. "Which one is crocodile?"' Ms Kasuga, for this experience, picks three pieces while closely analysing the shape, colour and type of leather.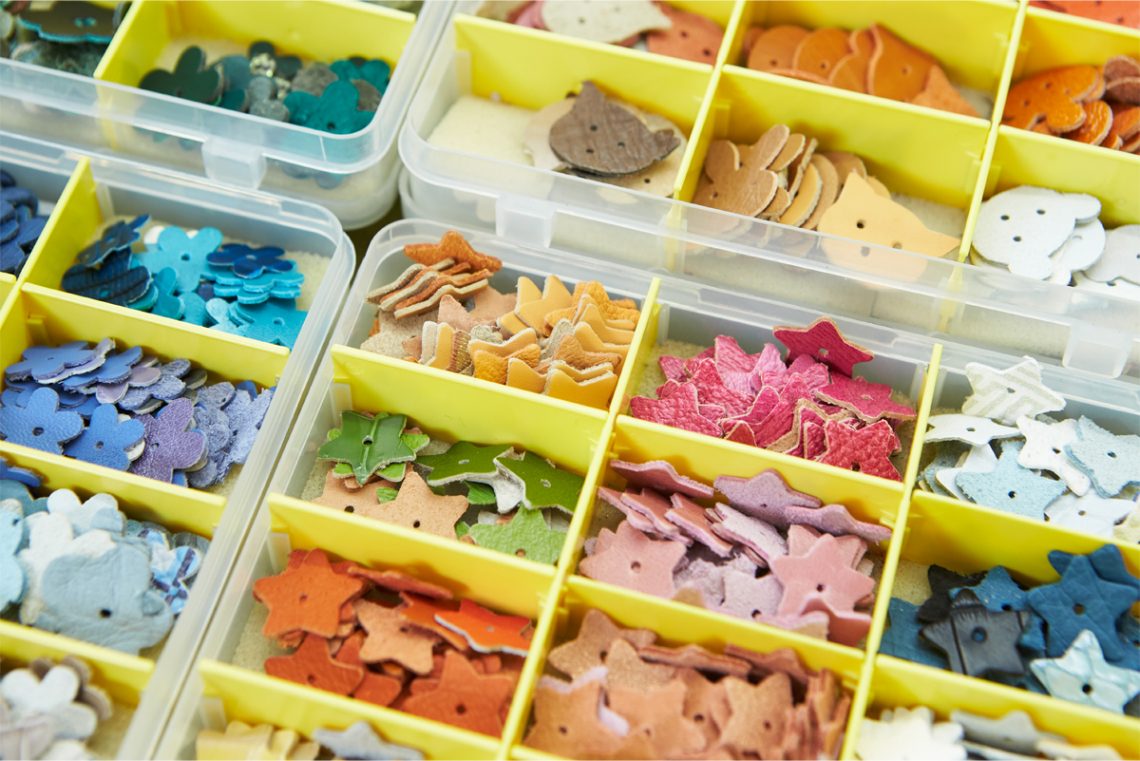 Multi-coloured leather parts formed in the shape of animals, flowers, stars and more. There are several sizes as well.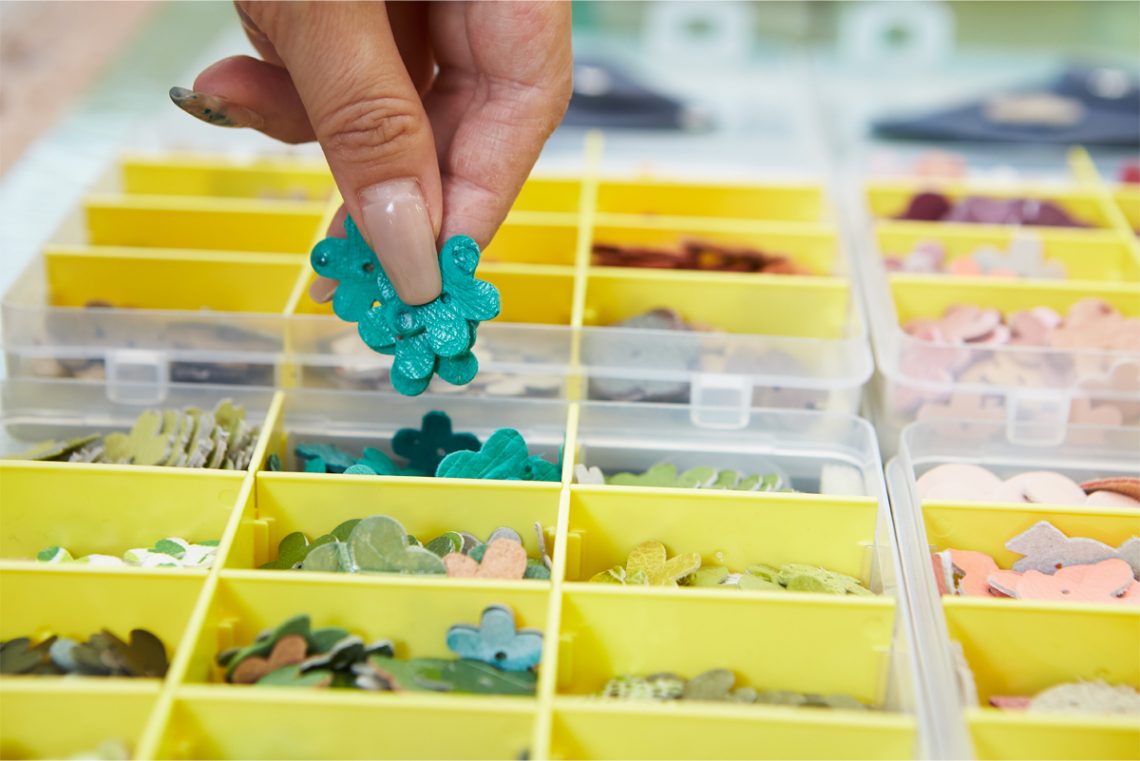 Worrying about which one to choose is part of the fun. Choose three from many different types.
Once you decided where to place the leather parts, use a hammer and a rivet setter to fixate them!!
Once you selected three pieces of leather, you can decide the placement. You can use two on the front and one on the back side of the pass case, or if you choose pieces with different sizes, you might want to combine three pieces into an interesting whole. Once the layout is decided, insert a special leather tool called 'Silver Pen' into the small hole in the piece of leather to mark the position. Then, place a round punch on this mark and use a hammer to open a hole. Insert a metal rivet setter, called 'kashime', into the hole to fixate the leather parts. Once the leather parts are fixated, the sides are also fixated with the rivet setter to complete the pass case.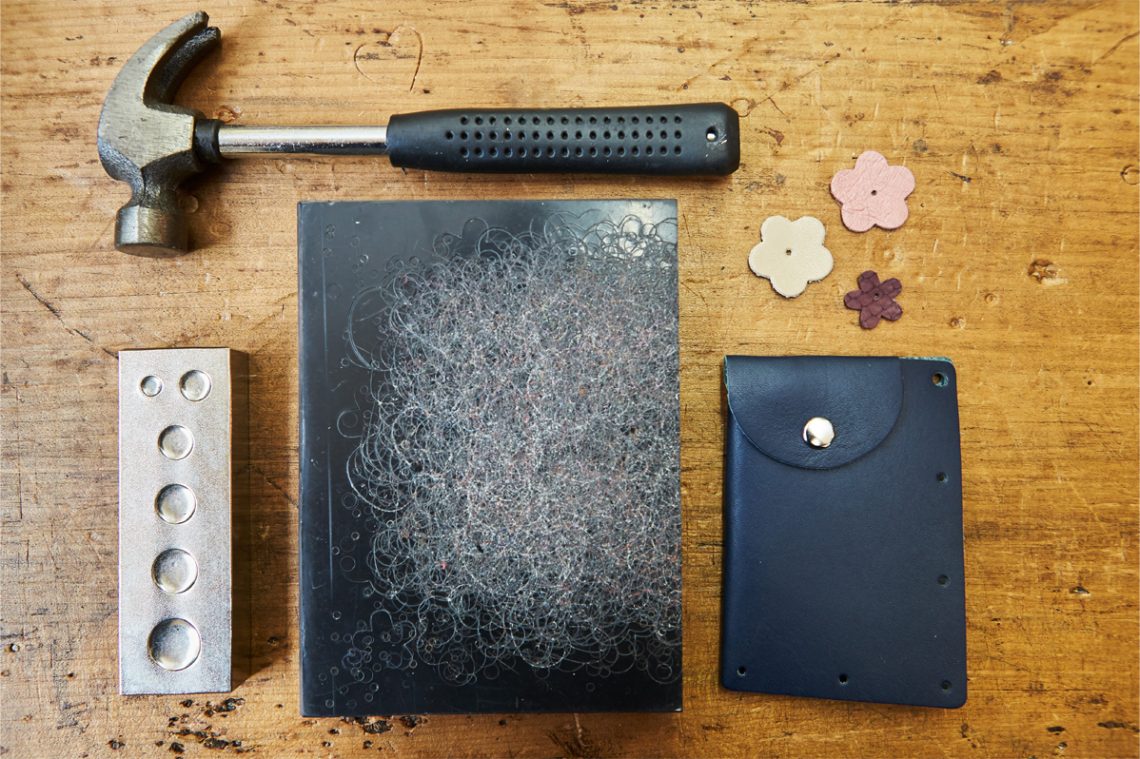 Some of the tools and materials used in the pass case crafting experience.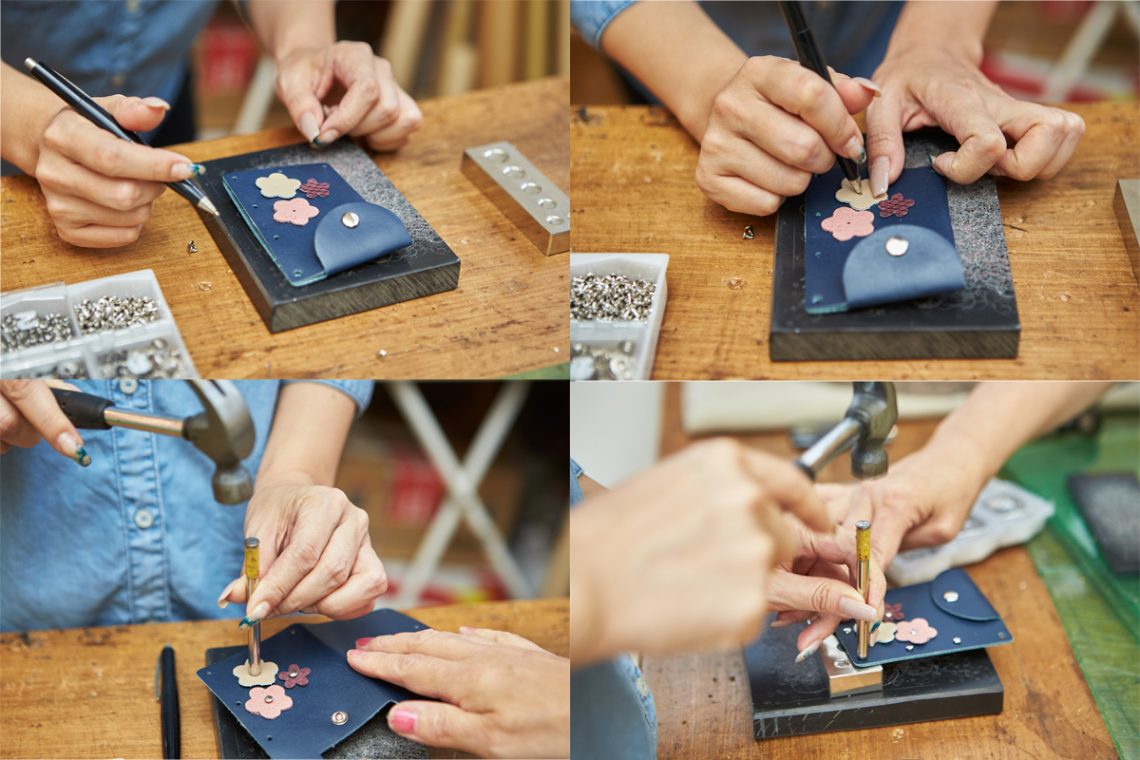 Decide the position of the leather parts and fixate them with a metal rivet setter called kashime.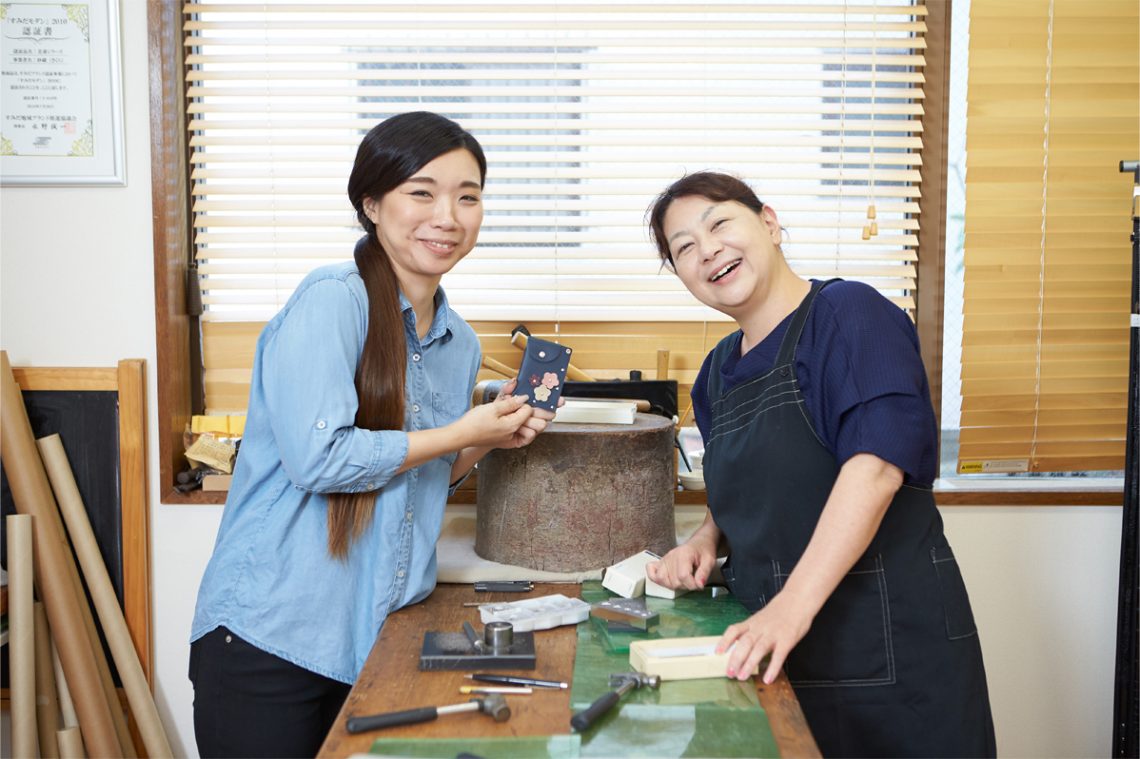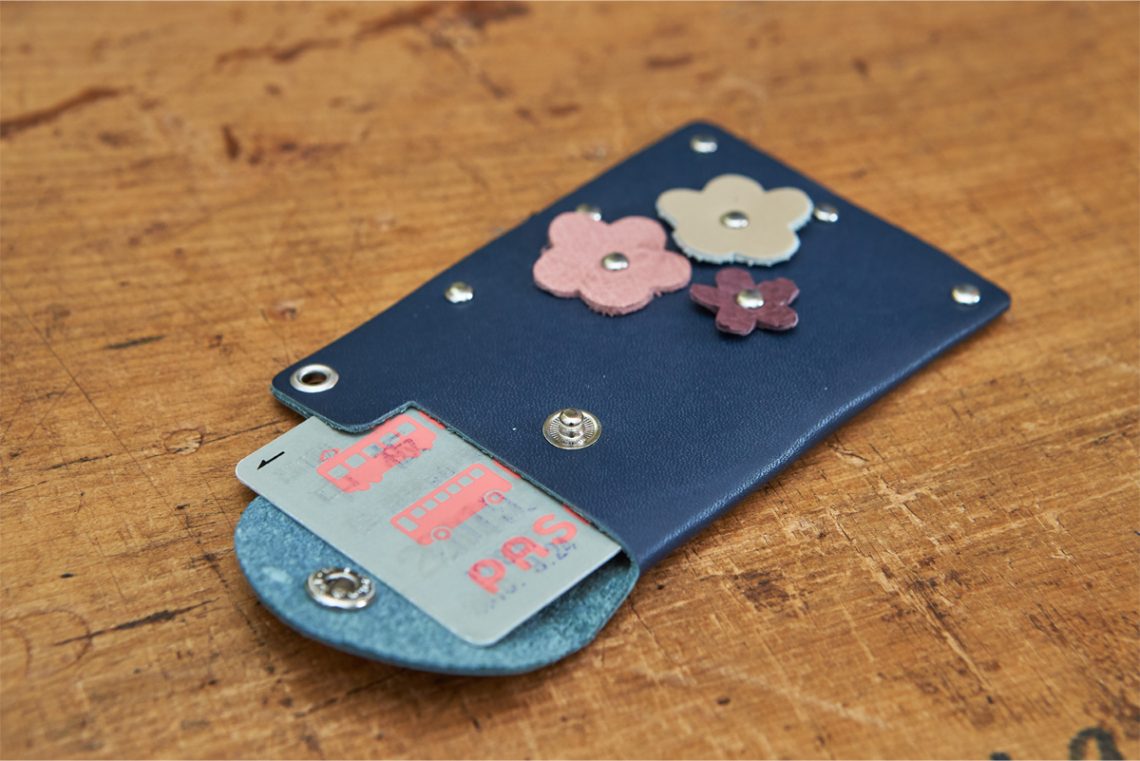 The original pass case is completed!!
Not only for one's own use but also as a gift!!
At Sakurawaqs, where this leather craft experience took place, various people, such as couples and parents with their children, visit to partake in the experiences. Producing matching leather accessories for parents and children, or gifting each other one's original creations will also make for a good memory. Make a reservation and try it out for yourself.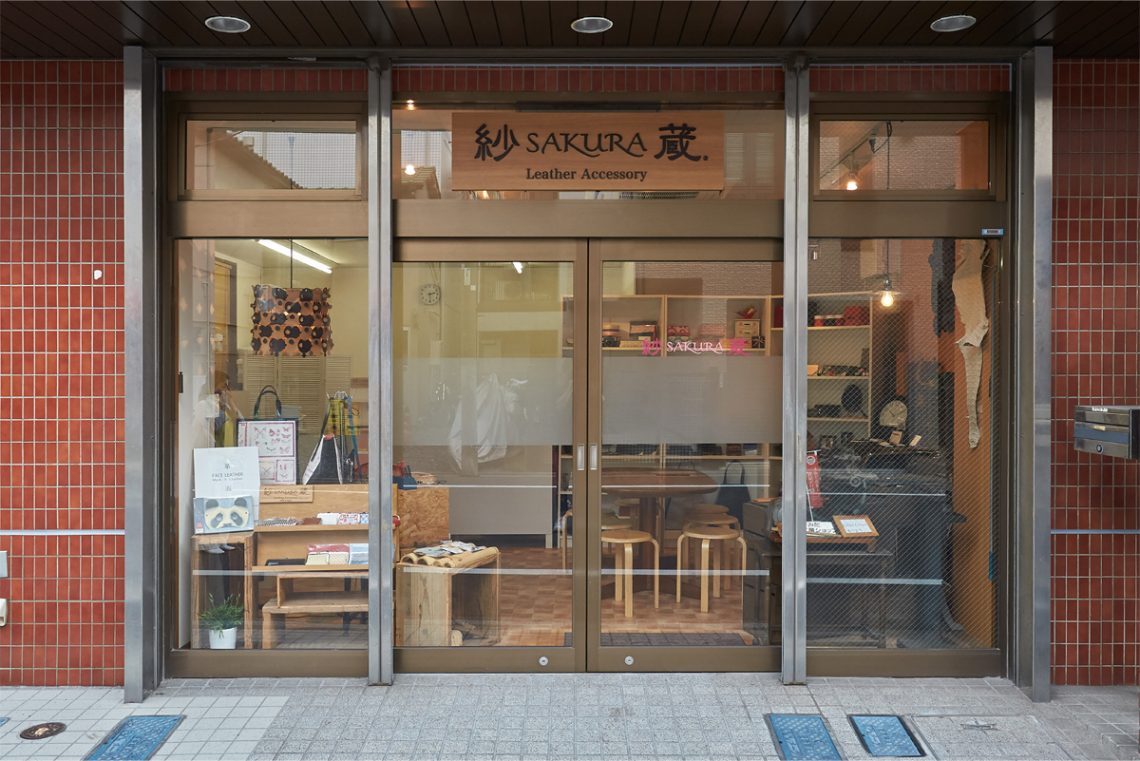 The entrance of the workshop where the leather craft experience takes place. There is also a small gallery on the ground floor of the workshop where you can see products made by SAKURAWAQS.
Company name: SAKURAWAQS
Address: Narihira 1-7-12, Sumida-ku, Tokyo-to
Business hours: 10:00 ~ 17:00
Closed: Irregular holidays
Website: http://leather-handmade.com/
Access: Approximately 5 minutes on foot from Keisei Oshiage Line 'Oshiage' station, approximately 3 minutes on foot from Tobu Sky Tree Line 'Tokyo Sky Tree' station