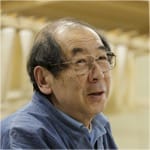 Karakami master Yukio Koizumi, 3rd generation Karagen
Yukio followed his father's profession at the age of 20. As a 5th generation papermaker from the established Edo artisan and founder Shichigoro Koizumi, he is a 3rd generation papermaker under Karagen. He is a certified Traditional Craftsman and "Tokyo Meister".
Every day a learning journey.
The surface is encompassed by both palms and gently caressed. The lowered hands stroke the washi paper in a series of serene motions, transferring the print from the woodblock below. 50 years since following this path, Yukio Koizumi is a karakami craftsman. The woodblock printed washi paper will be used to make items such as fusuma sliding doors and byobu room screens, adding a touch of colour to life. When asked about the caressing motion, Koizumi-san replies, "Whether it's a habit? It's not. Asides from Edo karakami, the technique is also used by sunago specialists, who scatter silver and gold dust onto washi paper to then press it. During this process, they will be hand-pressing the surface. Whether one does so or not, the results are wholly different." With a small amount of sebum on the hands, one can make a beautiful design appear on washi paper through smooth swimming motions. Looking at the freshly printed washi paper, while at first only barely glimmering, upon drying the pattern appears to shine strongly. "Kira (mica) is translucent, right. So you can't tell when freshly printed. When it dries, sometimes even I get caught by surprise", so Koizumi-san conveys the difficulty in printing with mica. To make the paint, pigment is combined in water with funori seaweed and konjac starch; balancing the amount of water to use is said to be particularly difficult. "My father who passed away 4 years ago would say this often, but it's difficult for the balance to really come together. I'm still learning every day."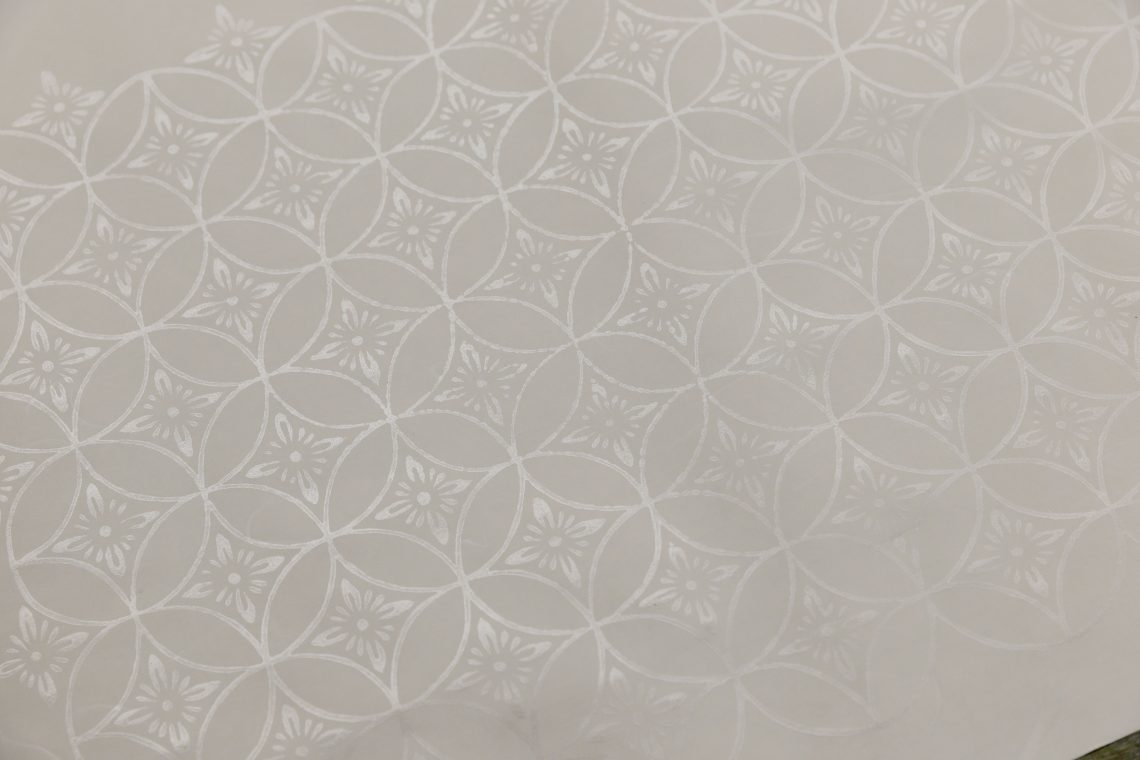 As it dries, the shippo circular ring pattern comes through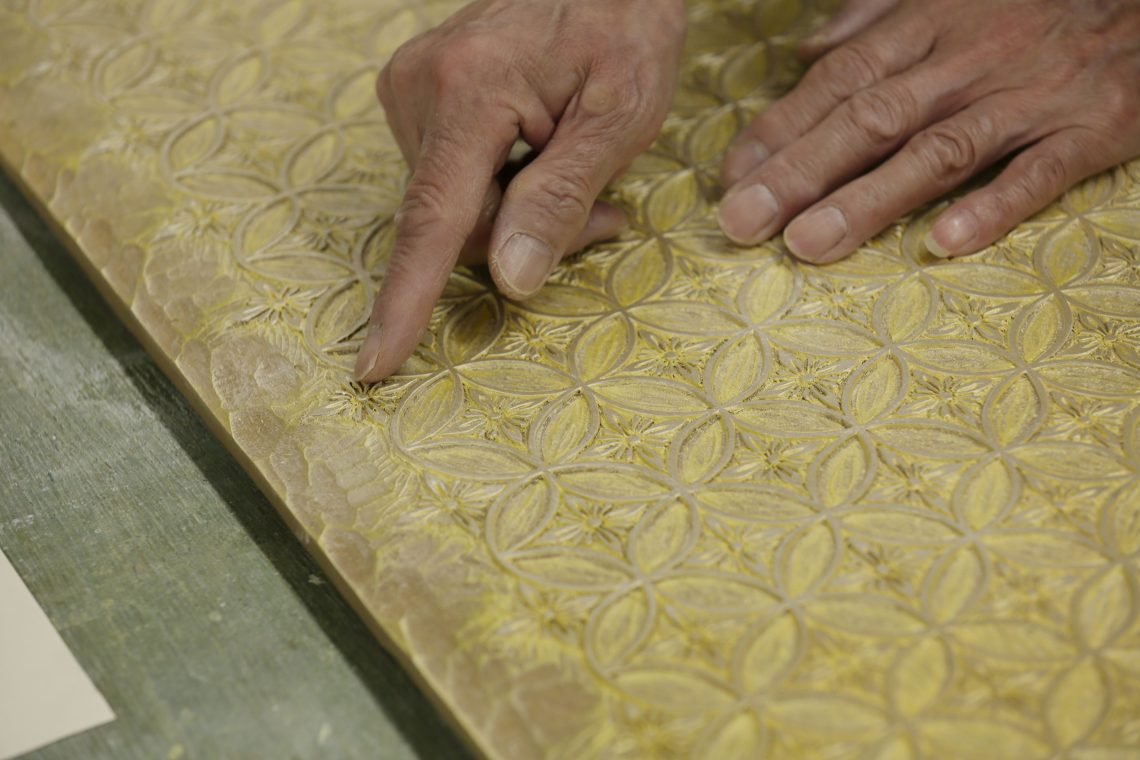 The woodblock is carved, naturally, by Koizumi. The carving pattern takes into account the ease of alignment of consecutive prints.

Washi paper is whitewashed with a flat paintbrush.  The sieve-like tool known as furui is coated with a mica paint mixture and applied to the printing woodblock. The washi paper is placed on top of the woodblock and (after transferring some sebum from the face to the hands) gentle pressure impresses the pattern onto the paper.
Lost woodblocks, recreated
Koizumi-san set on this path at 20 years of age. This path being a job in manufacturing fusuma sliding doors. During the post-war reconstruction and the subsequent years of rapid economic growth, fusuma were switching over to mass production lines. Manufacturers responded accordingly, increasing machine and silk-screen printing over hand-printed karakami. Presently, traditional craftwork accounts for 80 percent of production but there have been times where fusuma were mostly mass-produced. Karakami originated in Kyoto before spreading to Edo, where the Edo-influenced Edo karakami was developed. Although many woodblocks, known as Kyōhō Hoshigata, were engraved with designs favoured by the people of Edo, these were mostly lost to the Great Kanto Earthquake and the Firebombing of Tokyo. The house of Koizumi comes from a lineage that continues from the Edo period. In the previous generation, Tetsu had also taken it upon himself to recreate the printing woodblocks. Entering the Heisei period (1989~), the washi wholesaler Tokyo Matsuya became a publisher, reviving an interest in Edo karakami. Along with many post-war replica woodblocks, a later discovery of around 240 woodblocks from the Edo period formed a valuable resource. Following the success of these activities, karakami was used in the 2005 restoration of the Dutch Trading Post in Dejima, Nagasaki. On Tokyo Matsuya's request, up to 10000 sheets of karakami paper were printed in Tokyo. "I also went to see it, to see the kind of good work that they had done. When the paper is fixed into a building, it's totally different. A wonderful thing". The best thing about the work is the fun in this moment. By Koizumi-san's side, his two son's Masayuki and Akio move around busily. "It's encouraging to see how they are also improving", he gives his stamp of approval. The techniques are certainly being passed down by hand.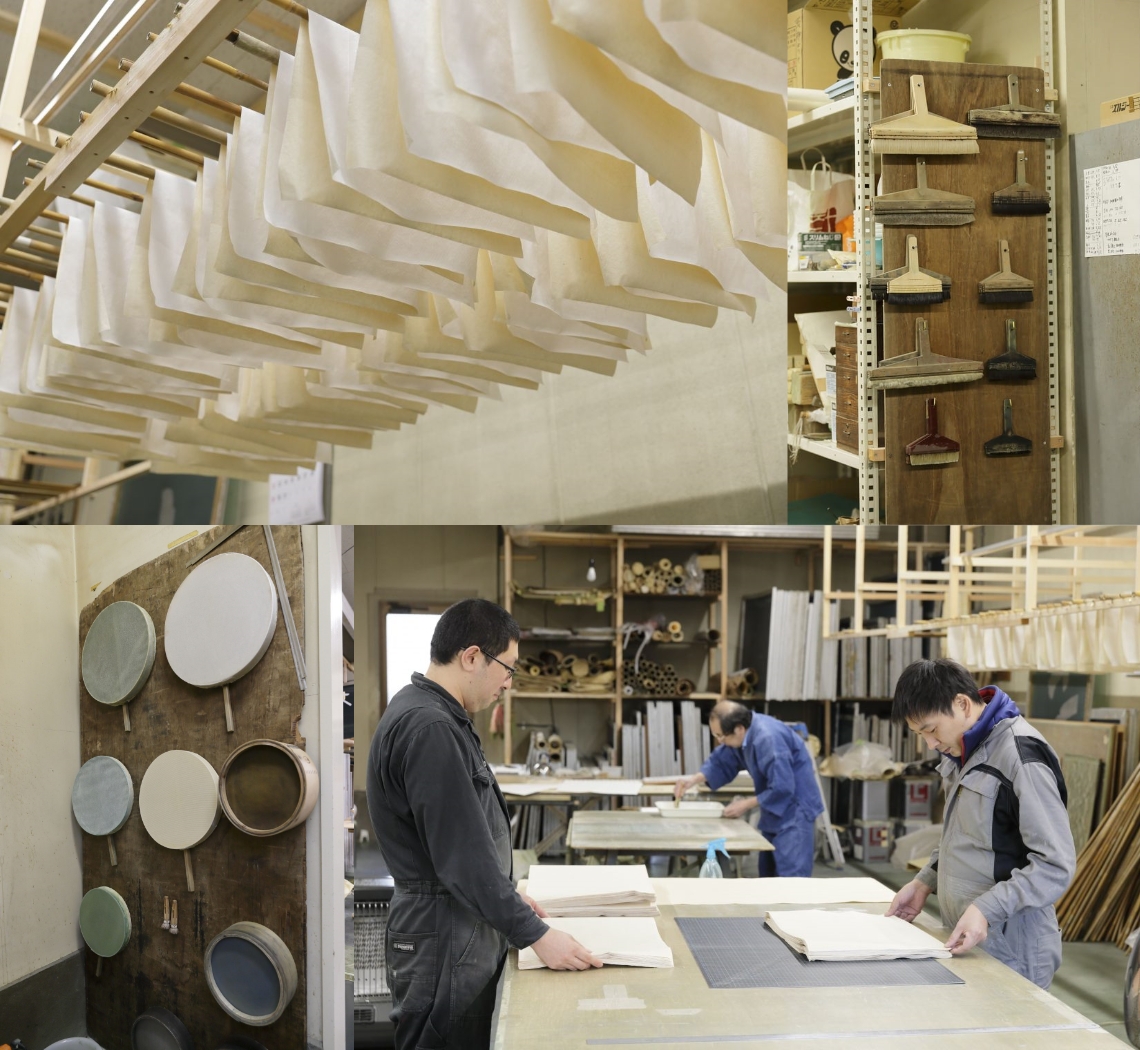 A place to meet karakami.
A major player in the Edo karakami revival, Tokyo Matsuya has a showroom in Inaricho, Tokyo from where it promotes the art of karakami. The first floor is a shop lined with karakami envelopes for gifts, place mats and small pouches. On the second and third floors, there are samples of fusuma sliding doors and byobu room screens. Product manager Nakamoto explains, "Things that are hard to capture in sample books, such as size of the fusuma and byobu, can be seen and confirmed here. That is why we are creating a showroom". Pulling out a full-size fusuma panel, one can change the angle and the amount of light received from the window. In doing so the karakami pattern can appear bolder or can fade into the background colour, recognising the importance of depth in karakami applications. "The Gyokushū karakami that is on the ceiling of the second floor, that was printed by current generation, Koizumi".  Other products sold by Tokyo Matsuya include a paper lantern made with Edo karakami. This also uses Koizumi's karakami. Making it all the way here, one can encounter Edo karakami and Koizumi's work.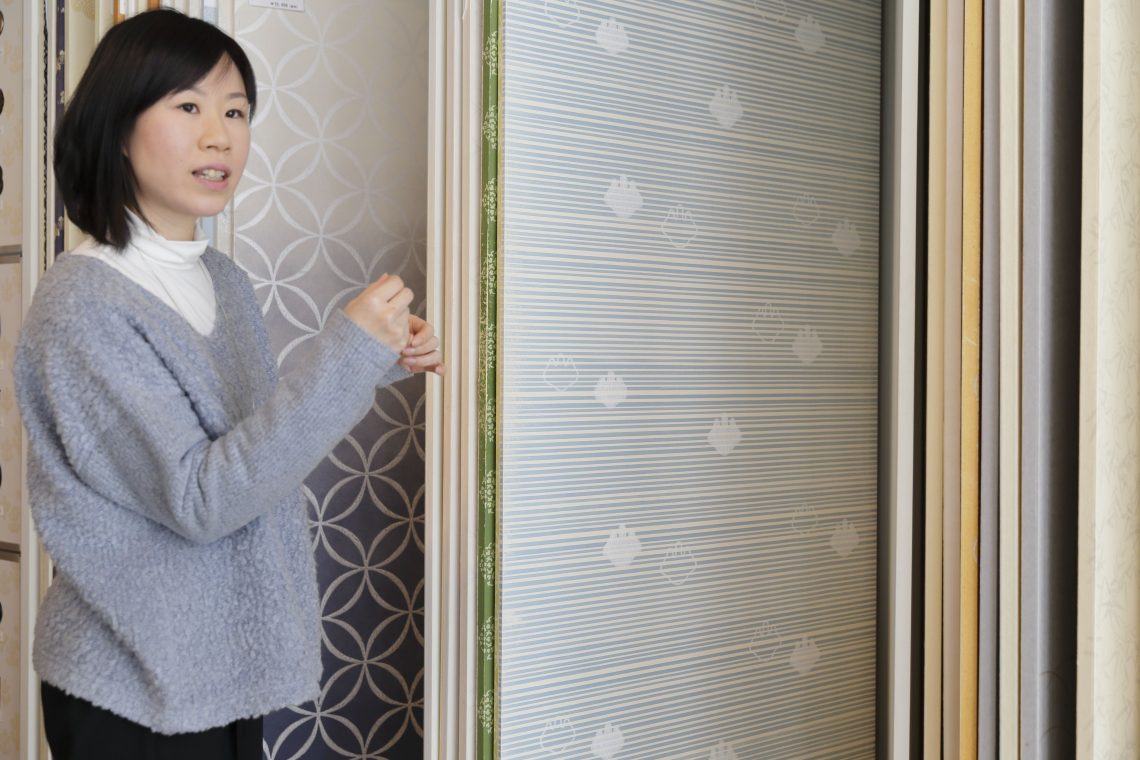 On the second floor of the showroom, it is possible to inspect karakami on full-size fusuma panels.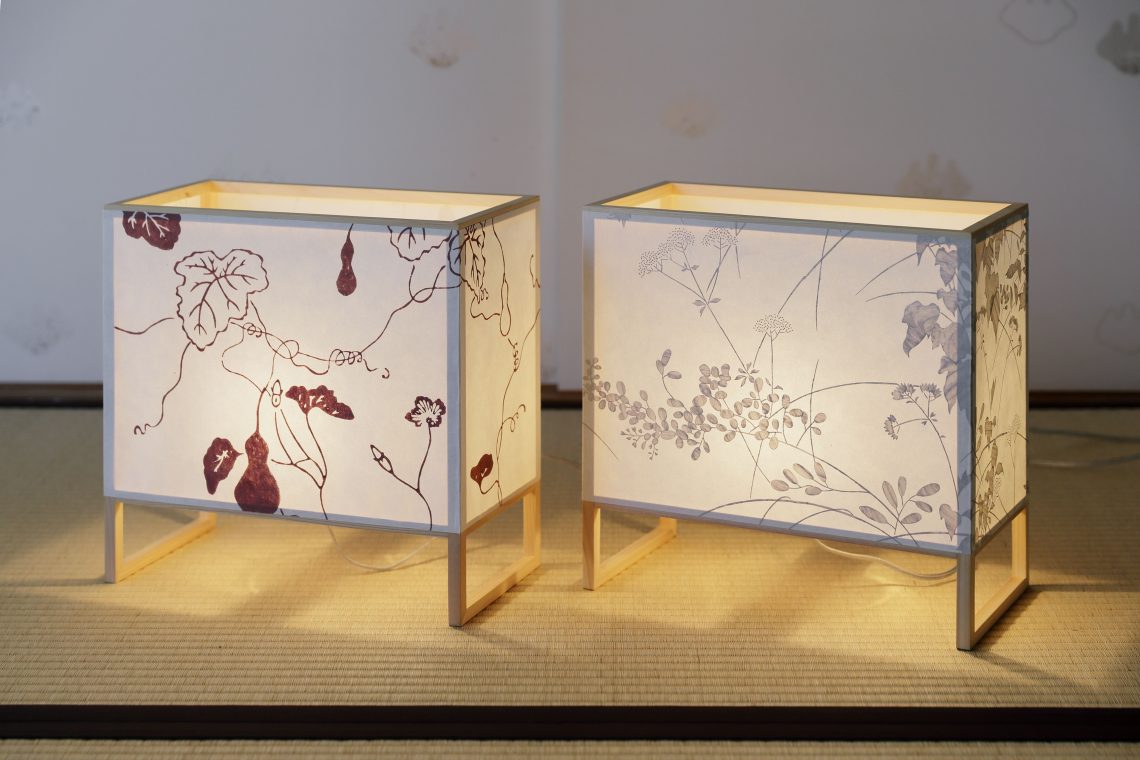 Edo karakami paper lantern. Both print pattern and frame finish can be customised.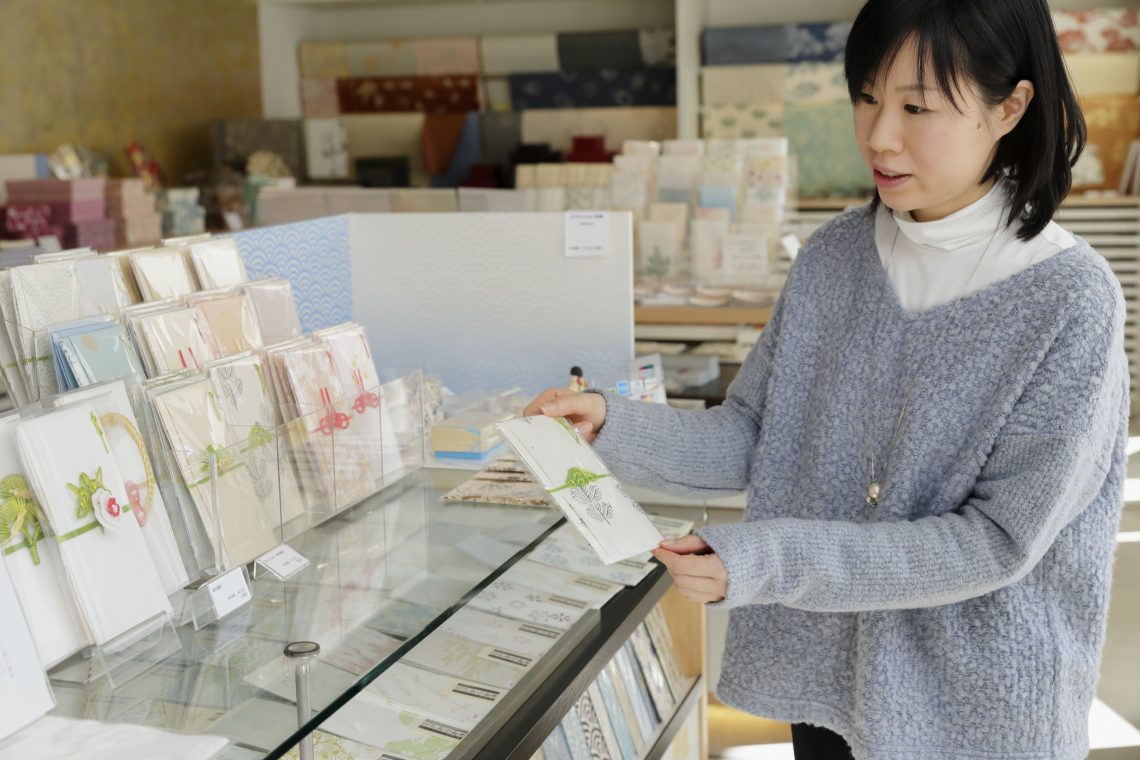 The first floor contains a store with over 30 items of small washi goods.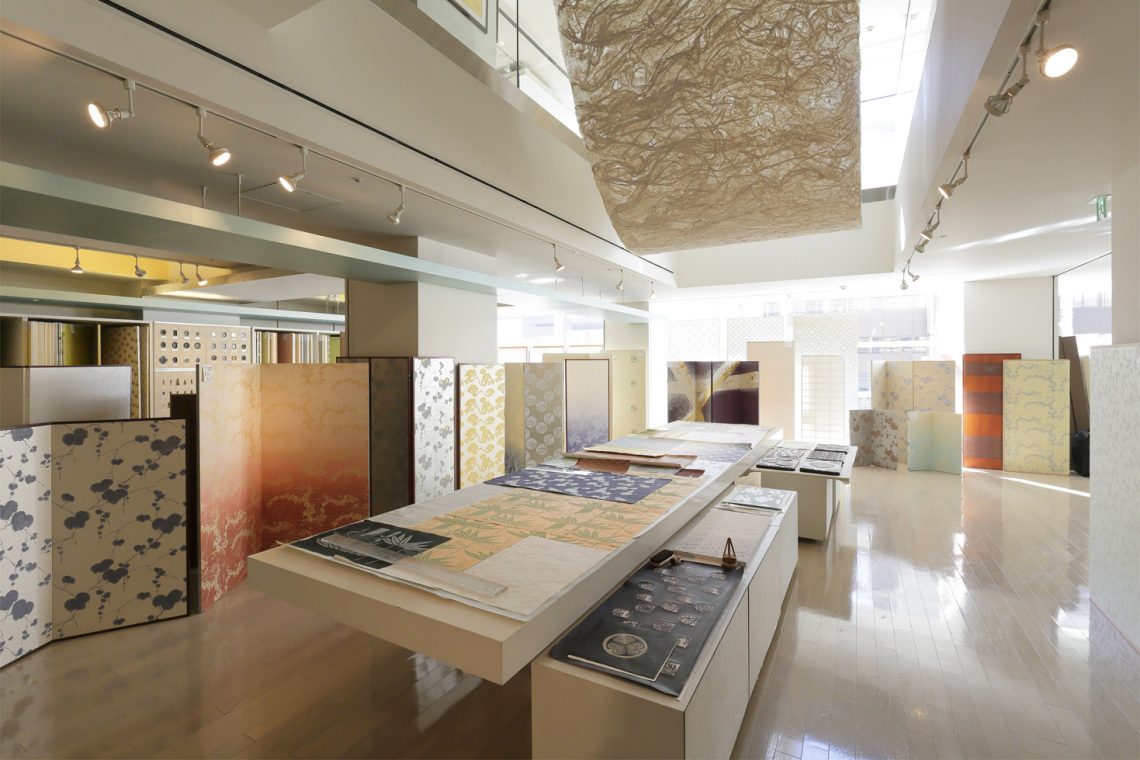 Tokyo Matsuya Showroom / Shop
Ueno 6-1-3 Taito-ku, Tokyo
Business hours 9:00~17:00 (closed Sundays and public holidays)