2021.11.18
TOKYO Teshigoto × Spanish cuisine: enjoying    Japanese-modern dishes with traditional crafts
Interview
I was invited to a special home party held through collaboration between Chihiro Otsuki,
a researcher of Spanish cuisine, and TOKYO Teshigoto,
at a hideaway restaurant that is also her home.
When ushered into the room,
my gaze was automatically drawn to the numerous lovely paintings
and interior items there.
Looking at various things, I discovered that,
in addition to Spanish-style accessories and objet d'art,
there were items of traditional crafts from TOKYO Teshigoto.
Otsuki said that she had selected them from the TOKYO Teshigoto assortment.。
On a hat rack sat insectum,
an insect-like objet d'art that applied the know-how used to make kimekomi wooden dolls.
On the wall hung KOMON WOOD CLOCK,
whose dial disk features a traditional Edo komon pattern.
And near the wine rack was casually placed SHITTO-RI,
a lacquered ornament with an exquisite Mount Fuji design.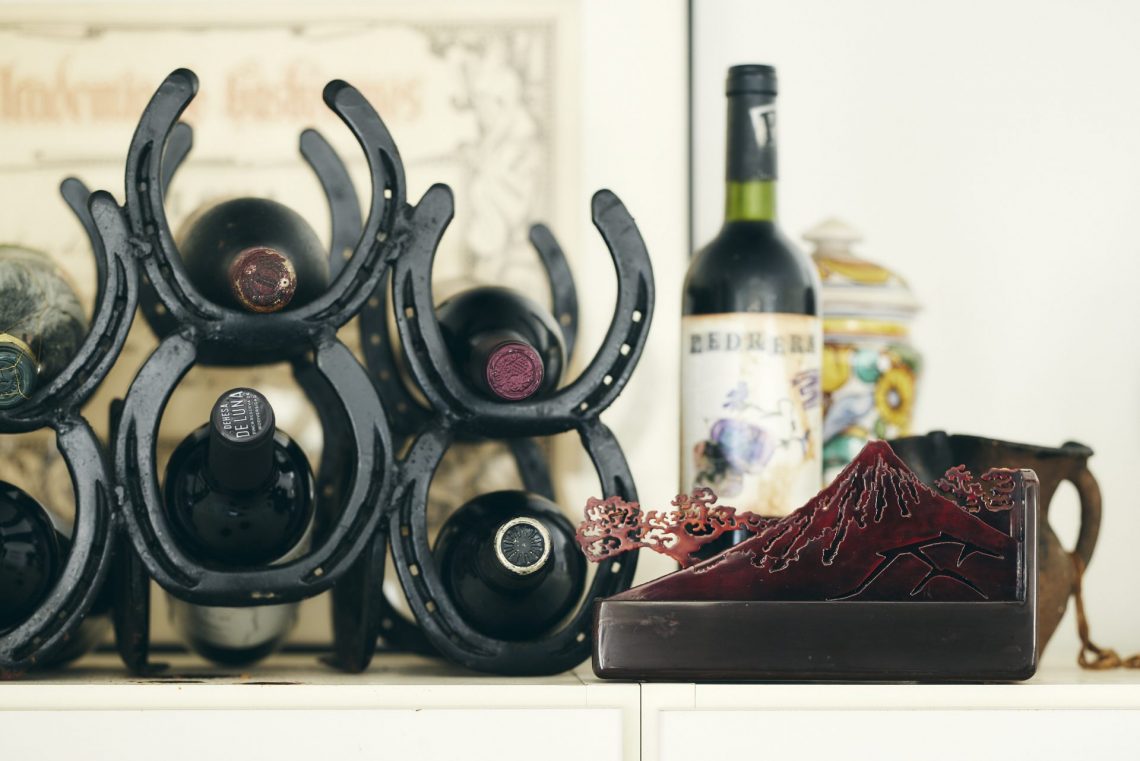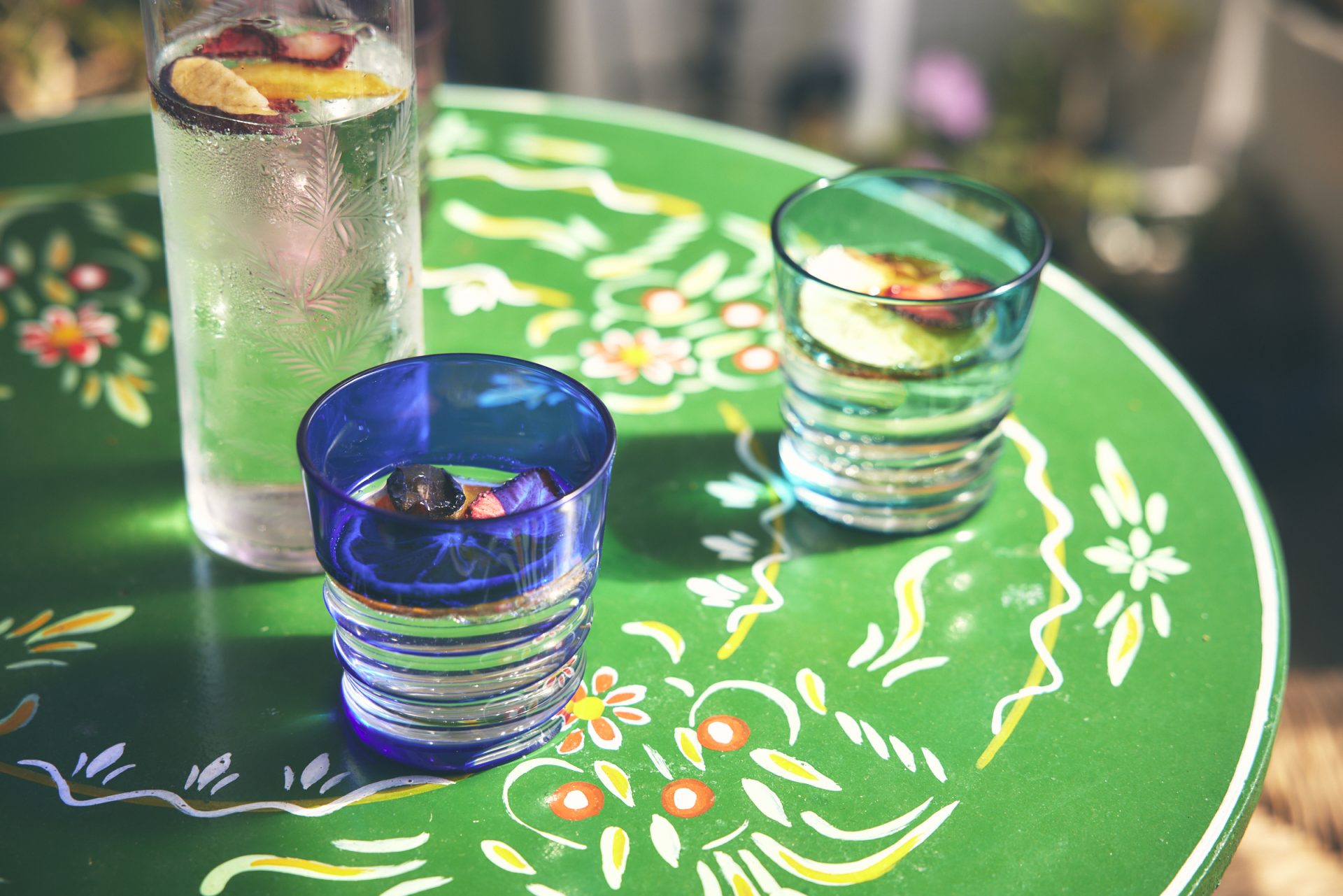 SHITTO-RI(Ataka Shikkouten)         Edo-kiriko Hand-polished Spiral Rock Glass
                      (Kiyohide Glass Kobo)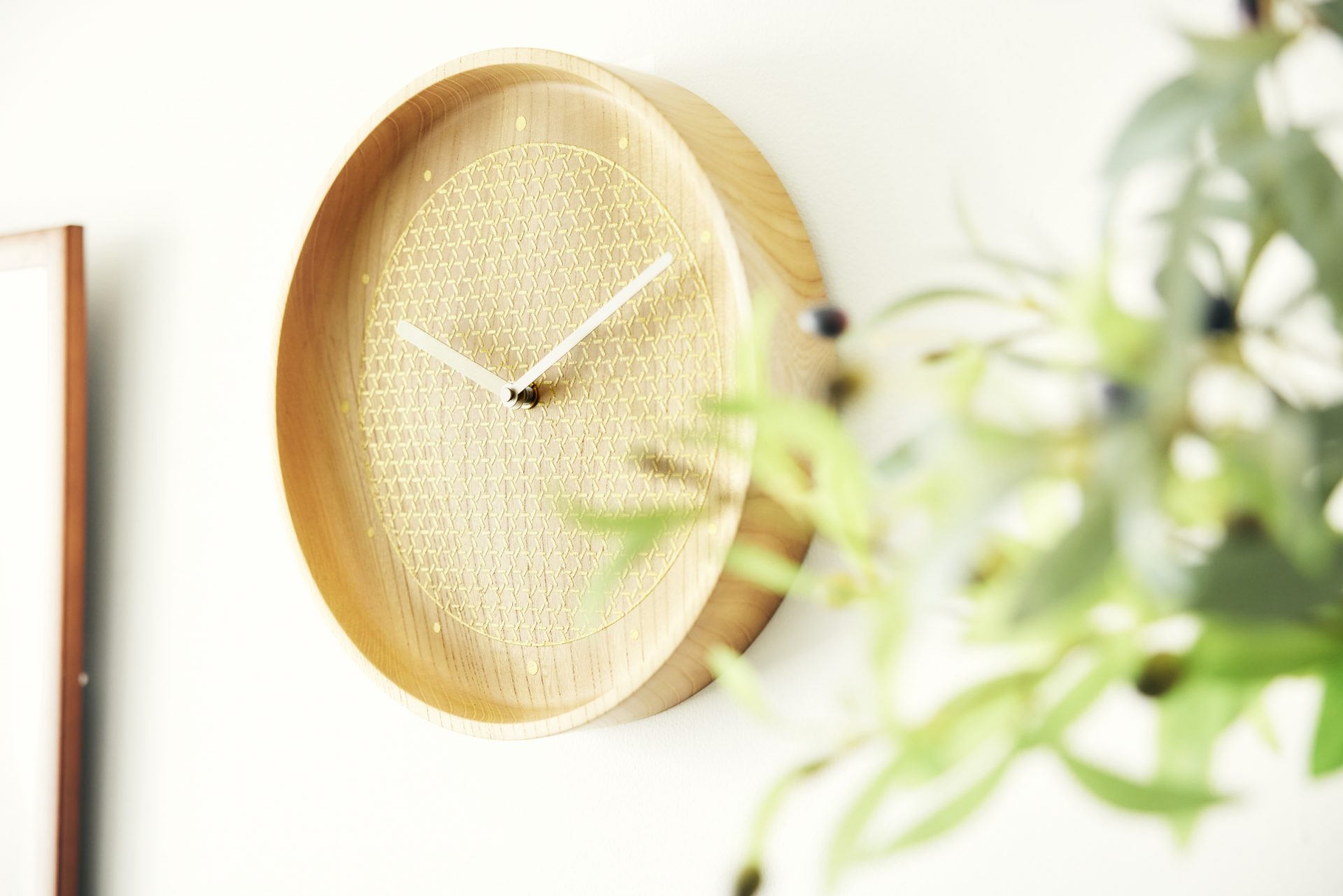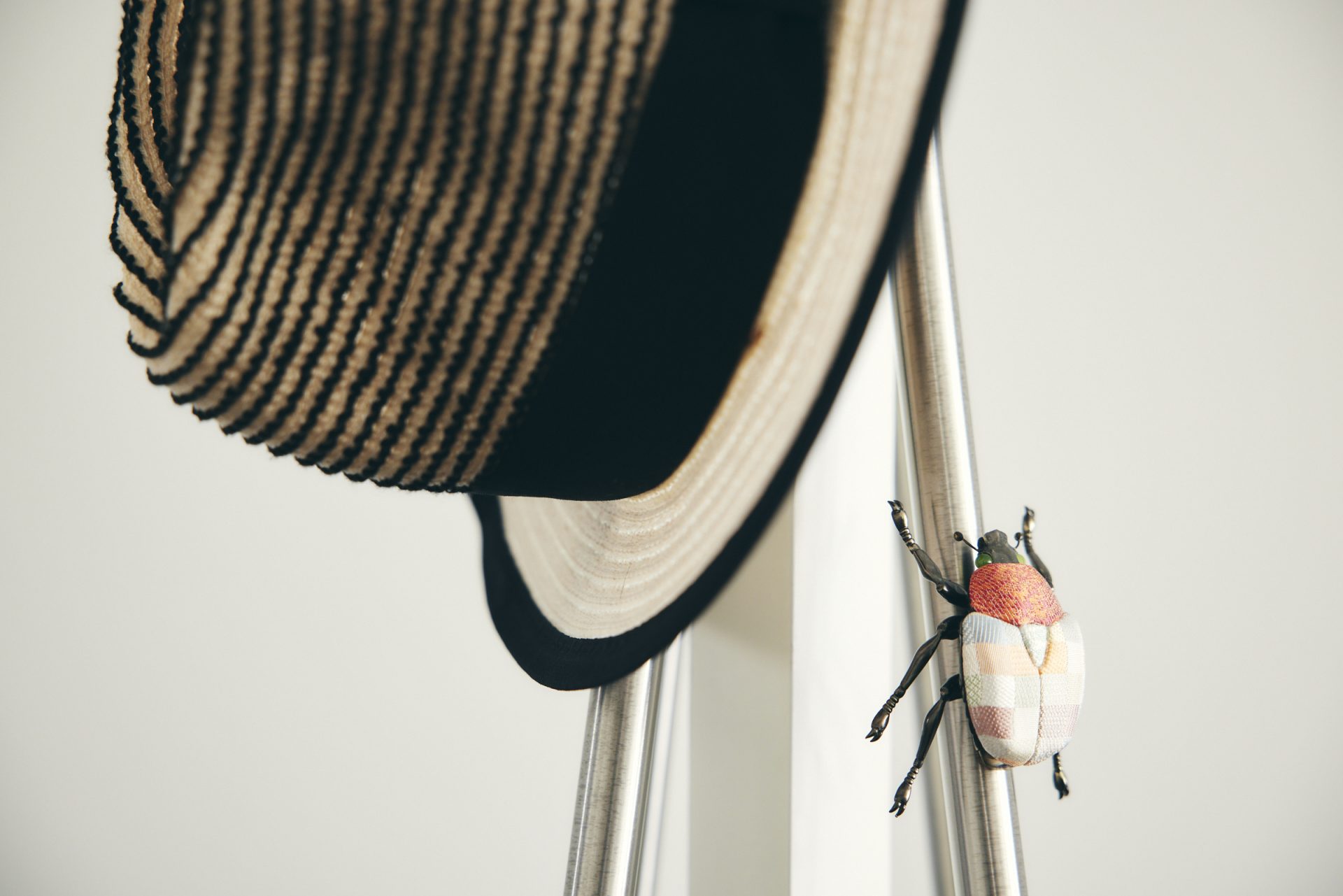 KOMON WOOD CLOCK(Tomita Sen-Kogei)    insectum(Matsuzaki Ningyo)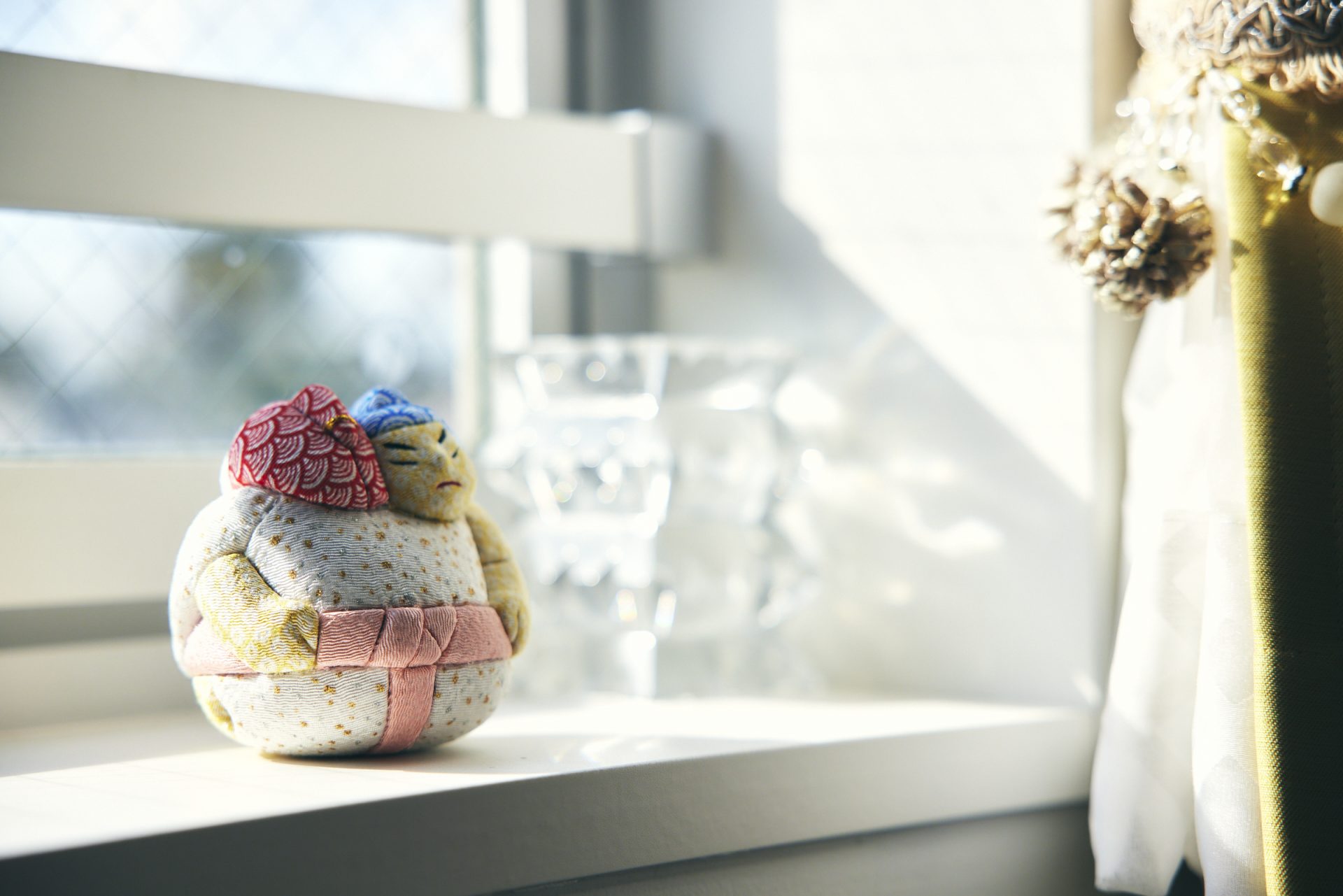 OTO CHOCHIN               Suzuzumo(Tsukada Kobo)
(Namidabashi Oshimaya Lantern Shop)
People have the impression that traditional Japanese crafts
are hard to incorporate into everyday use,
but they fit in wonderfully, even in Western-style rooms.
"Did you always like craft products?" I asked Otsuki as she prepared the food.
Glancing around the kitchen,
I spotted other items that captured my interest: Chidori Brush,
which looked like it would make housecleaning fun,
and Ajiro, a kimekomi ring case designed to hold rings removed just before doing dishes.
Both of them added color to the time spent in the kitchen just by being close at hand.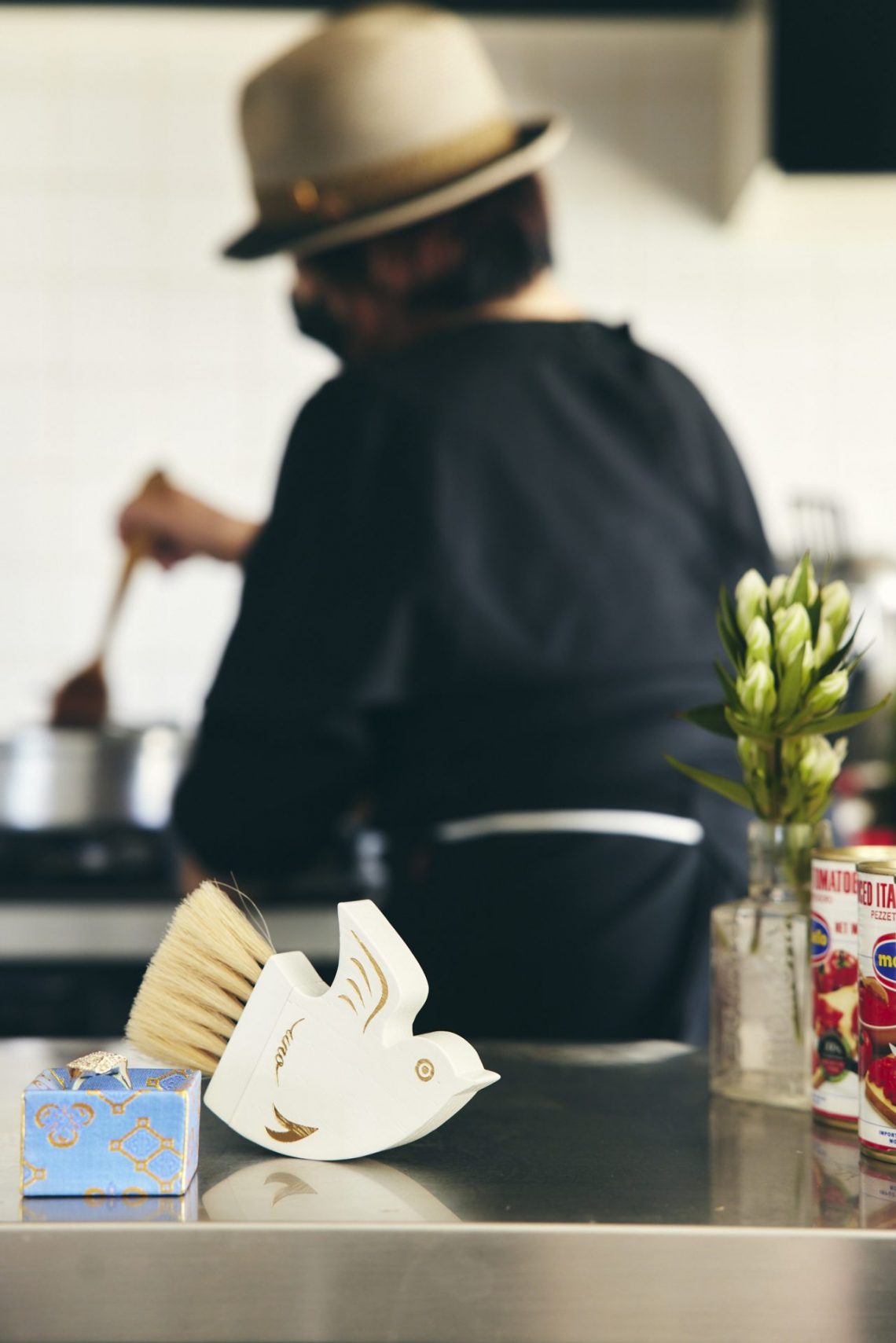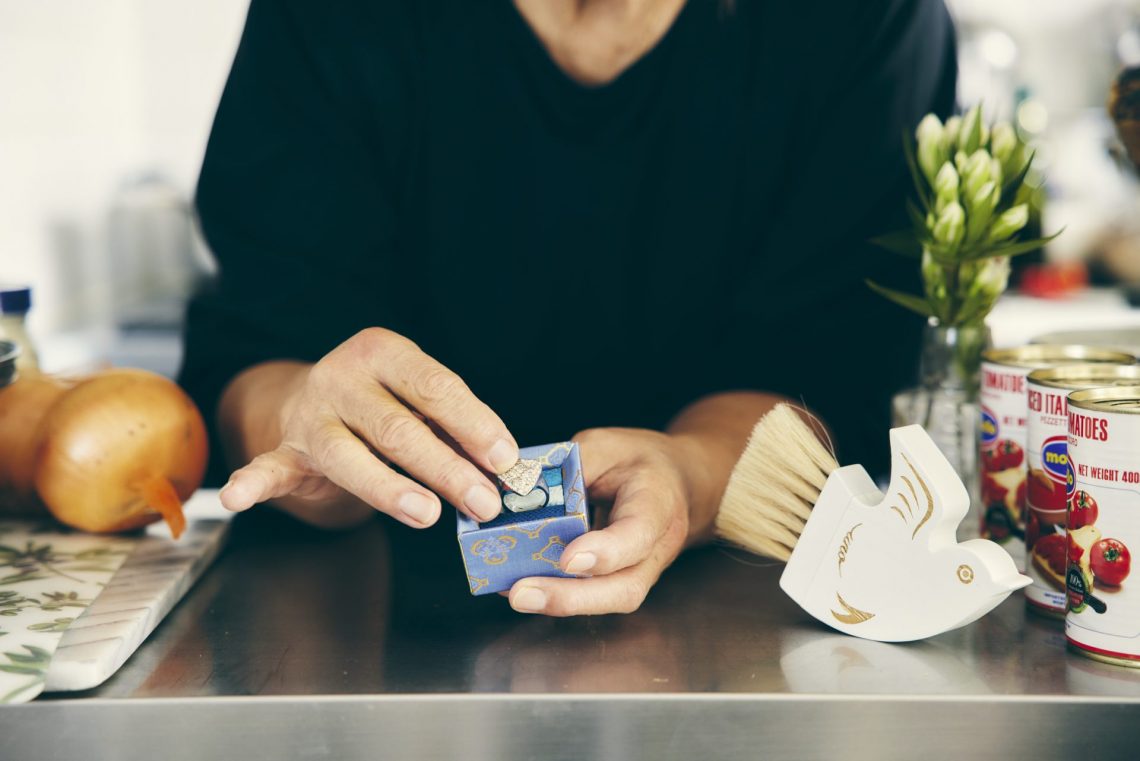 Ajiro, the kimekomi ring case(Kakinuma Ningyo)
Chidori Brush (Uno Hake Brush Manufacturing Co.,Ltd.)
"I like how they are gentle and warm, and yet also powerful.
In this, they share something with traditional home cooking in Spain,"
replied Otsuki as she brought numerous dishes passed down by families
in various regions of Spain to the table.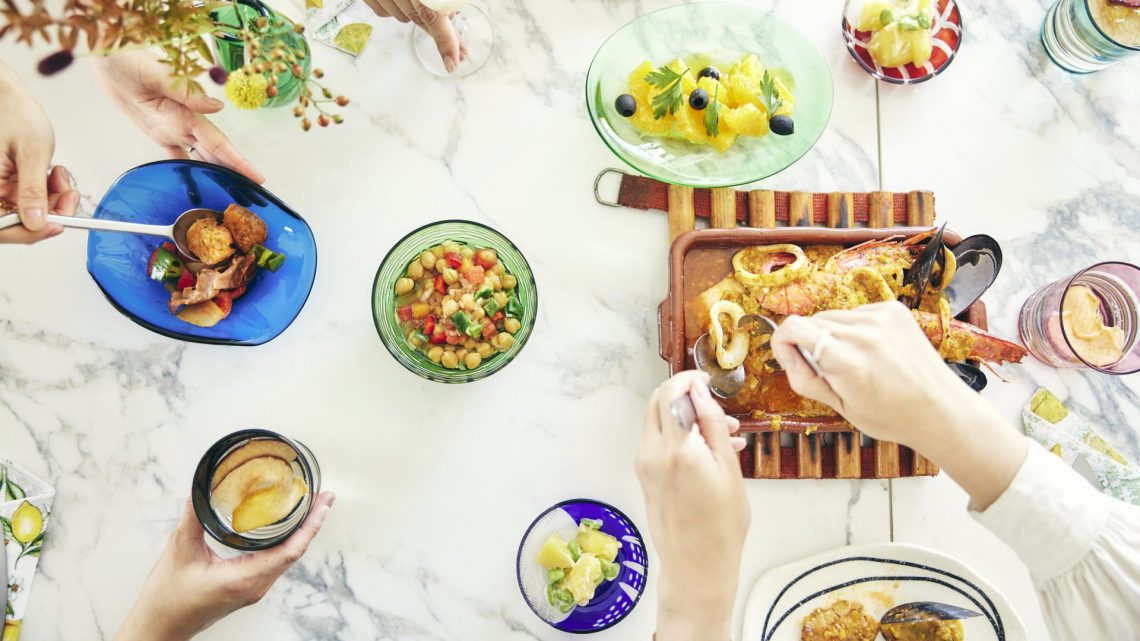 We first made a toast with a beverage consisting of Cava,
the sparkling wine produced in Spain, poured over frozen yogurt.
TOWA GLASS, the wine glass with a tortoiseshell stem and base,
imbued this interlude with a special air.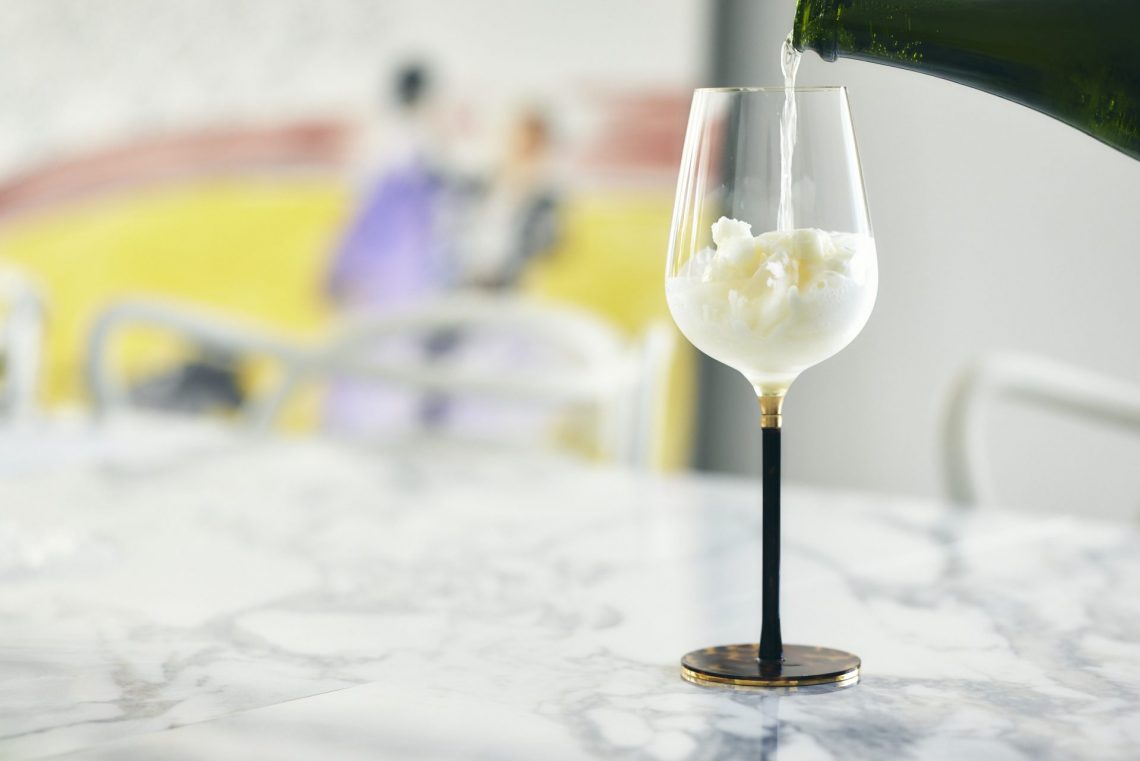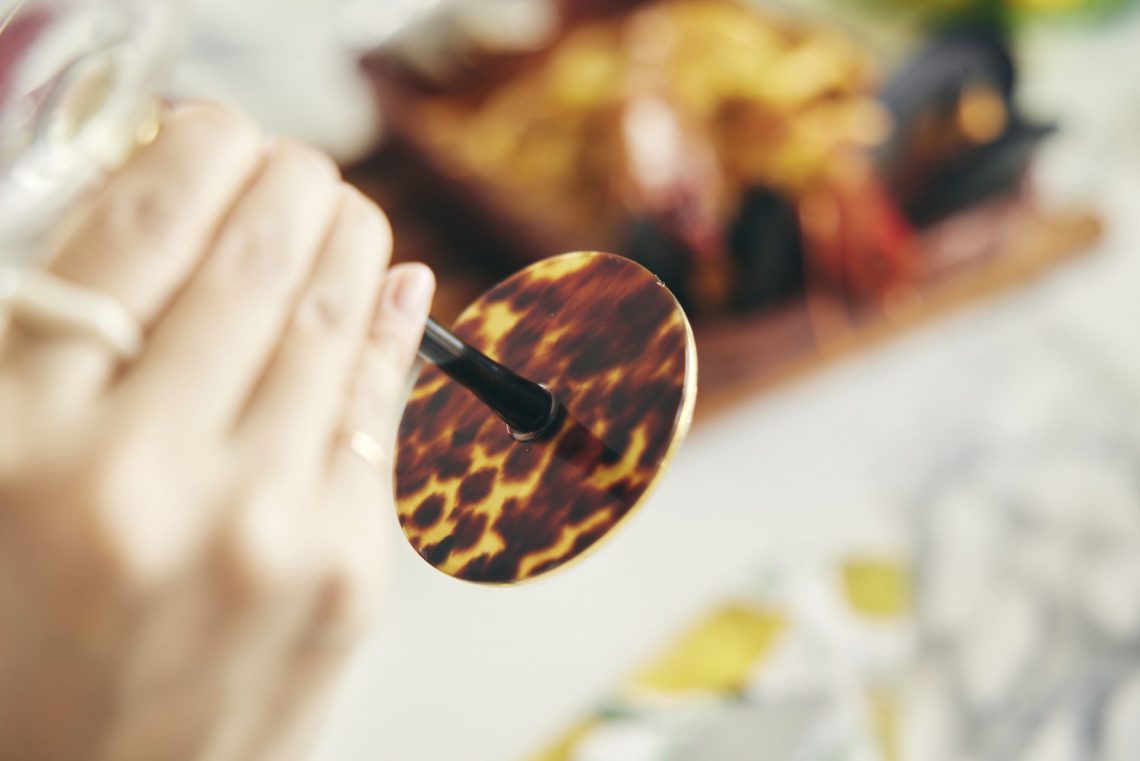 TOWA GLASS(Ishikawa Bekko Seisakusho)
Then, we started on the appetizers: a chickpea salad
that is a favorite in Andalusia, an orange salad from Valencia,
and potatoes in aioli sauce, which is reportedly eaten throughout Spain.
They were served in colorful glass dishes of red, blue, and green.
These dishes were made of Edo glass and Edo kiriko.
They delighted the eyes with their beautiful hues and had shapes
that conveyed warmth when taken in hand.
As such, they also nicely complemented Spanish home cooking.
Conversation was stimulated by the pieces of Edomae sushi kiriko,
which take Edomae sushi favorites as their motif.
When one of us commented that a certain dish was modeled on a shrimp,
another remarked, "And this one looks like kohada (gizzard shad) to me."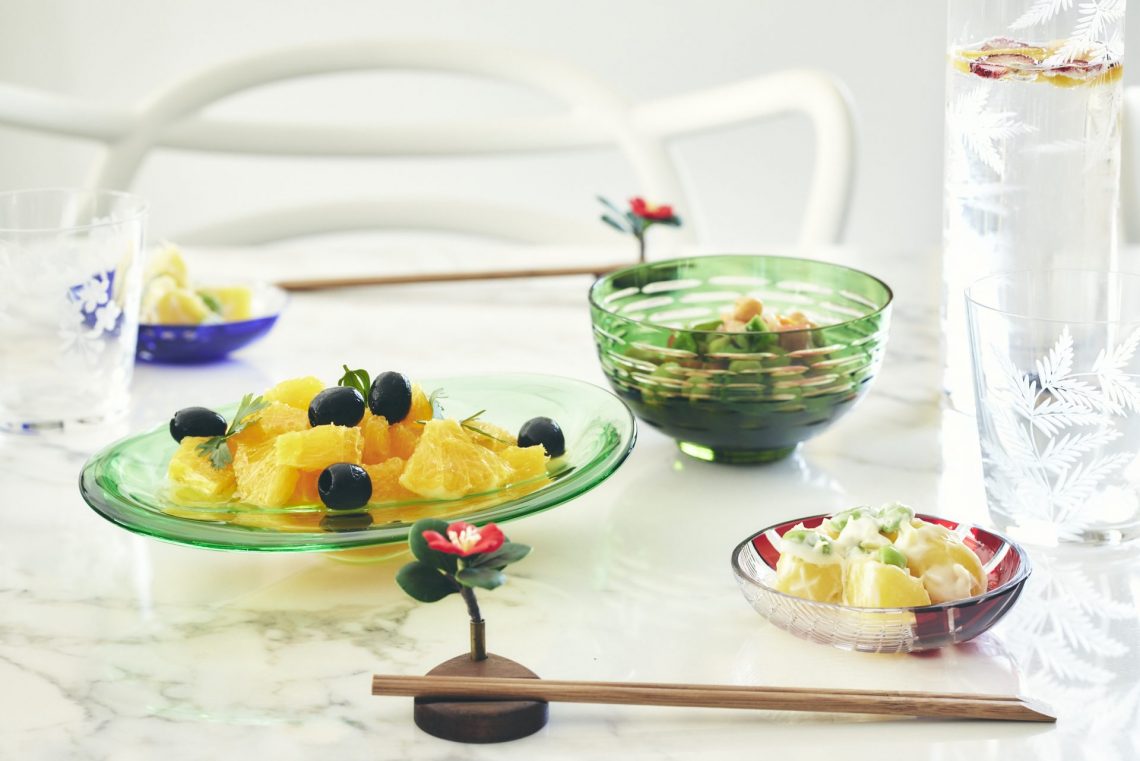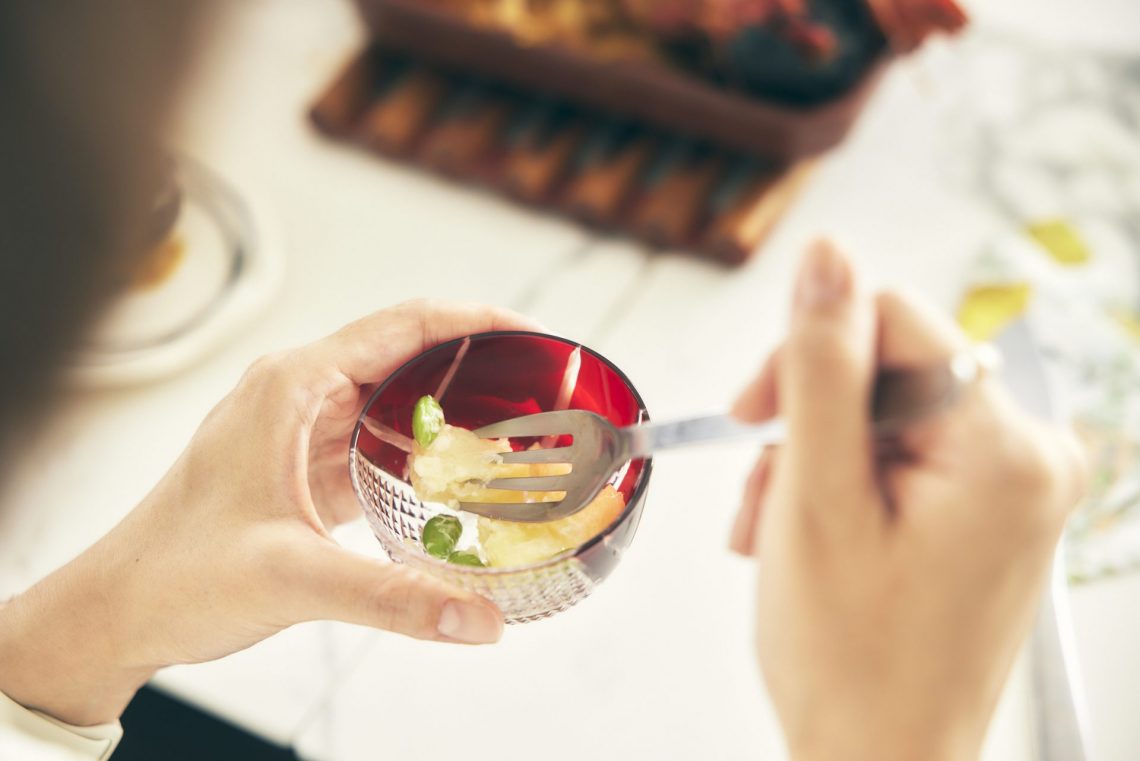 Edomae sushi kiriko(Nakakin Glass Inc.)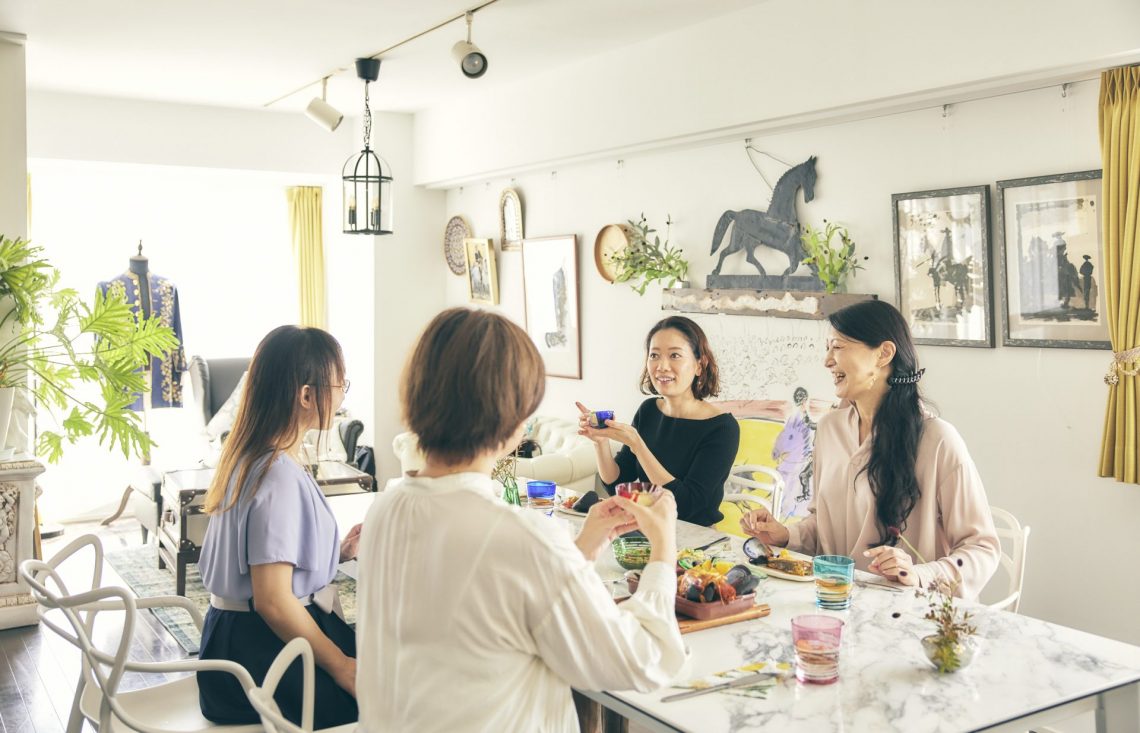 Finally, the main dish was brought out.
It was zarzuela, a seafood stew that originated in Catalonia.
The pot was filled with plenty of squid, mussels, and other seafood.
We enjoyed it together with a fried bread and tomato dish
that has been passed down in the La Mancha area.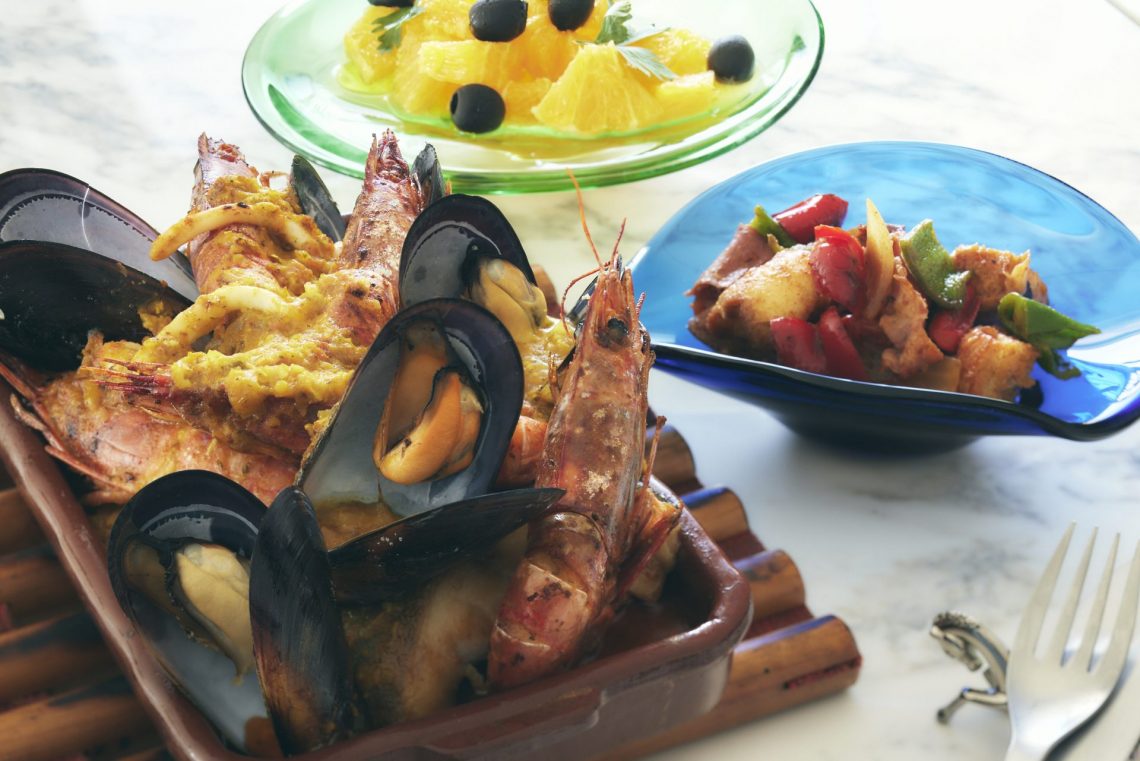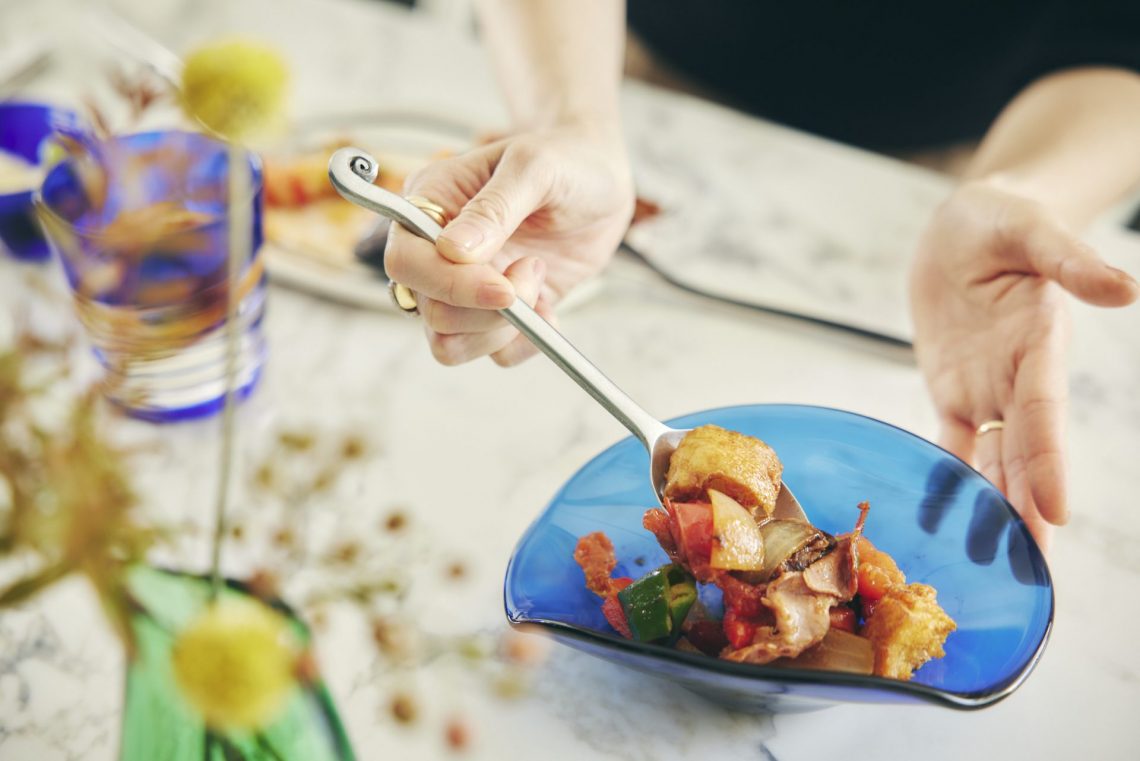 The much anticipated dessert was Basque cheesecake.
In addition to lacquered cups and plates,
our places were reset with spoons placed on Ichirin chopstick rests
adorned with cute little artificial camellias.
This ware made for a tea time in the Japanese modern style.

minamo(Asano Kogei) Ichirin chopstick rest(Okahan)
I was told that,
among the items selected for the TOKYO Teshigoto Project
were accessories exhibiting dazzling technique,
and we were given a special opportunity to try some of them out.
They included accessories incorporating fine pinching work
used for kanzashi (traditional Japanese hair ornaments) (HARENO Accessories),
cloisonné accessories featuring designs of famous places in Tokyo (Tokyo Rakkei),
tui pendants applying forging and chasing technology,
and the GLASS-LAB NEW PRODUCT "WA,"
a "sustainable" bangle made of Edo kiriko
that came from empty bottles of sparkling wine.
Actually taking these items in hand,
I was enchanted by the detail of their workmanship and superb coloration.
I could see that every single one was carefully produced by an artisan.
It gave me a lift just to put them on.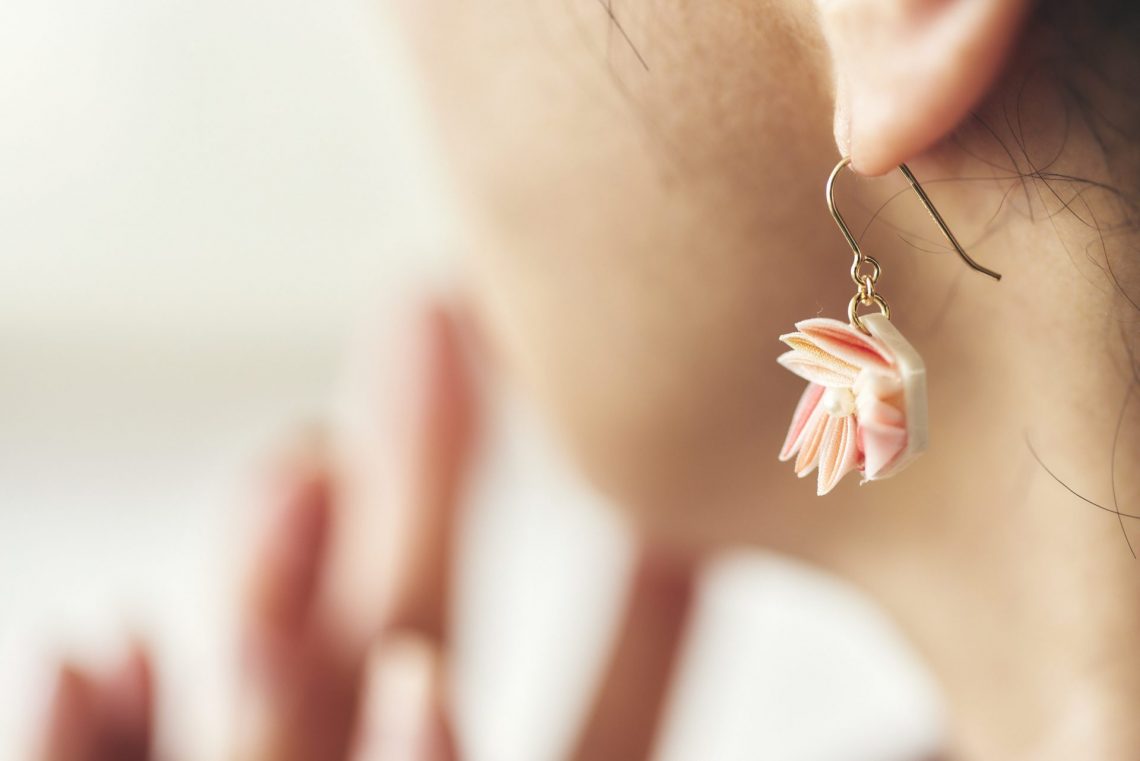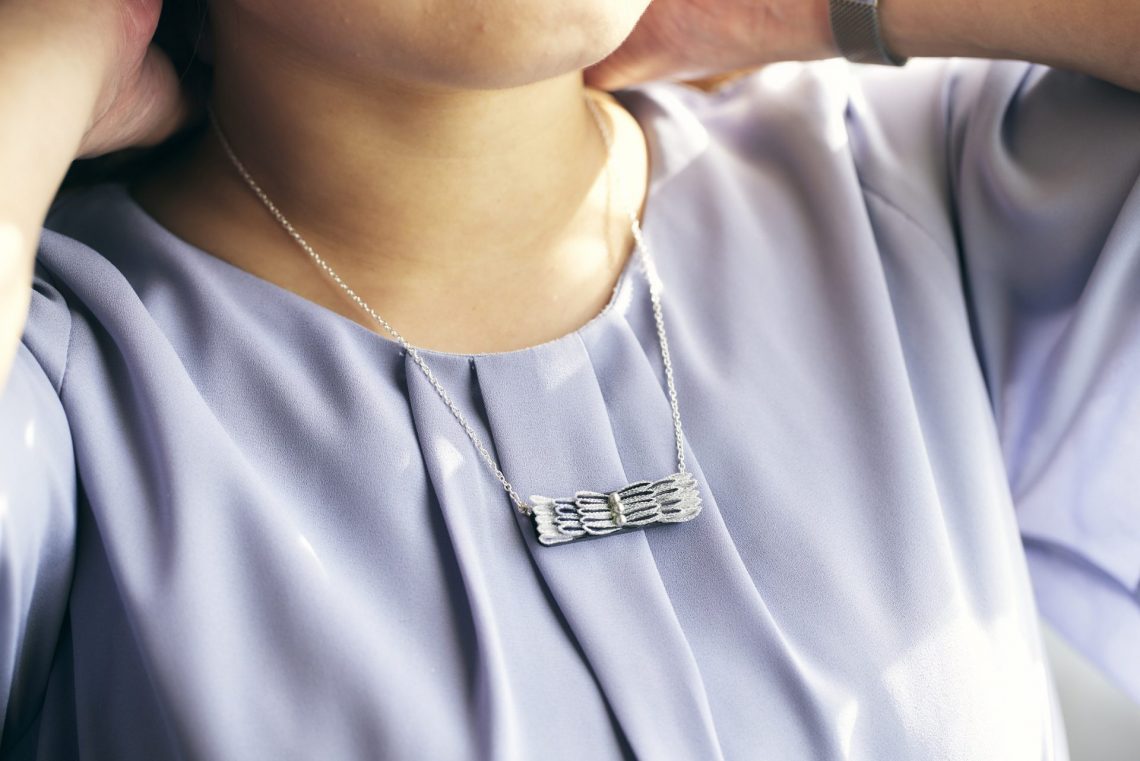 HARENO Accessories(Yume-Kobo)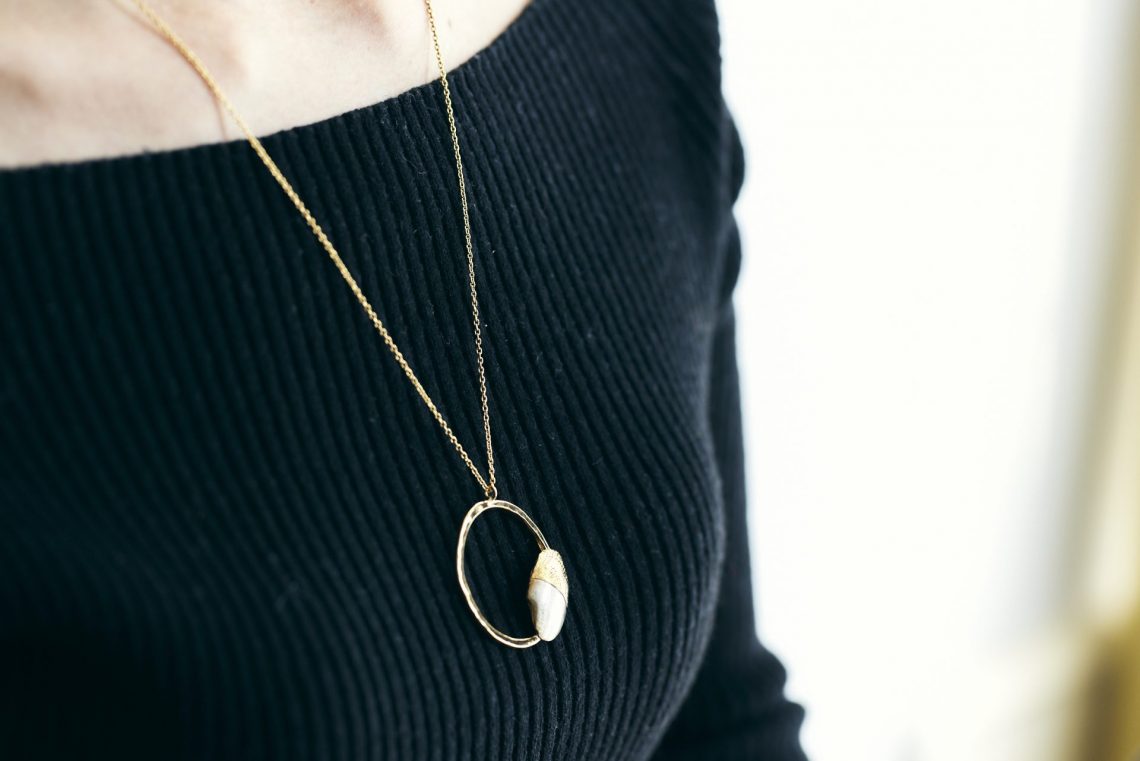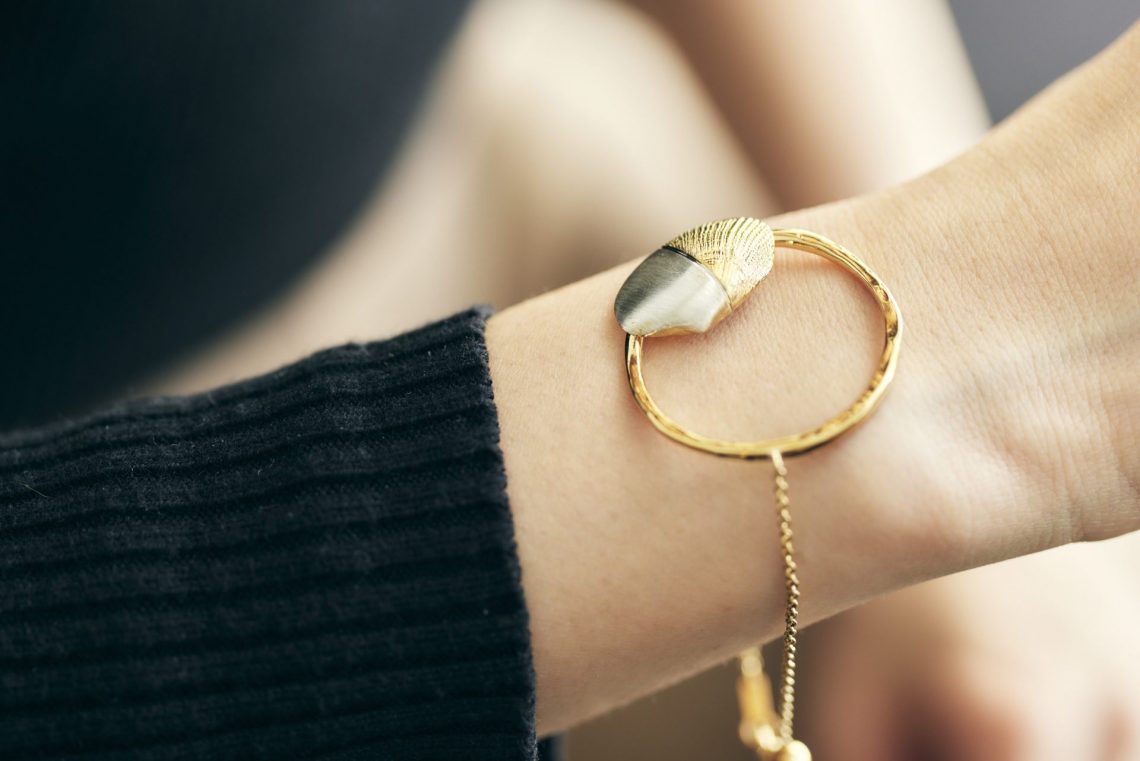 tui(Jewelry Sashou)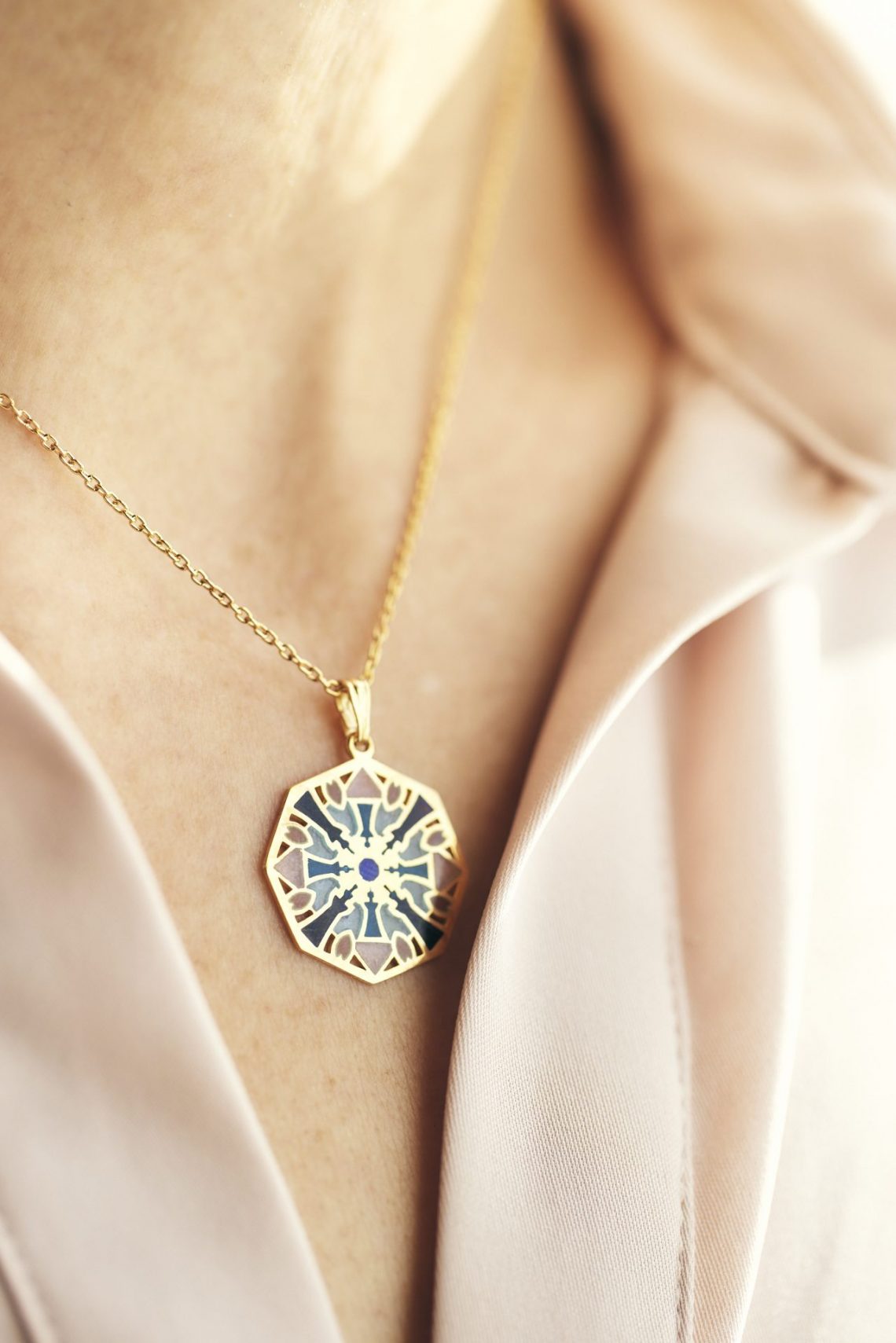 Tokyo Rakkei(Hatakeyama Shippou Seisakusyo)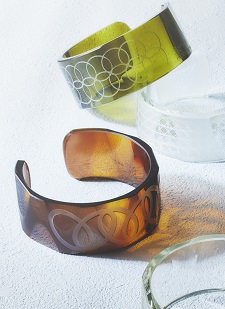 GLASS-LAB NEW PRODUCT"WA"(GLASS-LAB)
"I believe that things passed down through the ages have a universal appeal.
This is also true of the handiwork of artisans
who put their heart and soul into their products,
as well as the many homemade dishes that mothers teach to their children.
It gives me a thrill to have such things in the home.
I think little joys of this sort are important in everyday life,
and help to give us the energy we need for tomorrow," said Otsuki.
Otsuki's food, her comments,
and the many works of traditional crafts left us feeling pleasantly full
and spiritually enriched. When the home party came to an end,
our faces were all naturally beaming with smiles.
We went out the door of Otsuki's hideaway restaurant brimming
with vitality for the coming day.
—————————————————-
Chihiro Otsuki, a researcher of Spanish cuisine
Sommelier accredited by The Olive Oil Sommelier Association of Japan
Owner of San Isidro, a hideaway restaurant serving Spanish cuisine
Otsuki made her first trip to Spain with her eldest son in 1980.
She was enchanted by the country,
and has since visited it 130 times.
She went to study in Spain and graduated from a cooking school in Madrid.
She also studied Spanish home cooking while staying with a Spanish family.
While active as a researcher of Spanish cuisine,
she is also the owner-chef of San Isidro,
a Spanish restaurant that opened in the Gaien-mae district of Tokyo in 1994
and deeply endeared itself to many people over its more than 20 years.
The restaurant has been a favorite of numerous cultural luminaries and prominent people,
including the novelist and Naoki Prize winner Go Osaka,
the painter Chiaki Horikoshi, the actor Takuro Tatsumi,
and former Nissan Motor Company chairman Yutaka Kume.
At present, while being taken up in various media in her capacity as cuisine researcher
and olive oil sommelier, Otsuki remains engaged in wide-ranging activity including lectures,
cooking classes, and development of new menu items for restaurants.
With a title that translates Spain – The Passionate Dinner Table,
the book she published in 1995 still enjoys a bible-like status
in the industry and has been reprinted several times.
In 2010, she was accredited as an olive oil sommelier
by The Olive Oil Sommelier Association of Japan.
Chihiro Otsuki official website (Japanese): https://chihiro-otsuki.amebaownd.com/